NO CIRCUS: Chilli Strips Down To Her Stripes For PETA
Nov 25 | by Natasha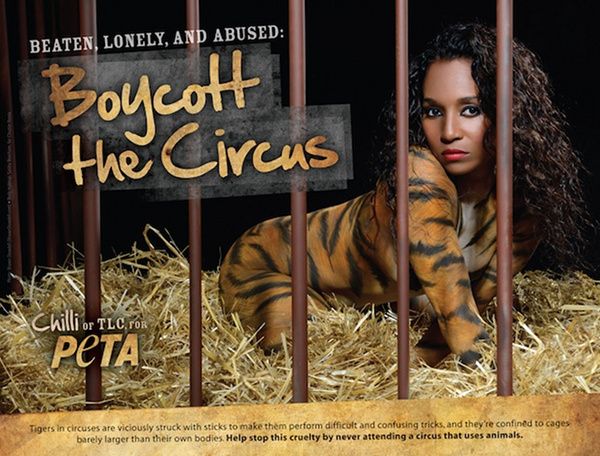 Chilli is putting her hot body to use as an activist. She stripped down to get STRIPED UP for PETA as she takes a stand against the circus. Check out why Chilli wants you to look at HER stripes instead of the caged lions and tigers and bears...
Oh my...
PETA is kicking off a new campaign to take on any and all circuses...a they believe it's a form of animal cruelty.
So they tapped TLC's Chilli to get naked and paint her body in stripes like the big cats. And, of course, she keeps it sexy while doing so.
In her brand new pic, Chilli's crouched inside a cage and wearing nothing but striped bodypaint. And she's helping PETA call for a Boycott of the Circus".
The ad says that tigers used by circuses are beaten into submission—and when they're not "performing," they're locked away in cramped, filthy cages.
Chilli explained in an exclusive PETA interview:
"There's so much cruelty behind the scenes, which is a something that a lot of people don't get to see. They're being mean to them to make them do this trick .… And I think that everybody needs to be aware of what's really going on."
So...42-year-old Chilli was willing to strip down for the cause.
"If you can raise awareness to something that's important, such as this, then you should," she says. "Because I know for a fact that I would never want to be in a cage."
PETA claims in their press release:
Circuses deprive tigers of everything that is natural and important to them, including interacting with their families, foraging and hunting for food, and roaming for miles. Tigers used by circuses are locked in small cages and warehoused in traveling boxcars, where they are exposed to extreme heat and freezing-cold weather. These unnatural and stressful conditions lead tigers and other big cats to become ill, despondent, and increasingly agitated, endangering other animals, circus workers, and attendees.
Chilli joins a growing list of celebrities—including Alec Baldwin, Jada Pinkett Smith, Olivia Munn, Cloris Leachman, Sarah Silverman, and Edie Falco—who have teamed up with PETA to speak out against circuses that use animals. Check out the fab chick behind the scenes of the campaign below.
Check out Chilli rocking the stage with T-Boz & Lil Mama last night at the AMAs HERE.