Teyana Taylor Gets Dropped By Adidas FOR REAL Over Rihanna Twitter Beef? + Cassie Hits Up Art Basel VIP Preview
​
Dec 04 | by Natasha
​ ​ ​ ​
Did Teyana Taylor lose her Adidas deal because of her public Twitter beef with Rihanna? Her rep says no, but Adidas allegedly says YES. Deets inside, plus Cassie looking fab at Art Basel's VIP kickoff....
Twitter beefs rarely lead to anything good. Your fans may gas your head up that you punked somebody....but the corporate folks you get checks from just may punk you in return.
When Teyana Taylor's new Adidas shoes never came out on the slated Black Friday date....folks started talking. Rumor had it she got dropped from the sneaker deal because of her bad behavior on Twitter. (Remember when she posted up Rihanna's battered face photo after they started beefing over Rih's hairstylist supposedly making fun of Teyanas singing?)
Teyana's rep put out a statement days ago saying:
Teyana has not been dropped, the sneaker is on hold, no other comments or statement is ready to be issued at this time.
But not so fast. a Senior VP at Adidas reportedly gave a website today an (unofficial?) statement as well. And THEY are saying they have indeed ended their partnership with TT...and they don't condone violence.
"We have ended our relationship with Teyana Taylor and do not have any upcoming product launches with her. All I can say is that adidas partners with athletes and artists who blend well with our brand values. We evaluate our relationships with partners based on the values we hold at adidas and we don't condone violence of any kind."
Womp womp wooooomp. Messing up coins over an unnecessary Twitter beef? Social media aint for everybody. Teyana responded to today's development saying:
Oh.
In other news, Cassie is looking her usual fabulous self at the Art Basel Miami Beach 2013 VIP Preview this week: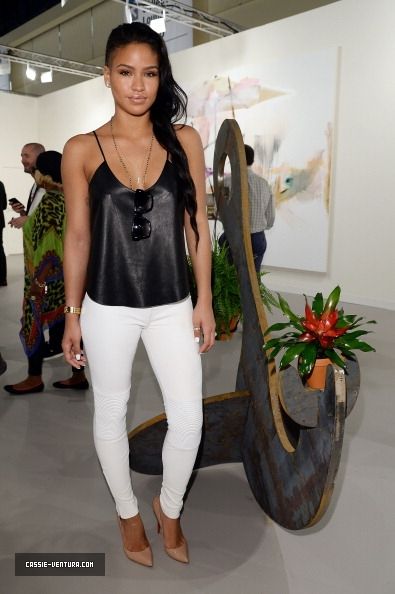 Effortlessly flawless. We'll try not to hate her for it.
Photos: Cassie-Ventura.com/Cassie's IG/Teyana's IG
​ ​
​ ​ ​