HOT MAMA! Tamera Mowry Housley Reaches Her Post Baby Body Goal...And Shows Off Her Body!
​
Dec 07 | by Natasha
​ ​ ​ ​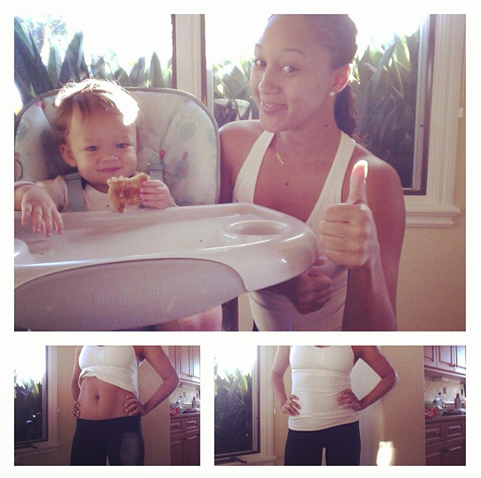 Actress and fab mommy Tamera Mowry Housley is a beaming beauty today. And it's all because she reached her post-baby body makeover goal. Check out the hot mama and what she had to say about her journey inside...
She gave birth to baby Aden a little over a year ago. And she's now cross the finish line of her post-baby body makeover. Tamera showed off her new body in a blog post Friday. And she let the world know it all happened with hard work, her two trainers and eating right:
Happy Friday! It's been over one year since I had my baby boy Aden, and I am so proud of all the progress I've made in my post-pregnancy journey. Mentally, I have learned so much about being a mom – from dealing with separation anxiety to experiencing little joys like Aden sitting up on his own for the first time, it's been amazing year of growth and learning. Physically, it's been a grueling, butt-busting journey – but I'm so proud to say that after a year, I finally did it…I lost all my baby weight! I did it with hard work, portion control and my two amazing trainers Michael Myers and Jeanette Jenkins. No pills, no surgery, no starvation…just hard work and a positive mindset.

If I can do it, I know all of you can too!
Over the last year, she's been candid on her new talk show "The Real" and in interviews about this mommyhood journey. She's said her post baby weight loss inspirations were Christina Milian and Hillary Duff...and she revealed the road has been far from easy.
We love Tamera for showing the world her progress, struggles and triumphs with new mommyhood. And she's always looked fabulous to us.
Congrats Tamera!
​ ​
​ ​ ​