INTERVIEWS: Morris Chestnut CONFIRMS A THIRD "Best Man" Film + Lupita Nyong'o BURSTS Into TEARS Discussing "12 Years A Slave" Whippings
​
Dec 20 | by _YBF
​ ​ ​ ​
In movie news, Morris Chestnut's confirmed a third "Best Man" flick while Lupita Nyong'o broke own in tears discussing the whipping scenes from "12 Years A Slave". Listen to the interviews inside...
During an interview with Hot 93.7 radio show in Hartford, Morris Chestnut confirmed that there will indeed be a third installment in The Best Man franchise. Morris told Jenny Boom Boom,
"As of right now, Malcom Lee, the writer/ director, is writing another [Best Man]. [Malcom] has only told me about a few of the details for the movie… but I do not know who Terrence is gonna marry. All I know is, it's gonna be really interesting."
Morris also discussed how Malcolm brought all the original actors together to a sequel and what it was like once they began filming.
"We had gone to dinner about 2011… Malcom Lee talked to us about our storylines, he had some ideas and wanted to get our feedback. At that dinner, it was good to see everyone. He went away and wrote it, and we came back and did it."

"We rehearsed for one week in Los Angeles, and two weeks in Toronto, where we filmed it. A week before we started filming, the director brought us over, we all got into this theater and we all watched the original together. We had a great time, it reminded us what the first one was like, it brought us back and we made fun of ourselves, we had a really really great time. It put us all back in that mode."
You'll recall that Malcolm and Universal began talks about a third film after the box office success of "BMH". And based on how good # 2 was, we're already excited for #3.
Listen to the interview
In other interviews....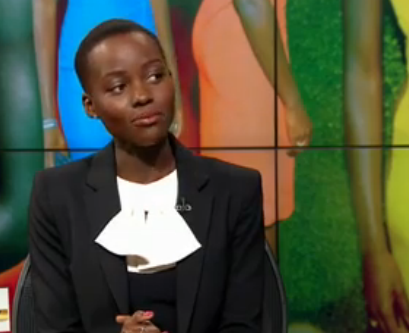 Future Oscar-nominee (we're calling it now!) Lupita Nyong'o appeared on ARISE 360 recently where she cried while discussing 12 Years A Slave.
If you're wondering what brought Lupita to tears, the moment came when she described the emotional toil the brutal whipping scenes took on her. She told that hosts that she realized her "suffering" was temporary while the scenes she filmed where the actual reality of slaves.
Also.......
Alfre Woodard joined Lupita to discuss their roles and the brutalities that slaves lived through. They also discussed their "toughest" scenes.
Photos via Getty
​ ​
​ ​ ​