CAUGHT UP: Apollo Nida Reportedly ARRESTED For Fraud & Identity Theft + Darren Sharper Claims He's Got Video Footage To Prove He's Innocent Of RAPE
​
Jan 24 | by Natasha
​ ​ ​ ​
Apollo Nida is back in trouble with the law. The Real Husband of Atlanta has reportedly been arrested on fraud and identity theft charges. The drama unfolds inside, plus an update on Darren Sharper's rape case....
According to the Atlanta Journal Constitution, Phaedra Parks' husband is caught up yet again. And this time, it's over alleged bank fraud and identity theft! We have been wondering what this guy does for a living....
He was reportedly arrested today (some sources say he surrendered himself) and U.S. District Court Judge Gerrilyn G. Brill released him on a pretrial bond.
The complaint was filed by the U.S. District Court's office Thursday. And no word on if "Housewives"'s resident legal eagle Phae Phae will be stepping into this mess in some way to help defend her husband. Wouldn't be a smart idea, but we all know how ish goes down sometimes....
Apollo, pictured above with his "RHOA" star wife just a few weeks ago at ATL Mayor Kasim Reed's second term re-election party, was previously locked up from 2004-2009 (right before these two got hitched) on federal racketeering charges related to auto title fraud. And since Phaedra downplayed that drama, we're sure she's cooking up a good southern fried excuse for his newest alleged shady ass activities.
P.S. Today is Kenya Moore's birthday. So you KNOW she's eating all this up like a buttercream 3 layer birthday cake.....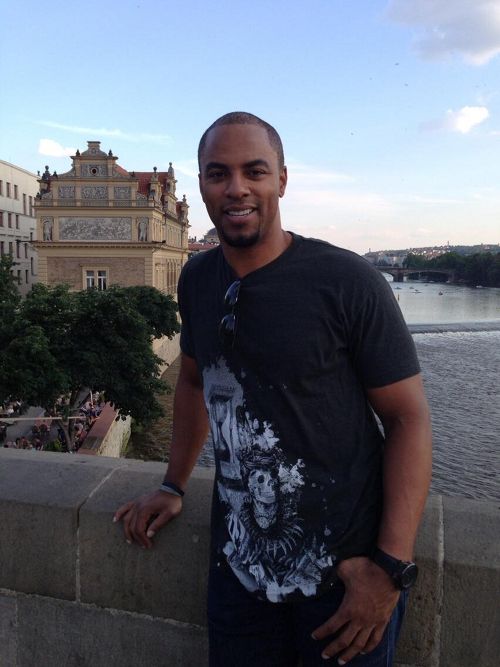 In other news, former New Orleans Saints baller Darren Sharper is now speaking out via his lawyer against those rape charges.
Defense attorney Nandi Campbell released a statement, according to NBC Sports, saying there's a lack of evidence....and he hasn't been charged or arrested. Oh? We guess sources like TMZ simply made it sound like he was actually being charged.
"No evidence suggests or implies that a sexual assault occurred," Campbell said. "The totality of the witnesses' statements and the physical evidence support the police department and district attorney's decision not to file criminal charges at this time."
There were, reportedly, two lawsuits filed by two different women claiming to be raped by Darren in hotel rooms.
Darren also says he has video proof that one of the women went "willingly" into his apartment after he picked her up at a bar. And he has proof from witness accounts that she followed him willingly around the bar all night.
Maybe Darren doesn't understand that willingly entering an apartment does not automatically equate willingness to have sex. We won't judge though until all facts are stated....
Photos: Darren's Twitter/Phaedra's IG
​ ​
​ ​ ​