GROUPIE TALES: Self Proclaimed Mistress Details Her ALLEGED Relationships With Dwyane Wade & Lamar Odom, Says Wives Should Know Their Men Will Have Side Chicks!
​
Feb 26 | by _YBF
​ ​ ​ ​
Mistress Sandrina Schultz spilled some tea on her alleged relationships with NBA ballers Dwyane Wade and Lamar Odom. Find out what she said inside...
Self proclaimed groupie Sandrina Schultz sat down with The Break Room co-hosts Robert Littal and Jill Munroe for a candid interview about being a side chick/groupie. She was named as Dwyane Wade's alleged side chick when news broke that he had impregnated another woman while he and actress Gabrielle Union were on a break.
And in between trying to convince folks that she LOVES being called a "groupie" and these men are groupies of women like HER as well (light skin, long hair), Sandrina sets the record straight on why she likes to sleep with athletes. And she goes on about whether she feels sorry for the wives/girlfriends of the men she sleeps with.
Highlights:
On if she gets offended when she's labeled a groupie:
Sandrina says she doesn't get offended when she's called a groupie because she has a certain group of man she's interested in, which so happens to be basketball players. So, therefore, she qualifies as a groupie. (Yes, she said this.) She says she's not going to stop pursuing this type of man just because someone calls her a groupie.
On her relationship with Miami Heat star Dwyane Wade:
Sandrina said she and Dwyane Wade have been friends for close to 10 years and said she was shocked to learn he had a "break" baby on the way. Actually, she said she was "hurt". Sandrina said she became friends with D. Wade when he started having marital problems with his ex-wife Siovaughn and claimed to still messing around with him when he got with Gabby Union.
On if she feels sympathy for the wives whose husbands she's dealing with:
Sandrina said she doesn't feel sorry for the athletes' wives or girlfriends, including Gabby Union. She said the women in their lives have to accept that their man, being that he's a professional athlete, will have girls on the side. She said that "they know what they're getting into when getting involved with an athlete." Oh.
On her alleged relationship with NBA baller Lamar Odom:
Sandrina alleges Lamar has been in her life for over 10 years and that she was messing around with him when he and Khloe Kardashian met. In fact, she said she was with Lamar as a guest when Khloe and Lamar met in a nightclub. And she further claims Khloe once sent a private investigator to her house to check on Lamar!
On if she thinks Khloe Kardashian Odom used Lamar:
No, she doesn't think Khloe was using Lamar. She thinks Khloe sincerely wanted to work things out with him.
Sandrina says she has a book coming out soon (of course!) where she will reveal other celebs she has messed around with. We're not saying we don't believe her--because none of this surprises us if true--but the way these jumpoffs are so ~proud~ of themselves shows how intensely basic-try has taken over.
Check the full interview below: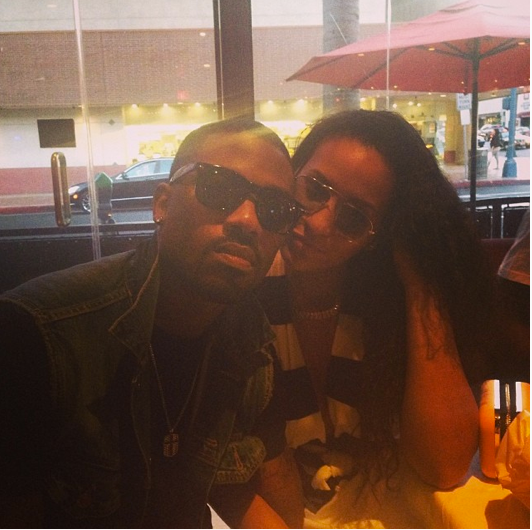 Tidbit: Seems like Sandrina may have a thing for R&B singers as well. She posted the picture above of herself and Ray J with the caption, "Good night from #rayJ and #sandrina #crustaceans "
Alrighty then...
Photos: Sandrina's IG

​ ​
​ ​ ​