INTERVIEW: Pharrell Opens Up About Why He Made 'G I R L,' Unreleased Songs With Beyonce, And Viral Instagram Pics!
​
Feb 28 | by _YBF
​ ​ ​ ​
Superproducer & Oscar nominee Pharrell Williams spoke with TheYBF.com this week about his upcoming album G I R L, the "black girl controversy" behind his album cover, how and why he decided to make a sophomore album, working with the Queen Bey and more. Check out our chat inside...
With his sophomore album dropping March 3rd and his "Happy" record being nominated for an Oscar, Skateboard P talked with TheYBF.com about why he decided to come out with a new album 8 years after his debut album In My Mind. Yes, 8 years!
P also shared his thoughts on his music leaking before the official release date, going #1 on the Pop charts and if we can expect new music from him and Beyonce. And we must say, we learned a lot. The baby-faced talent is a great conversationalist.
On if it bothers him when his music leaks before the release date:
"No, I think it's a function of the times of where we are. I make music from the perspective of the fan because I've always been a fan since I was young. As a fan you want it early. You know when it goes to the plant (i.e. iTunes), you know it's probably going to leak. It is what it is. When you have a fan base that rides with you and understands you then you know you're going to be good. Especially if you continue to be loyal to the craft of making stuff that feels good and doing what you do best, they'll ride with you."

On his album being a "gift" to women:
"It's not a gift because who am I to give a gift. It's an ode. It's from me. I have all types of fans in terms of demographics, but women have been distinctively a strong force and huge inspiration for me, so it kinda makes since. Essentially they're my bosses. They have been so good to me. One can not argue that they have paid for everything I have. They've been so good to me and consistent. I'm totally imperfect but they have never left my side."

On his label (Columbia Records) coming to him to do a solo album:
"I was overwhelmed with shock because a label doesn't call you to make a record, you're usually pitching one and I wasn't looking to make another solo record. I was just fine with producing and just doing N.E.R.D. and score stuff. I'm so honored. They're the coolest guys in the game and they came to me and said they wanted me to make an album. They signed Daft Punk, two robots who refuse to take their helmets off and Adele, who comes out and sales more than anyone and does it her way. It's a label filled with different kinds of people not textbook record industry artist, it's such an eclectic place. They're very different people like Jack White, Odd Future, London Grammar, Juciy J, and Beyonce.

Given the opportunity, I knew instantly I would make G I R L. I didn't know exactly what it would be called but I felt like it was going to be called G I R L. I knew it was going to be this broad spectrum of my appreciation for women. Is it perfect? No. But it's my ode and I think what is very clear is my intention when you hear it."

On music he has worked on with Beyonce:
"I did 'Blow' and 'Superpower' with Beyonce."

On if he's working on Bey's new music she's rumored to already be working on:
"We have some other songs we have recorded but I don't know if they are going to use those or not. "

On his Oscar nominated track "Happy" going #1 on the Billboard Hot 100 (his first as a solo artist):
"I'm freaking out. If you're black and from the south you know what that is. It's like me trying to imitate the Mighty Clouds of Joy with Curt Mayfield singing it with some Stevie Wonder chords. You know what that is. So to see that record come what it has become, where everybody takes it on as their own and makes their own videos, it's just so humbling. I'm a little black boy from Virginia Beach, VA. I never dreamt in a million years that my music would be seen on such a large scale and that people can find joy in it and do what they're doing."

On the controversy following the release of his G I R L album cover:

"Well, they're ill informed. The woman I'm standing closest to, she is black and she's been a friend of mine for a long time. You know, I'm confused by it. Then they're going to ask me do I not have an Indian woman on there or a Pakistani woman on there? But meanwhile, I do. She is African American and I feel sorry for her that people will look her dead in her face like she ain't black but she is black. It's a girl I use to date years ago."

"It's just unfortunate because it's 2014 and we have a President [who's black]. Is this what it is? Is it because she's not brown? I don't feel funny about our President because he is what he is. Meanwhile, has anybody forgotten that I'm black myself? I wake up everyday and I wave the black flag. Everything that I'm doing. You know, this "Happy" song going #1. What is the guy that's singing the song? What do you mean?"

"I'm standing by a black woman. My business is run by a black woman. My mom partially looks after my business and she's a black woman. I'm married to a black woman. I'm confused. I guess once you get the album you will look inside and see she's a black woman. I'm sorry that from that vantage point you can't look at her hair and tell that she's black."

"My intentions are…this album is an ode to woman. It's not necessarily an ode to a shade, it's an ode to women. And to people who are confused by that, you have got to know me better than that. Look at the "Frontin" video."

"And here I am trying to put ordinary, beautiful girls on the cover…not no models. I didn't go to 29 agencies looking for runway models. I wanted ordinary people because I don't think celebrities or models are the stars anymore. I think pedestrians are the stars. And I think beautiful pedestrians will run the world and that's what I consider myself, like a pedestrian."

"I understand it. Hopefully when they see, they'll see."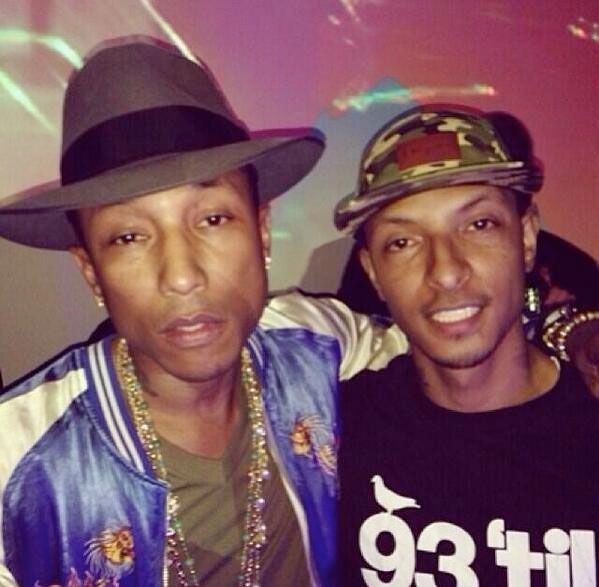 On rumors that the picture above, which has gone viral on social media, is a picture of himself and his dad:
"No, it's not my dad. My father is a brown skinned man and he doesn't look anything like that guy. I'm like a blend of my mom and my dad. "

On another beauty secret he has adopted:
"My mama. My secret is my beautiful black mama."

On his childhood growing up in Virginia Beach, VA:
"When I was around 16-17, I was never at home, I was always hanging out. I was a regular guy. I just liked different things. I was into music, all of my friends were. Some of us skated. Some of my other friends were hustlers. Some of them got into trouble, but I was always too scared. You didn't get into too much trouble skateboarding. You might get arrested here and there but I never got arrested."

On how his parents feel about his success:
"My parents are over the moon. The state of Virginia, Virginia Beach, and the Tidewater area has been super kind. I don't even know what to say because I consider myself a child of Tribe Called Quest and for me that's what I do it for and why I do it…to make music that feels good."

On how he juggles being a father, an entertainer, a new father, and husband:
"I'm going to be 41 in April. No I don't hang out all the time but I spend most of my time working and with my family."

Pharrell is scheduled to perform during the Oscar's this Sunday, so be sure to tune in. His new album G I R L drops Monday, March 3rd.
Photo: Dimitrios Kambouris/Getty Images North America

​ ​
​ ​ ​