FIRST LOOKS: "Annie" Remake Starring Jamie Foxx & Quvenzhane Wallis Sneak Peek + Andre 3000 In Jimi Hendrix Biopic + New VH1 New Reality Shows With K.Michelle & Hot 97 Get Premiere Dates
​
Mar 05 | by _YBF
​ ​ ​ ​
Here's the first look at the "Annie" remake starring Jamie Fox and cutie Quvenzhane Wallis along with a first looks at the new Jimi Hendrix movie and VH1 reality show inside....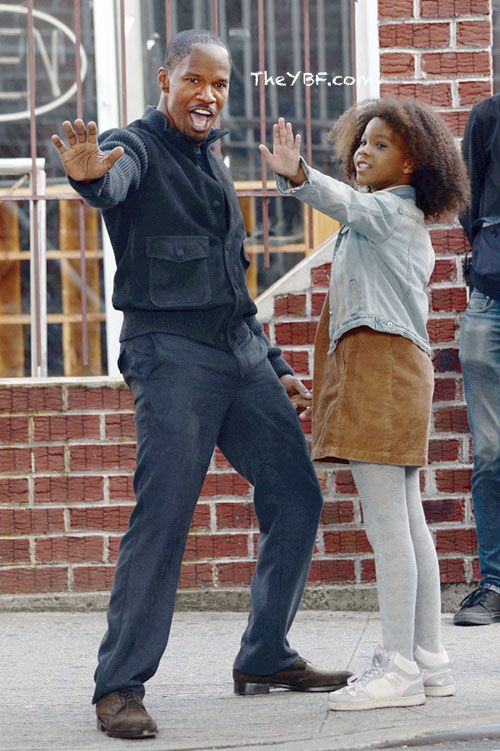 Quvenzhane Wallis, the Oscar-nominated 10-year-old star of Beasts of the Southern Wild, was cast to play the title role in the upcoming remake of Annie.
She will be joined by Jamie Foxx who plays the New York mayoral candidate, Will Stacks, who takes Annie in after her parents abandoned her. Cameron Diaz will be playing Annie's mean foster mom, Miss Hannigan.
The film will be directed by Will Gluck and co-produced by Jay-Z, Jay Brown & Ty Ty Smith through Marcy Media in addition to the Smith's Overbrook Entertainment.
Jamie & lil Q were spotted on the set back in September while filming Annie under the 7 train line on Roosevelt Avenue in New York.
And now, you can check out the first look of the film below:
The film is expected to hit theaters December 19th. Looks great!
In other movie news:
The first video sneak peek at Andre 3000 portraying musician Jimi Hendrix in his biopic All Is by My Side has been released. ANd finally, we get to see 3 Stacks in all his Hendrix glory.
The film made its World Premiere at the Toronto International Film Festival last fall. It's expected to make its USA premiere at the upcoming SXSW Film Festival this month.
But when it hits the screen, don't expect to hear Jimi's original music. Apparently, the estate is not on board with the biopic.
The estate released a statement saying:
"Experience Hendrix CEO Janie Hendrix, sister of Jimi Hendrix, and the EH board have not ruled out a 'biopic' in the future though producing partners would, out of necessity, have to involve the company from the inception of any such film project if it is to include original Jimi Hendrix music or composition."
The music used in the film will be covers of other musicians' songs Hendrix performed.
The feature film is written and directed by John Ridley, who won the Oscar for screenplay adaptation of 12 Years A Slave. John has been the center of a feud between him and director Steve McQueen lately, by the way.
Still no date on the actual release date of the film. But we've got the first 1:30 sneak peek below:
And in TV news...
VH1 is lining up new shows for the network. Singer K. Michelle will be featured in a new reality series "Untitled K.Michelle Project" which will follow the "Love and Hip Hop" star's music career. And she's been given a summer 2014 premiere date.
And the new VH1 show titled "White Girls Of Rap" that we recently told you about, which will feature female rappers striving for success in a series produced by Ryan Seacrest Productions, is officially green lit. According to press release:
[The show] will follow five up-and-coming white female rappers (Yep, we said it, white female rappers) as they hustle to establish credibility in an industry that isn't known for being the most welcoming. These girls are facing near-impossible odds and will do anything to break into the rap game and establish a name for themselves.
Oh. It's set for a late 2014 premiere with 6 half hour episodes.
And VH1 is keeping the ball rolling with reality tv. NY's hip hop station Hot 97 has its own reality show called "This is Hot 97". It's executive produced by Mona Scott-Young (of course) and will also feature cameos from the well-known celebrities who regularly visit HOT 97 as on-air guests including Kanye West, Macklemore, Rick Ross, Mack Wilds, Wale and more.
Each episode will draw upon the ambitions, rivalries and quirky personalities of the cast to capture all of the comedic and sometimes straight up awkward moments that happen at the station on a daily basis. It premieres Monday, March 31 at 10:30 PM ET/ PT.
You watching any of this?
BONUS:
Jay Z hit the stage last night with his wife Beyonce at The Mrs. Carter Show World Tour in London to perform their hit "Drunk In Love" again. Bey will hit the stage at the O2 Arena last night for her fourth of six performances in London. She leaves London March 6th and will travel to Dublin, Ireland.
Photos/Video: Pacific Coast News/Splash/ET/Beyonce's Tumblr
​ ​
​ ​ ​