Chanel Iman COVERS Net-A-Porter's "The Edit," Talks Racism, Gaining Weight & Yonce
Mar 25 | by _YBF
Chanel Iman covers the latest issue of Net-A-Porter's "The Edit." See what Chanel said about racism, growing up fast, gaining some pounds and more inside…
Model Chanel Iman looks absolutely gorgeous on Net-A-Porter.com's digital magazine, "The Edit." The 23-year-old supermodel posed for Paul Maffi in an array of fabulous dresses and skirts from Jason Wu, Thakoon, Proenza Schouler, Simone Rocha and Altuzarra.
Born in Atlanta to an African-American basketball coach father and a half African-American, half Korean flight attendant mother, Chanel Iman Robinson started modeling at the tender age of 13. By the age of 18, the strikingly beautiful chick became one of the youngest Victoria's Secret models in the company's history...and had already landed her first VOGUE cover.
In the magazine, the "Yonce" video model (who is currently dating rapper A$AP Rocky) opened up about racism, growing up fast in the modeling industry and Beyonce's girl power.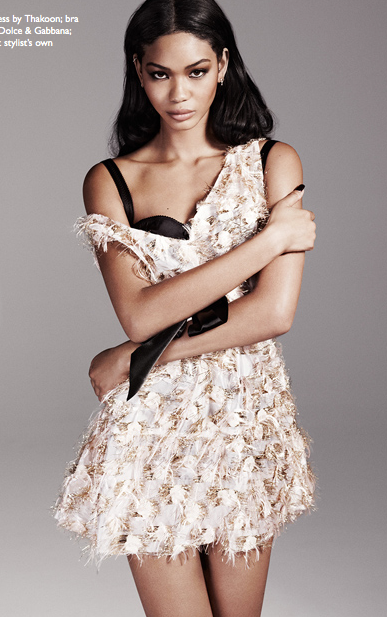 Here are the highlights:
On racism:
"It's an issue that my industry is still working on. I think that everyone should be equal; it shouldn't be about color. It's unfortunate that there is still a lot of politics involved in both the acting and modeling worlds. I do think we've come a long way, but things could still be a lot more diverse on the runway and in films."

On having to grow up fast:
"I've had to grow up very fast, and although I know that if I hadn't started so early I wouldn't be where I am today, I often wish that I could have had those high-school years and experiences," Iman says. "These days I always encourage young models to start no younger than 18."

"There were times when I felt very lonely," the model admits, "because I had to be a grown-up and live in New York by myself – but God blessed me with the opportunity to be a model and I took it. Still, it's very easy to get caught up and lost and not feel loved in this business."

On gaining weight:
"I've been skinny my whole life. And now that I'm getting older I'm gaining weight. I love it, because when you're teased at school and everyone's always asking 'Do you eat?', it's like being bullied."

"When models are criticized for being too thin, it's just another form of bullying. It would make me feel so insecure when people used to say that about me, because you're not allowed to go around telling people that they're too fat and asking 'Do you ever stop eating?', are you?"

On Beyonce:
"Beyoncé is such a great woman. So positive and uplifting. All three of us models are very successful in our careers, but because in the fashion industry 'there's only one black girl allowed', they've made us compete to be that one girl. Beyoncé allowed us to show the world that we don't have to fight against each other. She gave us the chance to see that we are far more powerful together."
Absolutely gorge.
Photos: Paul Maffi/Net-A-Porter.com