REAL YBF NEWS: Kwasi Enin ACCEPTED To Eight Ivy League Universities!
​
Apr 01 | by _YBF
​ ​ ​ ​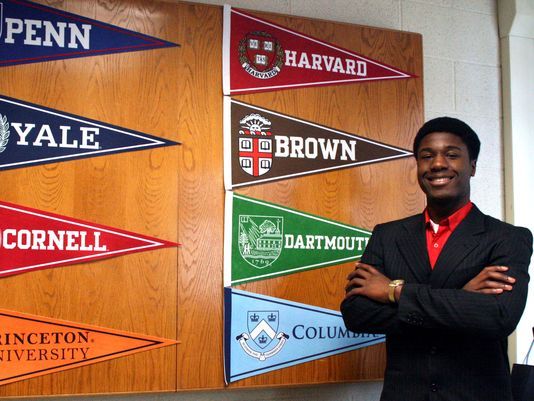 Kwasi Enin is a REAL YBFer who's making headlines for his academic success and bright future. And we're loving it. Find out more inside...
Do you remember those high school days when you waited to hear from your college of choice? Well, Kwasi Enin, a first generation American (his family is Ghanian) who is also a 17-year-old violist and aspiring physician from Shirley, N.Y. is in an enviable position. He gets to take his pick of ALL eight of the Ivy-League schools! They all want him.
Kwasi's accomplishment is EXTREMELY rare. Nancy Winkler, a guidance counselor at William Floyd High School told USA Today,
"My heart skipped a beat when he told me he was applying to all eight. It's a big deal when we have students apply to one or two Ivies. To get into one or two is huge. It was extraordinary."
So why are 8-top colleges vying for Kwasi? Check his receipts:
He ranks No. 11 in a class of 647 at William Floyd, a large public school on Long Island's south shore (top 2% of his class).
His SAT score (2,250 out of 2,400) puts him in the 99th percentile for African-American students.
He will also have taken 11 Advanced Placement courses by the time he graduates.
He's a musician who sings in the school's a capella group and volunteers at Stony Brook University Hospital's radiology department.
Right now, Kwasi, who credits his "helicoper parents" for keeping him on track, is reviewing all the financial packages before he makes a decision. Great move!
He also applied to four non-Ivy schools, and got into all 4 of those. They were Duke, Stony Brook University, SUNY Geneseo and Binghamton University.
We're sure we'll be hearing a lot from him in the future...
Stay in school kids!
UPDATE: Want to know what type of essay gets you into all 8 Ivies? Here's Kwasi's college essay submitted to the schools:
The Randomness:
1. Aisha Tyler's book "Self-Inflicted Wounds" being optioned as a tv show. Story.
​ ​
​ ​ ​