OH: Mimi Faust On WHY She Made A Sex Tape And SHOWER ROD Tips + Lil' Scrappy Calls Diamond Out For LYING, Says He NEVER Abused Her
​
Apr 22 | by _YBF
​ ​ ​ ​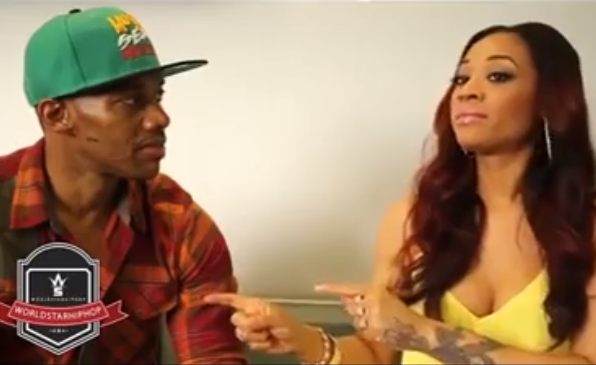 Mimi Faust and Nikko Smith explain why they made a sex tape and offer "shower rod" tips in a new interview. Watch the piece inside and get Lil' Scrappy's response to Diamond's accusations that he abused her.
Mimi Faust and Nikko are speaking out....as if their sex tape hasn't said enough! In a new interview, they explained that they enjoy taping their sexual escapades and had no intentions on their sex tape getting out. Also, Mimi said VH1 didn't have anything to do with the tape's production (so the lighting/camera angles/hair/body makeup was all done by herself and Nikko?), Stevie J's opinion doesn't matter, Joseline is jealous that she doesn't have the shine anymore and yes, she loves Nikko. Apparently having this type of "shine" is something to be proud of....
They ended the interview by offering "shower rod tips" (Mimi says your partner has to be able to support you) and they hinted that they MIGHT be working on a book about sexual positions.
Of course.....
In other LAHH ATL news.....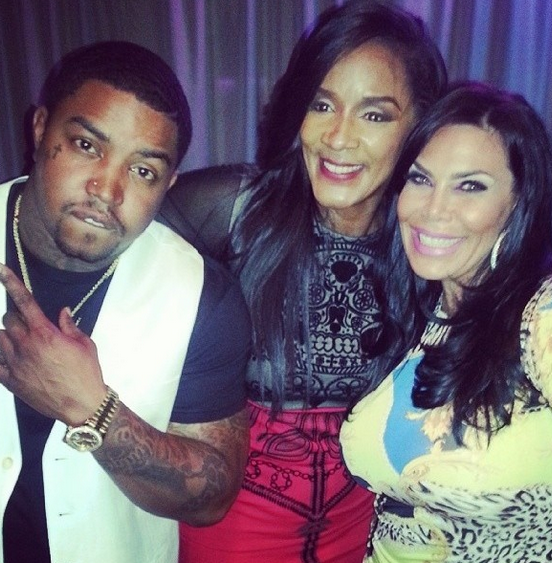 Lil' Scrappy and Mama Dee (shown above with "Mob Wives" star Renee Graziano who we're wondering about--what's different with her face?) are pissed about an interview Diamond did with The Breakfast Club.
Let's rewind back to the interview itself. Diamond (who'll appear on T.I.'s upcoming Oxygen-reality show "Sisterhood Of Hip Hop") made a few shocking allegations on The Breakfast Club about Lil Scrappy abusing her and she said Mama Dee ruined her credit!
On Lil Scrappy being abusive: "You wouldn't see me near him [Scrappy]. He just flawed. He's a b-tchass n-gga. No b-tchassness. [...] He was mentally abusive, physically abusive. We fought. You ain't beating my ass. We gon' fight! So if that's what you wanna call it, but if you fighting a n-gga, there ain't but so much you can win. He got some issues and need some help."

On Scrappy saying she cheated on him with Soulja Boy and Mama Dee ruining her credit: "We wasn't even together. We were living together but we were separated. I was supposed to move. I got his mother [Momma Dee] an apartment. And then she trashed and messed up my credit at one point in time. Terrorize, wrote all on my posters, 'Trick, Slut, Hoe.' I co-signed for her a condo. We [Diamond and Scrappy] were already separated and I was helping him raise his child. I was like, 'You got baby girl. Y'all keep the house and I'll get me an apartment. It's nothing.' That's when Momma Dee had her situation and she was getting put out. So I'm like, 'Sh-t, I damn sure ain't finna be in no house with Momma Dee.' I get her an apartment. 17 Street Lofts in Atlantic Station. Work, stack my bread a little bit more and get me a spot....He was already doing his thing. It's not my fault that I stepped out with somebody with who was younger, flyer and had more money. That sounds like a personal problem to me."
When the Prince of The South and The Queen of....the Prince...heard about the interview - they were not happy. The two promptly talked to TMZ and said Diamond is a "lying industry ho." Scrappy added that he bought "her $20K teeth and her fake ass." Scrap also claims he NEVER hit Diamond and her story about Gucci Mane slapping him is BS.
Watch Diamond go in on Scrappy and Mama Dee at (22:42):
Photos via Lil Scrappy's IG
​ ​
​ ​ ​