NeNe Leakes Has Her EXTRA LONG Say On Why She's Beefing With Cynthia AFTER They Made Up...Posts RECEIPTS!
​
Apr 27 | by Natasha
​ ​ ​ ​
The drama continued off screen after Round 2 of the "RHOA" reunion aired Sunday night. As for the drama between NeNe Leakes and Cynthia Bailey...NeNe's now ready to say her piece. And it's a LONG piece. Check out how she puts Cynthia on blast inside....and offers up text message receipts....
On Sunday night's reunion show installment, NeNe was upset that her frenemy Cynthia Bailey was attempting to bring up old ish...in front of the rest of the laadies. NeNe said she found it odd Cynthia had "forgiven" her for the "Peter stop acting like a b*tch" comment in October of last year. And they have spent tons of time together since then being Best Friends again--Thanksgiving, New Years Eve, Fashion Week and more.
So when Cynthia appeared to be shocked and appalled when the episode of the Peter/NeNe fight aired, NeNe accused Cynthia of letting the audience and 'outside talk' change her mind about making up with NeNe. And she also accused her of trying to create a storyline to save her job on the show, all at NeNe's expense.
After blowing Cynthia and her tears off on Sunday night's episode, NeNe said her FULL piece on IG after the show aired. She posted the pic above--pics of them together since October of last year--and said the below:
AS HOPEFUL AS I WAS 4 US 2 BE LIFE FRIENDS I'AM NOT SURPRISED OUR FRIENDSHIP HAS ENDED & IT TRULY SADDEN ME! REALITY FRIENDSHIPS NEVER LAST ANYWAY SO HOW FOOLISH WAS I TO THINK I HAD MADE SOMETHING SPECIAL! IT'S AMAZING WHAT PEOPLE R WILLING 2 DO 4 THE LOVE OF MONEY, RELEVANCY & 2 STAY ON TV. WITH CYNTHIA'S SELL OUT PERSONALITY & BLOW WITH THE WIND PERSONA I KNEW IT WAS ONLY A MATTER OF TIME! IT'S ALWAYS THE ONES THAT R THE CLOSEST TO U THAT WILL TURN ON U! I WAS TOTALLY BLINDSIDED BY ALL THIS! YES I SAID PETER WAS ACTING LIKE A BIOTCH N EARLY OCTOBER OF LAST YEAR & I HAVE APOLOGIZED NUMEROUS TIMES 4 IT! CYNTHIA & PETER ACCEPTED MY APOLOGY & WE SIMPLY MOVED ON! YES MOVED ON 2 TALKIN, TRAVELING & TEXTING SEVERAL TIMES A DAY AS WE ALWAYS DID! THE 4 OF US WENT 2 DINNER, CYNTHIA HOSTED MY CURVY GIRLS MODEL CALL @ BAR ONE & PETER WAS THERE 2 HELP OUT! THEY WERE @ THE HOSPITAL WITH ME, THEY SPENT THANKSGIVING @ MY HOME, WE CELEBRATED NEW YEARS EVE TOGETHER N VEGAS, WE WERE HANGING OUT TOGETHER DURING FASHION WEEK! SHE ATTENDED THE RED DRESS HEART TRUTH FASHION SHOW WITH ME & MICHAEL COSTELLO'S FASHION SHOW, WE CELEBRATED HER AN EARLY BIRTHDAY BRUNCH IN NYC @ LAVO! WHEN THE EPISODE AIRED 4 ALL 2 SEE & TWITTER-VERSE HAD THEIR SAY I GUESS SHE CHANGED HER MIND & DECIDED SHE NEEDED 2 BE MAD NEARLY 6 MONTHS LATER!.....I KNOW U TRYIN 2 PULL THE SYMPATHY CARD BUT IF U WERE SUCH A GOOD FRIEND? Y DIDNT U PULL ME ASIDE & TALK 2 ME ABT HOW U WERE FEELING INSTEAD OF DICING OUR FRIENDSHIP UP N FRONT OF A BUNCH OF PEOPLE WHO DONT CARE! SURELY I'AM WORTHY OF THAT CONSIDERING I HAVE CARRIED U ON MY BACK! I CAN ADMIT WHEN SOMETHING HURTS THE SAME WAY I CAN APOLOGIZE WHEN I'AM WRONG BUT HEY WHO CARES ABT A STUPID FRIENDSHIP WHEN U NEED 2 SECURE ANOTHER SEASON ON THE SHOW! THE SADDEST THING ABT BETRAYAL IS THAT IT NEVER COMES FROM THE ENEMY! 4 THE RECORD I DONT HATE U! I JUST HATE U TURNED INTO EVERYTHING U SAID U WOULD NEVER BE! GOOD BYE FRIEND!....PS: IF U OR ANYONE ELSE THINKS THE DEMISE OF OUR FRIENDSHIP IS YOUR STORY LINE 4 SEASON 7, THINK AGAIN FLIP FLOPPER
Oh, there's more. NeNe then posted a screenshot of the text message Cynthia sent her last October right after the Mexico incident was filmed, with Cynthia saying she had let it go and wasn't going to press any further in their next scenes together.
NeNe said: "Did u forget u sent me this text after Mexico the morning before Gregg & I shot the scene with u & Peter! Don't play dumb friend! I know u innocent." And she posted the below: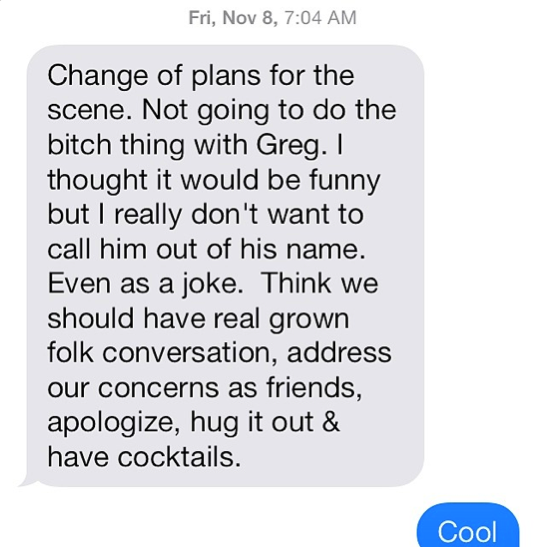 Check out the clips below to recap what went down on last night's reunion installment:
Photo: NeNe's IG
​ ​
​ ​ ​