BREAKING: Donald Sterling BANNED FOR LIFE From ALL Associations With The NBA, Fined $2.5M, Will Be FORCED To Sell
​
Apr 29 | by Natasha
​ ​ ​ ​
NBA Commissioner Adam Silver's just dropped some major bombs in the Donald Sterling saga. The outcome of Sterling's future inside...
In a press conference today in NYC, Commissioner Adam Silver just levied the ultimate punishment possible for an owner. While an NBA owner, based on the bylaws of the organization, has pretty much free rule and almost no one to answer to, the NBA has taken swift and strategic action to accomplish the goal of expelling Sterling anyway.
While according to the bylaws, an owner cannot be "fired" in the traditional sense by the Commissioner or really anyone, there are other ways to force him out.
Commissioner Silver has BANNED Donald Sterling from any and all NBA related business, functions, games, etc. for LIFE.
Here's the run down:
-Silver said he will IMMEDIATELY urge the NBA's Board of Governors to force sale of Sterling's Clippers Team. Owners can force sale of the team (which could possibly result in the disenfranchising of the team itself) with a 3/4 vote.
-The central findings in the investigations of the recording in question is that the voice is Sterling's. And the hateful opinions voiced were made by Sterling.
-Silver said that views of this kind are deeply offensive and harmful, and it's upsetting that it occurred within an organization that has taken a leadership role in race relations.
-Commissioner Silver apologized to Magic Johnson, Bill Russell, and many others.
-Sterling is BANNED FOR LIFE. He cannot attend any NBA games, practices, or any business involving the Clippers team. Sterling is also barred from attending NBA Board of Governors meetings or any and all league activities. (This essentially ties his hands to be unable to perform ANY duties of an owner).
-Sterling has been fined $2.5 million, the maximum amount allowed under the NBA constitution. Funds will be donated to organizations focusing on diversity and inclusion, selected by NBA Players Associations.
-Commissioner Silver said he will do everything in his power to force him to sell.
-About why the NBA ignored his past KNOWN racist actions, Silver said he can't speak on past actions. When Sterling's current specific actions were brought to the NBA, they have acting on those. The past legal cases were lost by the plaintiff or settled.
There is an argument that Sterling still wins, because when he sells, he will likely make a MAJOR profit as he team is now worth half a billion dollars. He only put in $13 million ($3 mill of his own and $10 mill on "layaway" of such).
As for us, we are indeed pleased with the outcome.
We applaud Commissioner Adam Silver for taking the absolute most drastic action possible for a Commissioner, who essentially is UNDER the owners. He used his power to its fullest extent. And we applaud our readers and everyone who spoke up via social media and beyond, making sure the legitimate outcry was heard...and acted upon appropriately.
Here's what's taken over the Clippers' NBA website homepage: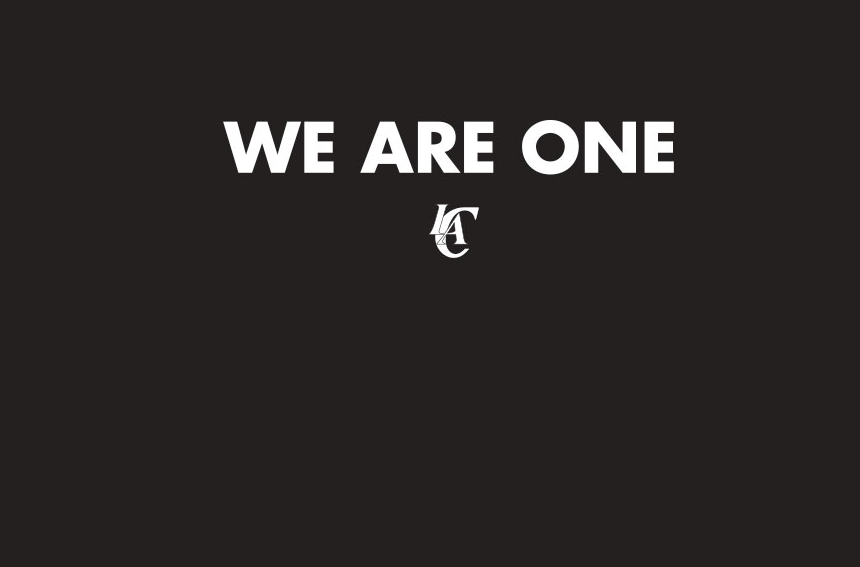 Keep speaking up!
Just for S's and G's: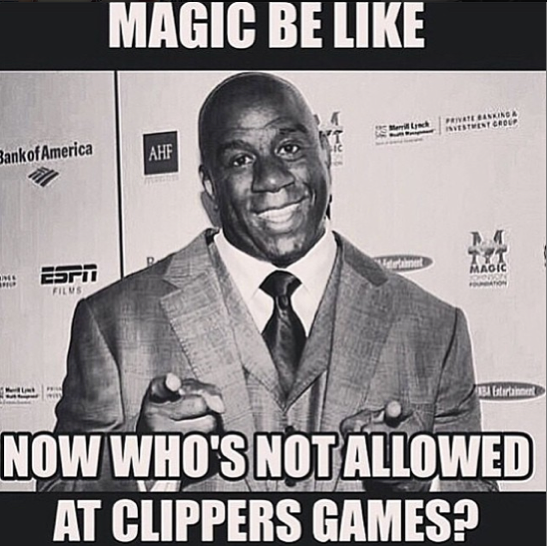 *UPDATE* The NBA ballers past and present are speaking up in FULL support of today's ruling. Check out what everyone's saying below:
Great move by the @NBA today! #NoPlaceInOurGameForThis #NoPlaceInLifeForThis

— JR Smith (@TheRealJRSmith) April 29, 2014
'Standing ovation' for Commissioner Silver. Big time decision standing up for the league and it's players. Now, Gotta see it through

— Stephen Curry (@StephenCurry30) April 29, 2014
Big ups to Adam Silver. I think this is a very appropriate way to handle this situation. Now it's up to the owners to make him sell.

— Mario Chalmers (@mchalmers15) April 29, 2014
Commissioner Silver thank you for protecting our beautiful and powerful league!! Great leader!! #BiggerThanBasketball #StriveForGreatness

— LeBron James (@KingJames) April 29, 2014
Way to go, Commissioner Silver! The NBA stands for everybody!

— SHAQ (@SHAQ) April 29, 2014
Commissioner Silver....STRONG...way to take charge and protect our great league.

— THREE (@DwyaneWade) April 29, 2014
Commissioner Silver showed great leadership in banning LA Clippers owner Donald Sterling for life.

— Earvin Magic Johnson (@MagicJohnson) April 29, 2014
The people who I'm happiest for are Coach Doc Rivers, the Clippers players and fans.

— Earvin Magic Johnson (@MagicJohnson) April 29, 2014
Chris Paul and Blake Griffin have yet to comment about the newest ruling.
Photos: SLAMOnline's Twitter/Clippers' Website/ItsPatRichards' IG

​ ​
​ ​ ​