OH SNAP! Apollo Nida Pleads GUILTY To FRAUD, Says He Felt Pressure To KEEP UP With Phaedra's Money
​
May 06 | by _YBF
​ ​ ​ ​
Apollo Nida faced a judge in the U.S. District Court for the Northern District of Georgia and reportedly entered a guilty plea. Deets inside…
Life is about to change for "RHOA" star Phaedra Parks all because her husband was desperate to "keep up with her lifestyle". The Southern Belle's husband Apollo Nida plead guilty in a court of law today on charges of mail, wire and bank fraud.
According to the Atlanta Journal Constitution, the assistant U.S. attorney, Alana Black, went into detail about his many scams, including opening a fake debt collection agency to steal people's personal information. Once he got their info, he would steal their identification and "find unclaimed funds, refunds from the U.S. Department of Housing and Urban Development, stolen U.S. treasury checks and refunds from fraudulent U.S. income tax returns."
The Real "Husband" of Atlanta had other tricks up his sleeve as well, which were detailed before the court. Some of this involved getting auto loans for phantom cars.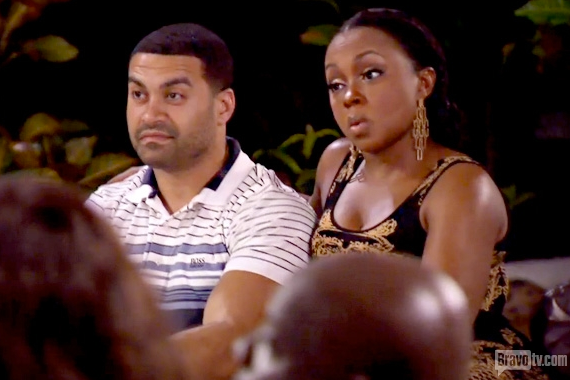 Then there's this plea by Apollo, as explained by the AJC:
He said she was making far more money than him and he felt pressure to keep up. (He cited a $600,000 contract for her but didn't say how long that was supposed to last.) Without easy legitimate ways to make quick money, he opted for this illegal scheme instead. But he claimed to her he was running a legitimate debt recovery firm and kept her firmly in the dark.

He said he even had a nervous breakdown at one point over the pressures to "sustain a lifestyle" befitting of a reality show star. And once he started the scheme, he found it difficult to stop. "I got sucked in and engulfed and lost sight of things," he said.

Nida said he often didn't think about whether this was hurting anybody because he was primarily targeting private businesses and the government, not individuals. And in the case of unclaimed property, what were the odds these folks would ever claim them?
He faces being thrown in jail for a maximum of 30 years and having to cough up a total $2.3 million (including restitution) to repay the alleged victims he scammed including financial institutions and government agencies. His co-conspirator, Gayla St. Julien, was sentenced to 5 years behind bars after she plead guilty to similar charges.
Sighs…
Apollo did take responsibility for his actions and admitted to not making the best choices saying,
"It was a dumb situation I put myself in. It's my fault at the end of the day," he said.
He will face sentencing on Tuesday, July 8th at 2pm.
We'll keep you posted...
Photo: Phaedra's IG/Bravo

​ ​
​ ​ ​