Wait…WHAT? Solange & Jay Z REPORTEDLY Spotted Shopping For Jewelry….TOGETHER
​
May 13 | by Natasha
​ ​ ​ ​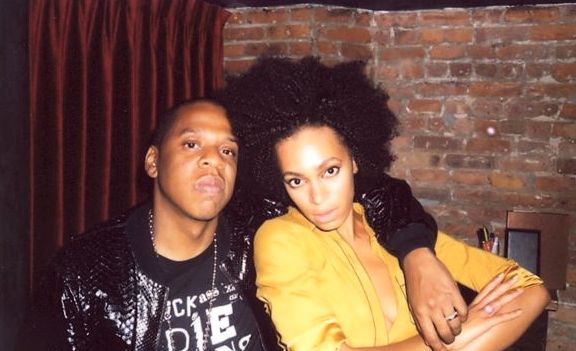 In the latest episode of "What Elevator Fight?!", Jay Z and Solange were reportedly spotted shopping it up in NYC for jewelry today...together. WTF?
Deets inside...
Yet another addition to the conspiracy theory that centers around Solange having...issues...of her own that her family is quite used to by now. Jay acted as if all was fine and well just one day after the footage leaked of his sister-in-law flipping the hell out and attacking him on the elevator at The Standard Hotel. The rapper was reportedly shopping it up in Mr. Flawless jewelry store today with Solange herself.
And yes, they allegedly were calm and collected while doing so. It's as if everyone in the world knows about Cartergate 2014...except for the Carters.
That much talked about video footage shows what when down in the elevator outside the Boom Boom Room during a MET Ball afterparty. Solange kicked and screamed (at least it seemed like she was screaming something SERIOUS) and physically attacked her brother in law for unknown reasons. Bodyguard Julius even had to restrain Solange and make the elevator come to an emergency stop. So...why (and how) in the hell are these two acting so cool with each other just a few days later?
TMZ says:
Jay Z and Solange Knowles went looking for jewelry together Tuesday afternoon at a high-end NYC jewelry store ... TMZ has learned.

Our sources says Jay and Solange were in Mr. Flawless, where they were looking for women's jewelry for around 20 minutes.

We're told the pair showed no signs of strife, and looked at gems with Mr. Flawless himself. They looked, but tried nothing on. They left the store without buying anything.

Jay and Solange didn't talk much inside the store ... they pretty much just browsed quietly.
And this is the day after Jay and Beyonce were spotted courtside at the Nets game, as well.
Does this all play into the conspiracy theories about Solange's drinking habits? Or Solange having issues with her brother-in-law in relation to his alleged cheating ways that have yet to be proven? Could she have really just been defending her sister about something...and let the alcohol do WAY more talking than she wanted? Could she, who is KNOWN to have a slick mouth, have been popping back at jay over something slick HE said to her? Or does Solo flip out like this often for some reason...unprovoked? Surely seemed like it wasn't the first time, based on Jay & Bey's reactions.

All of these conspiracy theories were topped off by this latest story from the NY Daily News that essentially said Solange was throwing a temper tantrum over being told, by her bro-in-law--that she could not use HIS name to get her friends intot he after party. And, of course, Rihanna gets thrown in the mix.
"Two of [Solange's] friends, who were not dressed for the Met Ball, showed up at The Standard and caused a scene downstairs," the source said.

"They wouldn't leave and kept name dropping Jay Z. They were pretending they were guests of his and not hers. Management went to Julius (Beyonce's bodyguard) and said there's a problem."

Our source said Jay Z soon got wind of it and snapped at Solange, saying "don't use my name."

The 27-year-old singer turned sullen and said she wanted to leave the party.

On the way out, Jay Z said he'd be heading to Up & Down on W. 14th Street, where Rihanna was holding her own post-Met Ball bash, a second source said.

ay's camp had called ahead of time to say he would be coming alone and "didn't need extra security" because Beyonce wouldn't be attending, the source said.

Apparently, that didn't sit well with Solange.

"She seemed drunk and irritated," said a second source. "She said, 'Why can't you go home?' and to Beyonce 'Why does your husband need to go to the club right now?'"

An incensed Jay Z didn't back down. "You're one to talk," he replied, the source said.

Jay's response set Solange into a rage. Once inside the elevator, she started punching and kicking her brother-in-law
The saga continues....
BONUS: M.I.A. posted this today, a brand new remix with Bey, a track called "BaddyGirl 2":
Beyonce camp has not replied for months > SO HERE > https://t.co/YuFuLSlswP

— M.I.A (@MIAuniverse) May 13, 2014
Photo: The Source
​ ​
​ ​ ​