YBF KIDS: Quvenzhané Wallis Named NEW Face Of Armani Junior
May 22 | by _YBF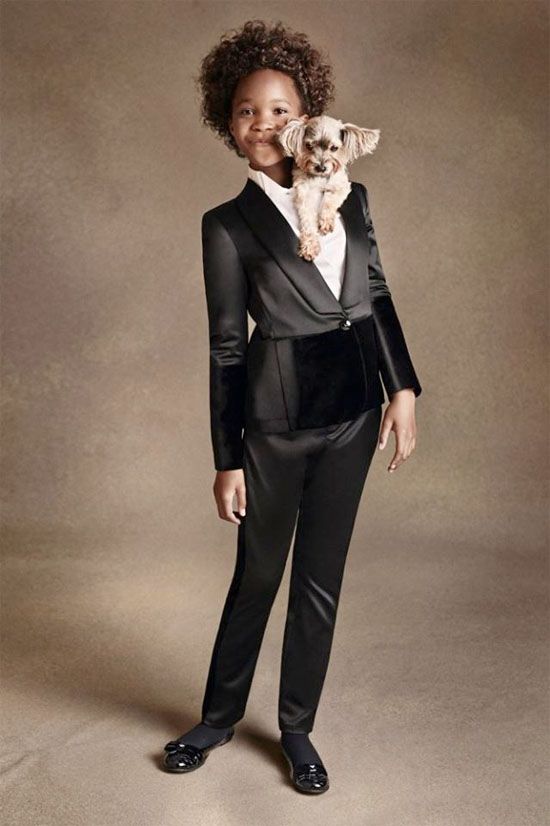 Quvenzhané Wallis is truly young, black and fabulous. She is now the newest face of luxury brand Armani Junior, making her the first major child celebrity to represent the brand! Get the deets and her first pic inside…
10-year-old Oscar nominated actress Quvenzhané Wallis is making major moves since she hit the movie scene in Beasts of the Southern Wild. Giorgio Armani tapped the young actress to be the face of his Armani Junior line for children and teens, making her the first major child celebrity to be the face of the brand.
Photographed by Stefano Azario, the star of the upcoming Annie remake (scheduled to premiere this Christmas) posed it up in a gorgeous black tuxedo with a cute little puppy, showing off her beautiful smile lovely curls. And we all know her love for puppies. She carried a "puppy bag" to almost every red carpet event during her Oscar run.
The young starlet is simply thrilled to be named as the Armani Junior ambassador. She gushed to the Hollywood Reporter,
"I'm so happy to be chosen by Mr. Armani to be his ambassador for Armani Junior. I felt the same excitement when I got cast for a major film. Me? Wow! I was honored to wear his custom gown to the Oscars. It made me feel like a princess. When I saw Mr. Armani's Prive' show in New York, the dresses were so pretty . . . I had too many favorites. Afterwards when I met him, I realized Mr. Armani is such a nice man. I liked that that he was so thoughtful. It's fun to wear Armani Junior since I really like the clothes. It's young. It's cool. My friends are going to want to borrow all my clothes."
In a statement released by Giorgio Armani, he explains why he chose the rising star to be the face of his brand saying,
"Quvenzhané is so talented, despite her young age. Her kindness, curiosity and openness towards others really struck me, as they are all traits I admire. It is for this very reason that I wanted her to be the face of Armani Junior. With her insatiable energy, Quvenzhane made the clothing come alive, interpreting it in her own singular way."

The poised young starlet is also tapped to star in a lead role as a 12-year-old genius in an adaptation of bestseller "Counting by 7s."
Work! Congrats Q!
Photo: Stefano Azario