FIGHT NIGHT: Floyd Mayweather & T.I. Involved In Alleged BRAWL In Vegas + Did T.I. POP OFF On Floyd Over Tiny?! + Floyd SCREAMS "You Need To Control Yo B*tch!" [PICS & VIDEOS]
May 25 | by _YBF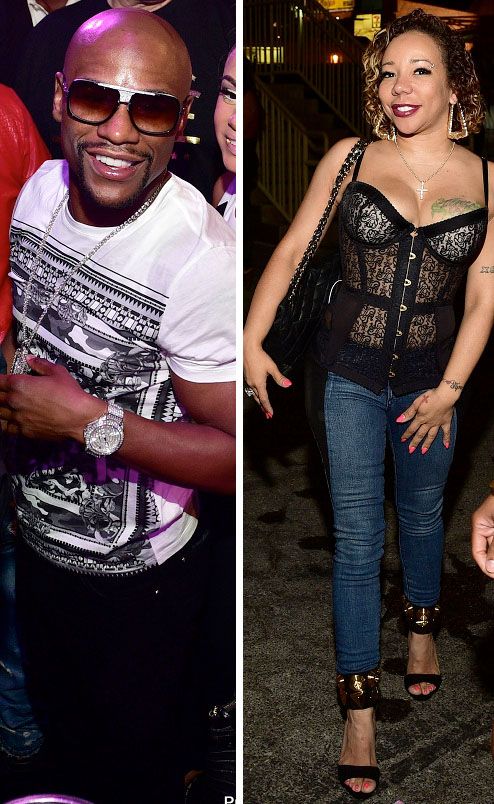 This Memorial Day weekend has been quite eventful in Las Vegas. Friday night, Floyd Mayweather brought his new "main chick" and other ladies to party with him at Prive. One of those ladies just so happened to be Tiny. Fast forward to Saturday night, T.I. and Floyd are involved in a brawl! Hmm…did Tiny have something to do with it? Find out inside…
UPDATE [4:30pm EST]: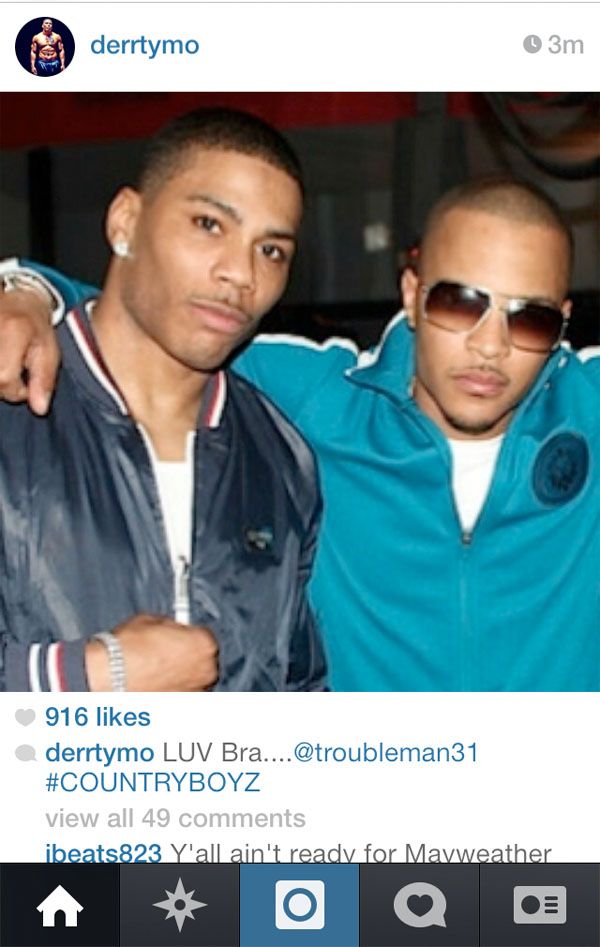 Nelly got in on the Grand Hustle vs. Money Team melee, clearly siding with his down south homie, T.I.
In solidarity, Nelly posted pics of him with Tip captioning one shot, "@troubleman31 STRAIGHT LIKE DAT….!! #COUNTRYBOYZ" He has already deleted the first pic (you know...Tip mimicking he's holding a gun) but the second picture still remains.
We all saw Nelly and Floyd publicly blast each other over Nelly's "relationship" with Floyd's ex-fiancee Shantel Jackson. So yea...
......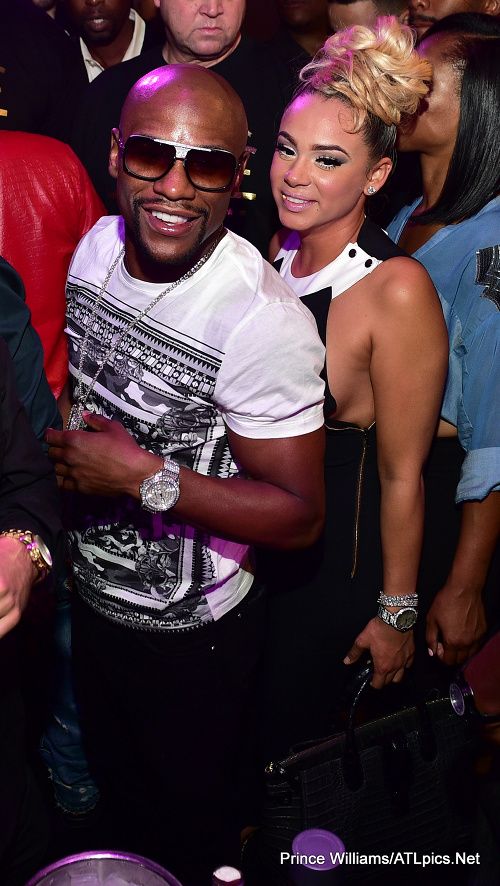 Floyd Mayweather is still basking in his victory over Marcos Maidana bringing the party to Prive nightclub in Las Vegas Friday night.
Pretty Boy Floyd bought his new girlfriend Doralie Medina (above) along (after blasting his ex-fiancee Shantel over aborting their twins) and turnt up to kick off their Memorial Day weekend.

Also in the building…Tiny! Mrs. Harris and her girls hit the scene to party it up in Vegas.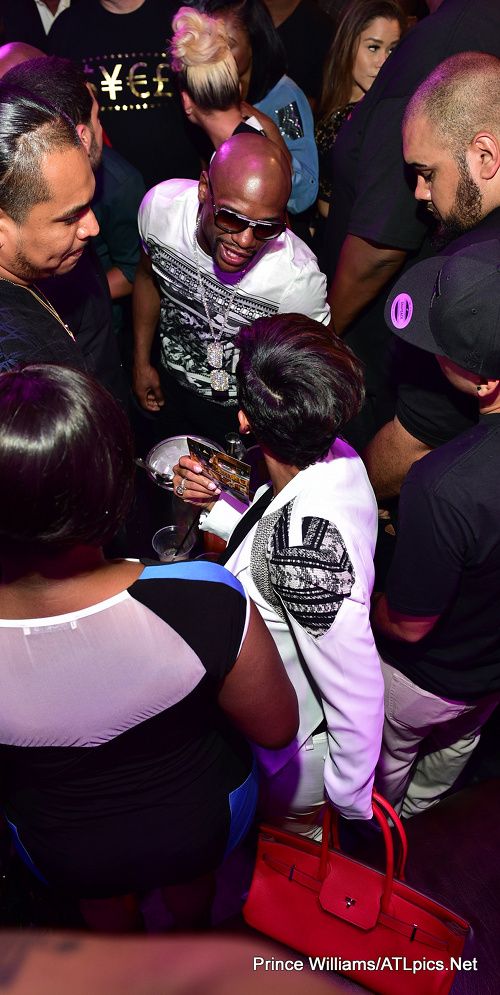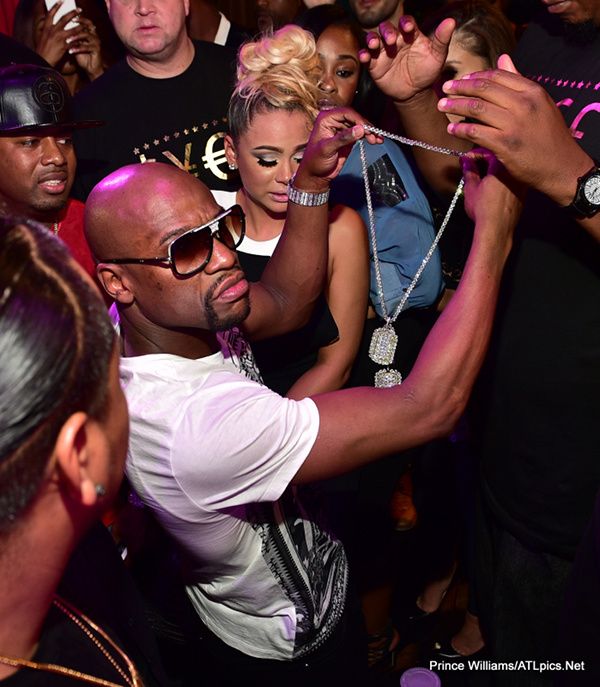 Floyd was typical Floyd, flossing his jewels and popping bottles.
Hey Shekinah!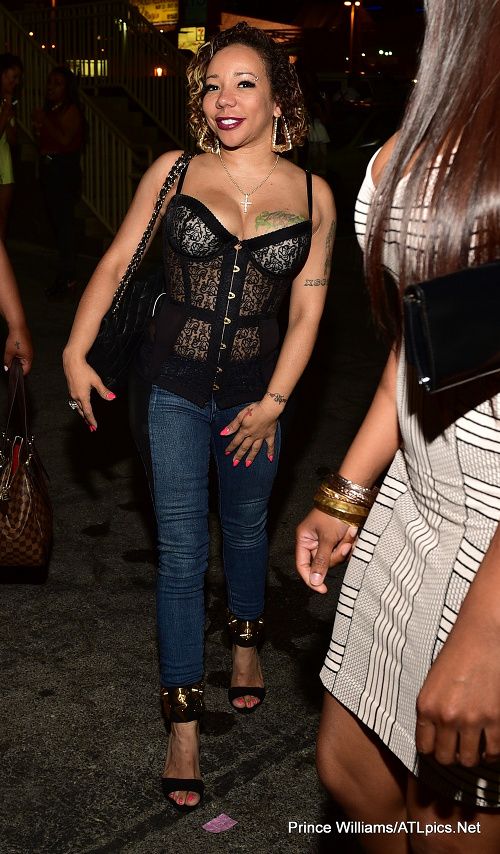 Chick got a break from her mommy duties for a night out on the town with her girls.
But...it came with a huge consequence...
Grand Hustle vs. The Money Team!
After partying it up at Prive Friday night, Floyd hit up Fatburger Saturday night on the Vegas Strip and ish went totally left. T.I. (who was tapped to host at Prive Saturday night) and Floyd Mayweather reportedly got into a huge brawl which resulted in chairs being thrown and chaos ensued.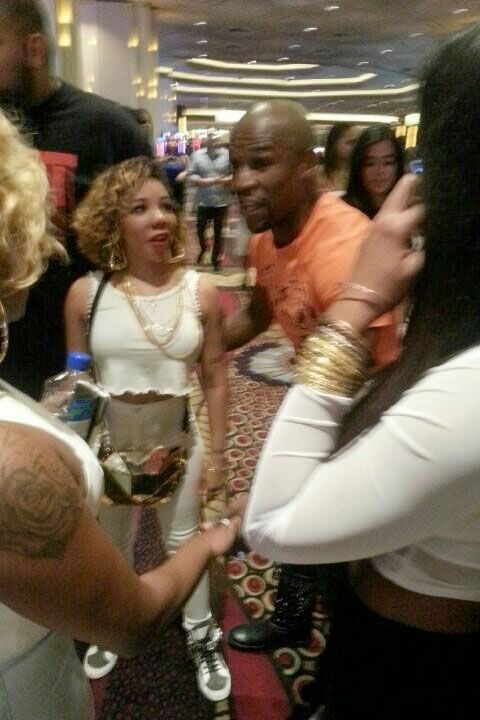 Was Tip mad his wife was hanging out in Prive with Floyd the night before AND last night (above & below) at his daughter Iyanna's birthday bash at MGM? Possibly...
According to TMZ sources, T.I. allegedly walked up on Floyd as he ate inside of the restaurant, flying off at the mouth with some slick ish. Then, Tip supposedly swung on Floyd and a fight broke out. Bodyguards jumped in, separated the two and then all hell broke loose. Lord…
Cops were called to the scene…Tip dipped as Floyd made his way out of there. A Fatburger employee was hurt but refused treatment.
More footage of the fight:
And then Floyd is caught on video yelling, "You need to control yo b*tch, muthaf*cka!":
Sighs...
Tip needs to have a seat somewhere. He was just involved in a run-in with the LAPD alongside The Game last month over club security guards assaulting his friend. And with both of them serving time in jail in the last few years...neither of them want those types of problems.
And you KNOW 50 Cent had to give his take on the fight:
Wonder how he found out about their fight so quickly but didn't know his own son was graduating...
Photos/Videos: ATLpics.net/TMZ/50 Cent's IG/Tiny's IG/@dilemme_bnw/HHNMblog/@iamdasituation