SUMMER JAM 2014: Nas, Rihanna, 50 Cent, Nicki Minaj, Trey Songz, French Montana, & More ROCK OUT Backstage & Onstage At Hot 97's Summer Concert
​
Jun 02 | by _YBF
​ ​ ​ ​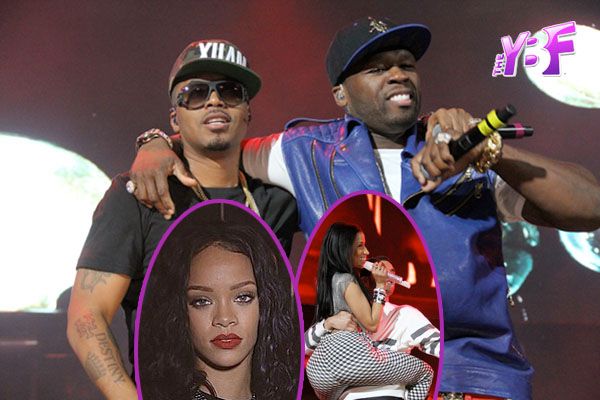 Hot 97's 2014 Summer Jam concert went down at New Jersey's MetLife Stadium on Sunday night (fights and all) and TheYBF.com was on the scene for the epic performances and backstage flicks. Peep the concert pics inside…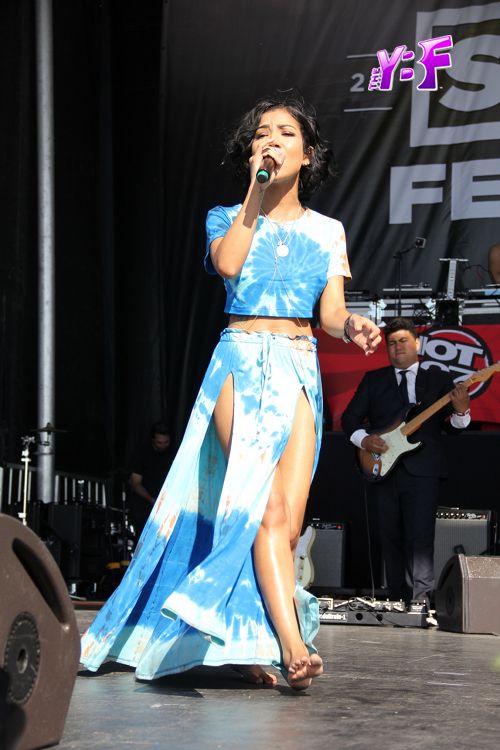 Hot 97's annual Summer Jam was jammed packed with performances from some of Hip Hop and R&B's biggest names and we have the pics and the run-downs on their performances.
The concert kicked off with performances from songtress Jhene Aiko and a shirtless Childish Gambino for their duet "Bed Peace" on the festival stage located just outside of MetLife Stadium.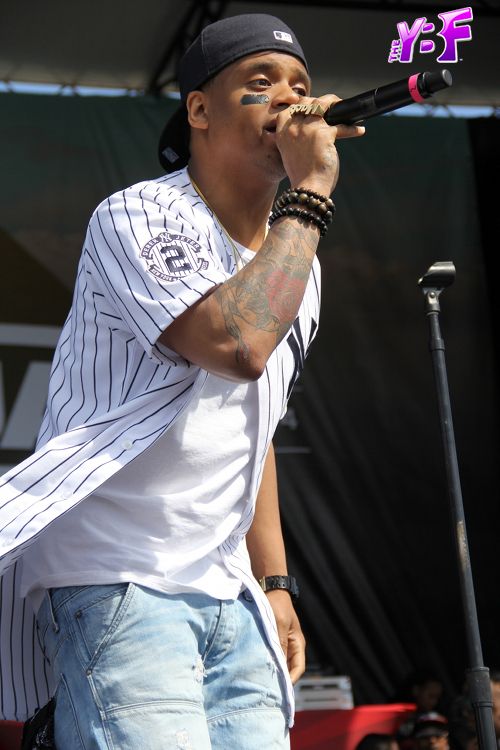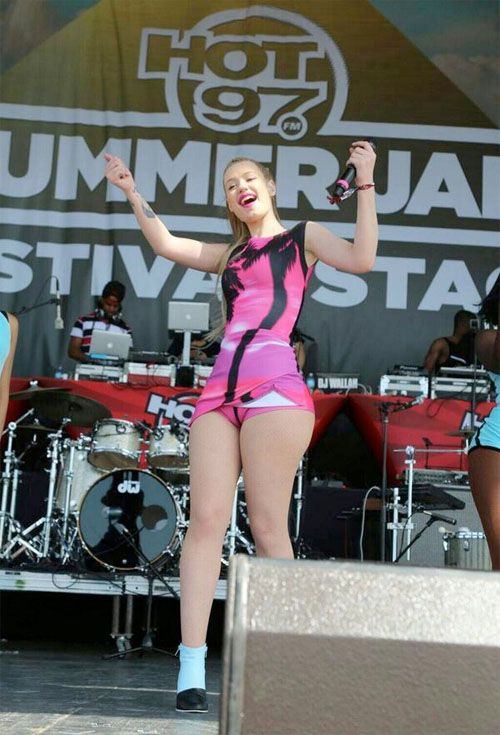 Also on the festival stage were performances by singer/actor Mack Wilds, Australian rapper Iggy Azalea, R&B crooner August Alsina, Chinx and Nipsey Hussle.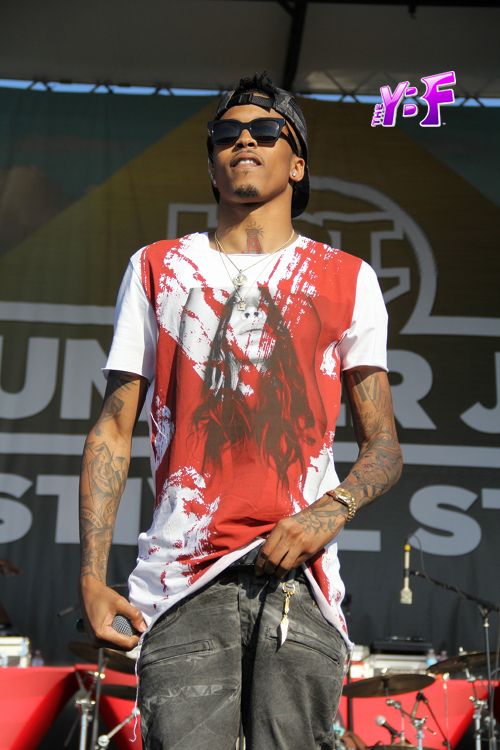 August was in better spirits during Summer Jam after losing his sh*t at a concert in Arkansas the night before. The R&B crooner decided to crowd surf during his set and lost his hat. Once he realized the hat was missing, he stopped the music and ranted, "Who got the hat?! On some G s**t! Don't play with me like that, my n*gga. I came out here to f**k with y'all so if you got it, ain't NOBODY leaving out this b**ch until I get it back, straight up! Where it's at? Or we gon' cause a muthaf**kin' riot in this b**ch." Sheesh…
Chris Brown's newest artist Sevyn Streeter hit the stage to perform her radio hit, "It Won't Stop" followed by Brooklyn rapper Troy Ave who bought out T.I. for his set.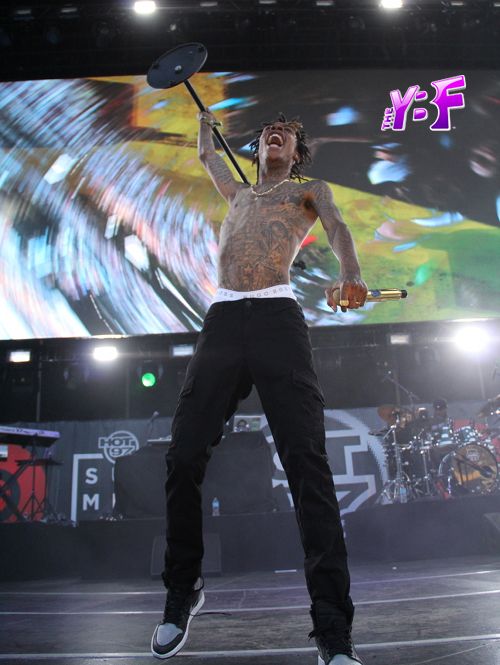 After posting bail in Texas for possession of marijuana, Wiz Khalifa rocked the stage with his performance of "We Dem Boyz."
Then he bought out his smoking partner Snoop Dogg to perform their hit "Young, Wild and Free."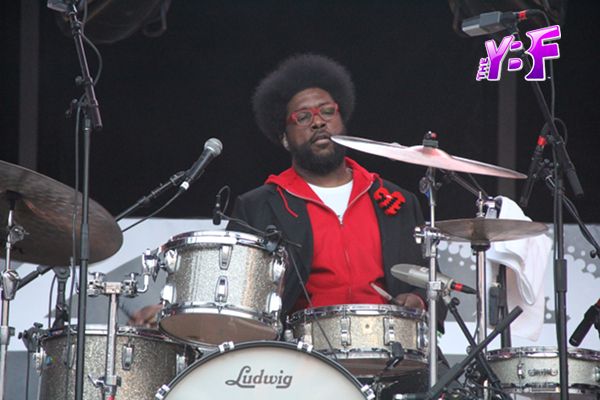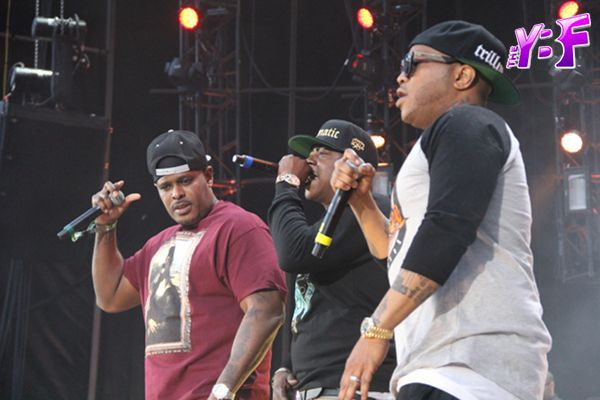 Following Wiz's set, The Roots hopped on stage to rock out to some of their tracks and provided the tunes for gritty rap group The Lox.
Trey Songz was next in the line-up. He serenaded the ladies with a few of his hits and then bought out Ty Dolla $ign for their song "Paranoid." Both Sevyn and Trey shouted about Chris Brown during their sets screaming "FREE CB!" And in case you didn't know, Chris Brown was released from a Los Angeles county jail this morning after serving 108 days.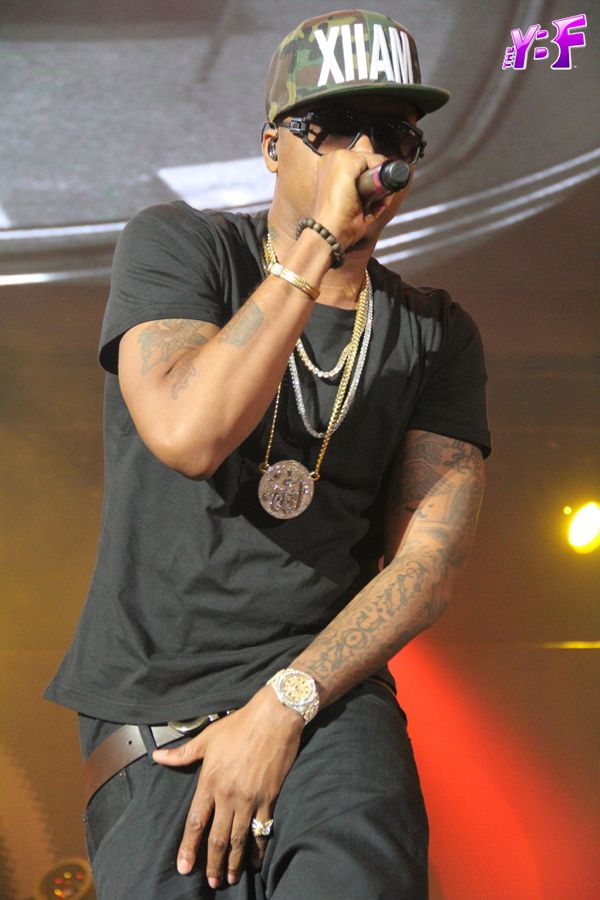 As he continues to celebrate the 20-year anniversary of his album Illmatic, Nas took the stage taking us back down memory lane as he performed some of his classic Illmatic hits.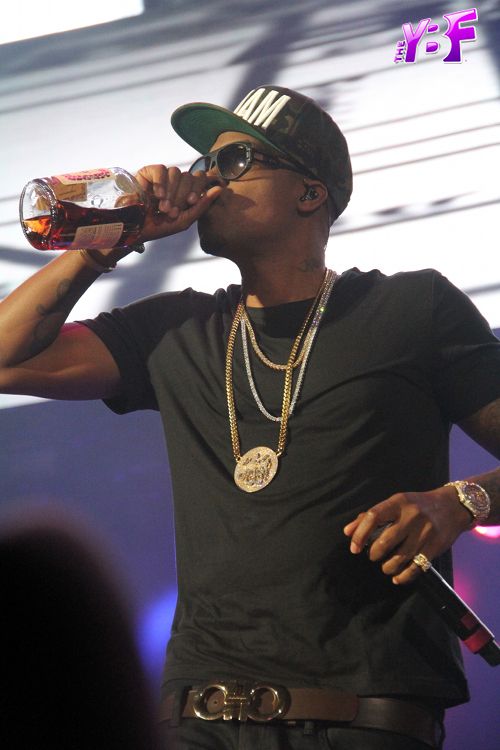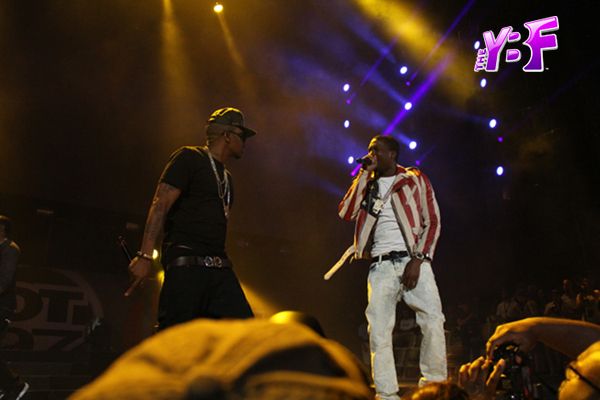 During his set, the Queensbridge rapper brought out Philly native Meek Mill and French Montana, as his rumored girlfriend Khloe Kardashian watched from the stands. As Meek performed, he called himself one of the best in the rap game.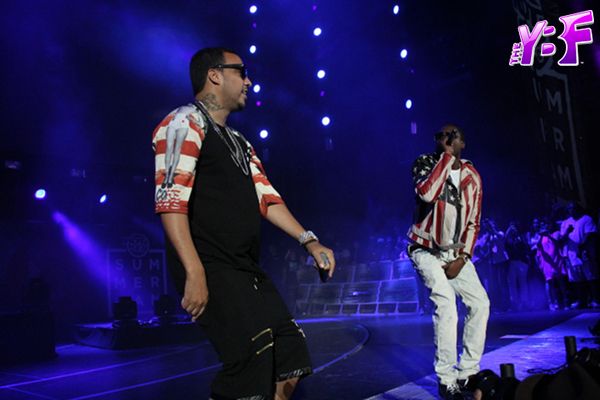 Then Nas introduced 50 Cent who hit the stage at Summer Jam for the first time in 10 years and a G-Unit reunion was quickly underway.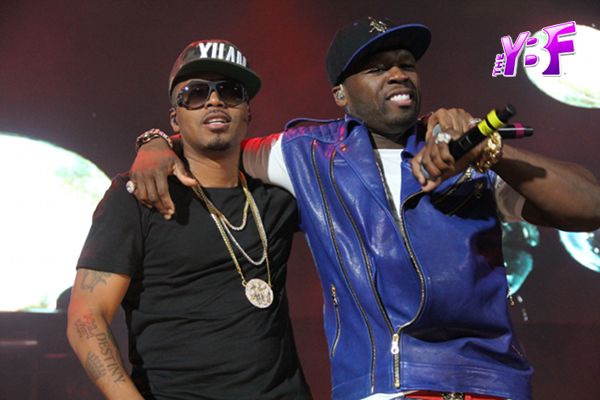 50 Cent stormed the stage to reunite with former G-Unit crew Lloyd Banks, Tony Yayo and Young Buck, which sent concert goers in a frenzy. They performed a few of their joint and solo hits including "So Seductive," "Shorty Wanna Ride," "I Smell P*ssy" and "Smoke."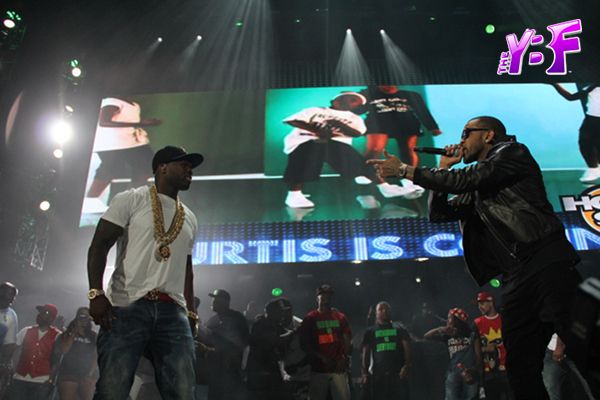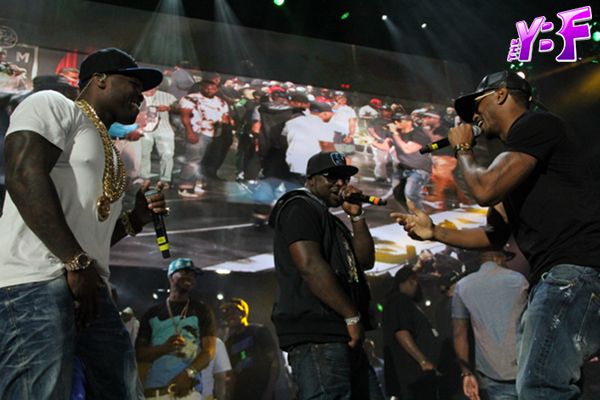 50 then bought out Brooklyn rapper Fabolous and then Yo Gotti took the stage to perform his track "FU."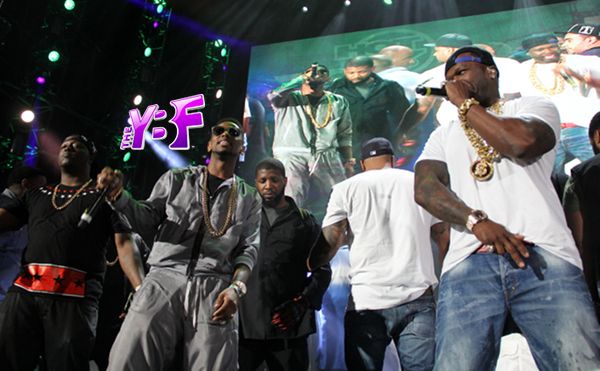 50 paused his set to take selfie of the 50,000+ concert goers and then began a rant on his departure from record label Interscope. Hoarse from performing the slew of tracks he said, "A label can't drop a n*gga like me. I dropped the label. Get the f*ck away from me…you stupid? N*ggas thought Jimmy Iovine was my boss, are you kidding me? I'm from 134 street…I ain't GOT no muthaf*cking boss!" Lord…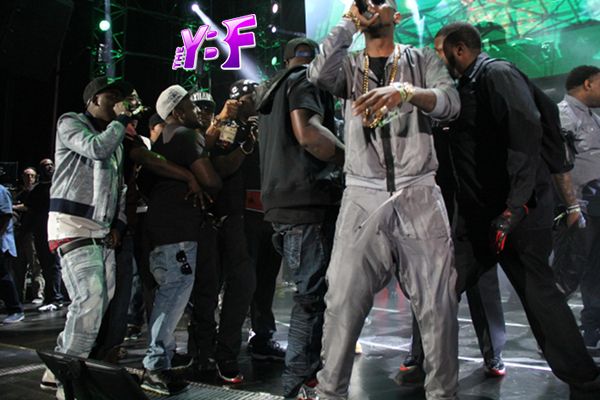 And during his set, an apparent fight broke out. You can check out the deets here. After running over his allotted time for his set, 50's mic was cut off so he could exit stage left.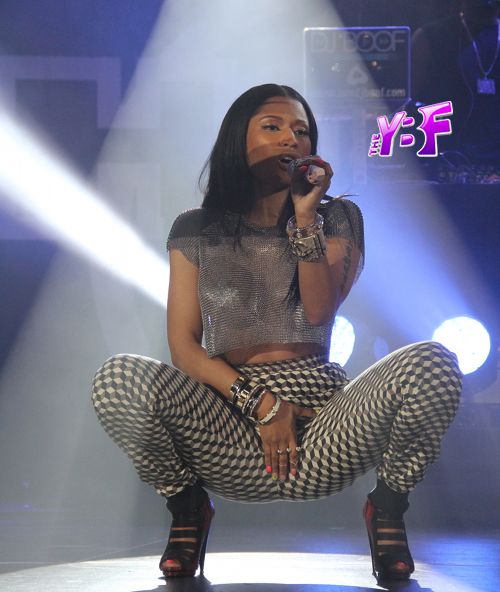 Next up…Nicki Minaj!
The "Pills N Potions" raptress stormed the stage braless in a Fannie Schiavonni mesh crop top accessorized with silver star pasties to (barely) keep her nipples covered, black and white Manish Arora pants, python Gucci booties and designer jewelry from Chanel and H. Bendel.
YMCMB's first lady kicked off her set with her verse from "Monster." Nicki then brought out rapper Lil Herb for their new track "Chi-raq." Then she spit her lyrics from "Lookin A** N*ggas." Nicki also brought Soulja Boy on stage for their collabo "Yasss Bish Yass"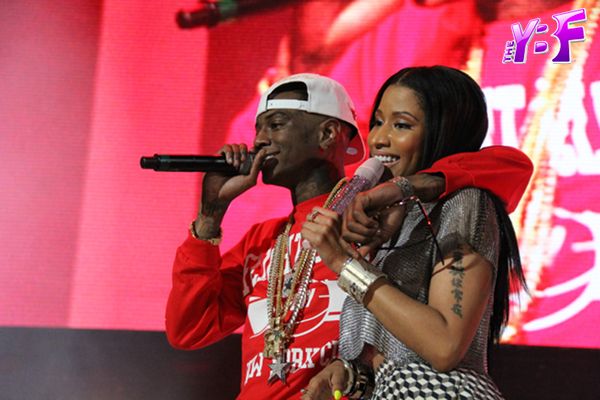 Nicki slowed down her set to perform her newest track "Pills N Potions" and then brought out surprise guests Drake (who performed "Trophies") and Lil Wayne ("Believe Me.")
These two...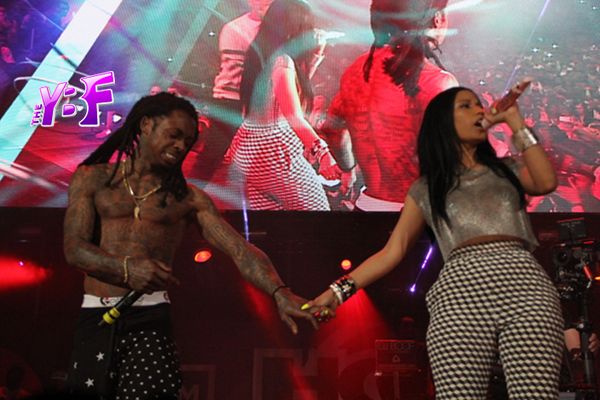 Nicki then gave the YMCB head honcho a shoutout as the best rapper alive and Weezy performed his verse from Chris Brown's hit track "Loyal" Awkward for Drizzy….
And before Nicki M. took the stage, she was spotted backstage posing it up with Rihanna (who was not set to perform). Although there were unconfirmed rumors that Drake and RiRi reportedly called it quits, RiRi randomly popped up backstage likely to support her on-again/off-again boo thang Drizzy.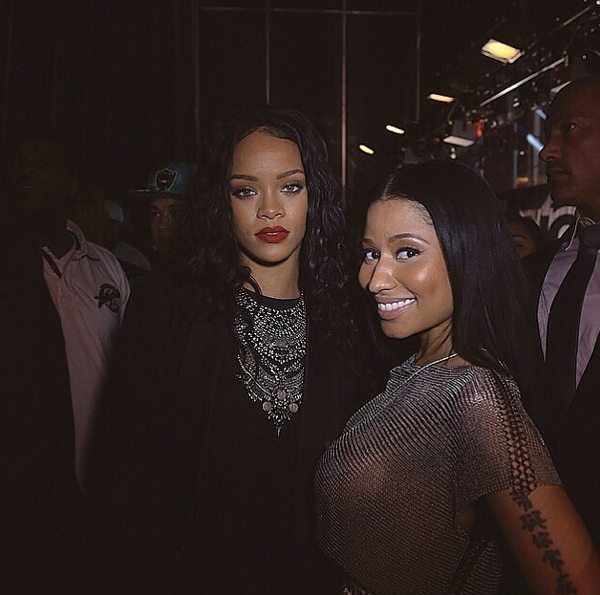 Peep more backstage pics below: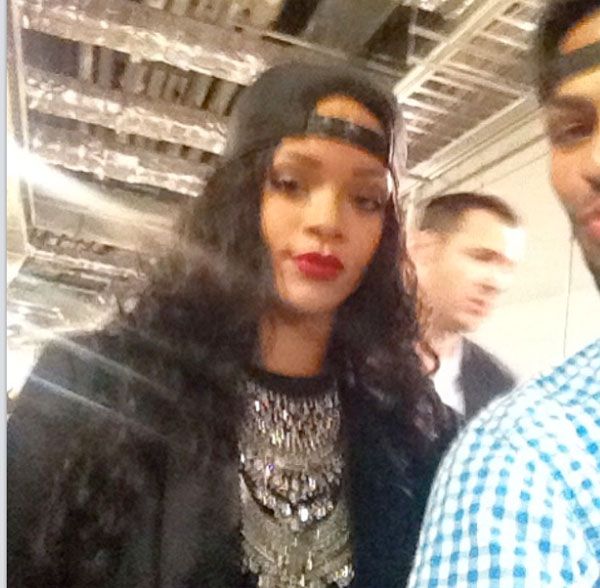 A fan caught Rih in a black tuxedo jacket and sweats by VENUSxMARS as she made her way around backstage. Tonight, Rih will accept the 2014 Fashion Icon CFDA Fashion Award at the Alice Tully Hall at Lincoln Center in NYC.
Drake & Nicki stopped for a pic before going on stage.
Nicki and her "boss" Lil Wayne were goofing off backstage.
French Montana and his rumored boo Khloe Kardashian were caught for their first pics together, playing with guns and sipping bubbly backstage. It must be official now...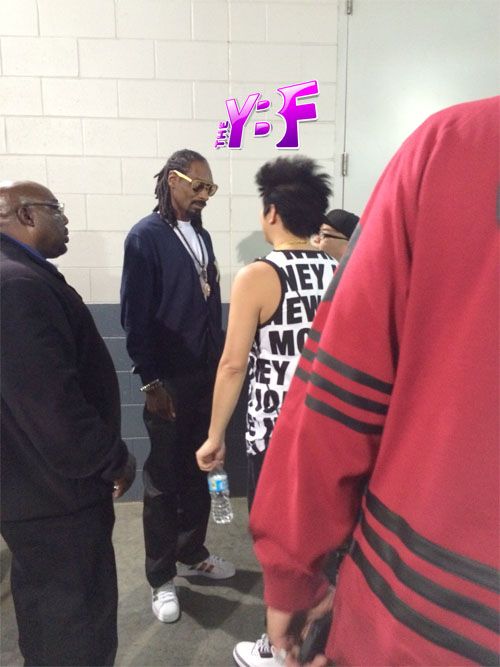 We caught Snoop Dogg backstage after his performance with Wiz Khalifa.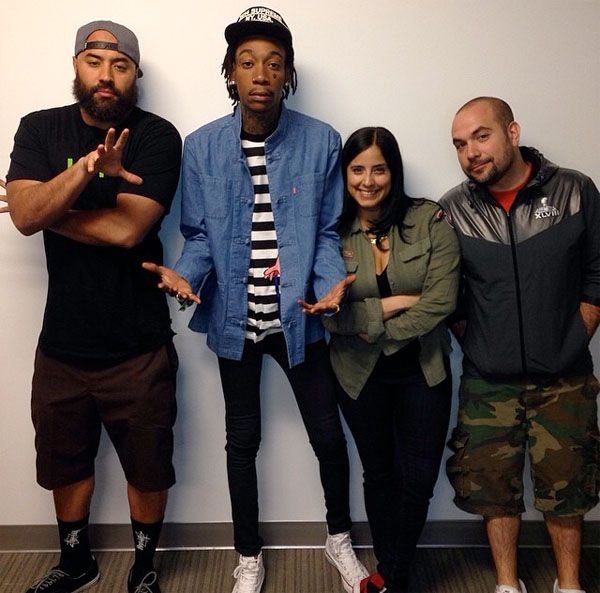 While Wiz hung out backstage with the Hot 97 crew.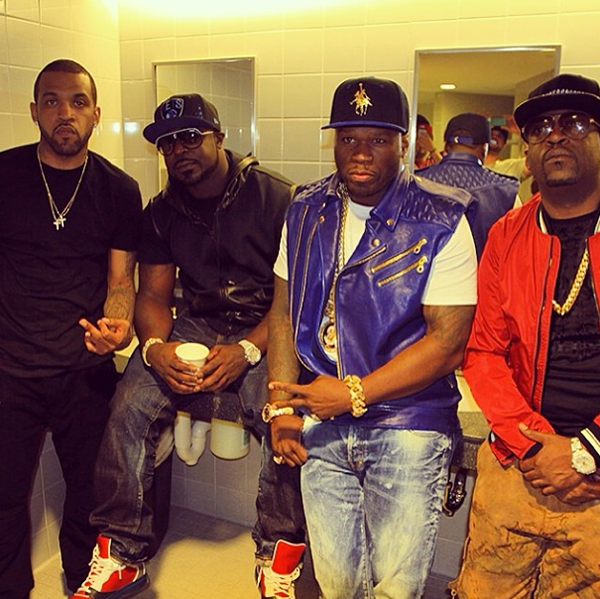 And G-Unit reunited backstage before they performanced.
Fun times!
Photos: Rodney Gibson/YBF Correspondent Shirley V. Williams/ Elliot Wilson's IG/Khloe Kardashian's IG/@ravieb /Michael J Feeny/@emily211424/@AzaleaSource
​ ​
​ ​ ​