"LAHH ATL" Star Erica Pinkett CLAIMS Bambi Ordered A Woman To Brutally Attack Her Over Lil Scrappy...Bambi DENIES Any Involvement!
​
Jun 26 | by _YBF
​ ​ ​ ​
Lil Scrappy's love interest Erica Pinkett is making claims that she was ferociously attacked in a nightclub. And she claims Scrappy's girlfriend Bambi is the one who orchestrated the assault. But Bambi claims she had NOTHING to do with it. Get the foolywangery deets inside…
Lil Scrappy's "eggs" (as Mama Dee likes to call them) have taken their on-air fights into the ATL streets…allegedly.
"LAHH ATL" star Erica Pinkett (who is Scrappy's love interest this season) claims she was savagely attacked in a nightclub on June 9th and is making claims her co-star Bambi Johnson is the one behind it all. If you watch the show, you'll recall Erica and Bambi have been involved in two fights over Erica's close relationship with Scrappy.
Erica claims she was partying in Atlanta's Taboo Club when she was attacked as she left the bathroom. According to TMZ, she was walking out of the restroom when a woman came up behind her, hit her in face and knocked her down. The woman then allegedly pulled out a razor blade and slashed her arm (below), resulting in an blood bath.
Erica called police after the attack but the woman escaped before the authorities arrived. The alleged attacker, Stephanie Nicole Harp (below), was arrested this morning and charged with committing aggravated assault with a deadly weapon.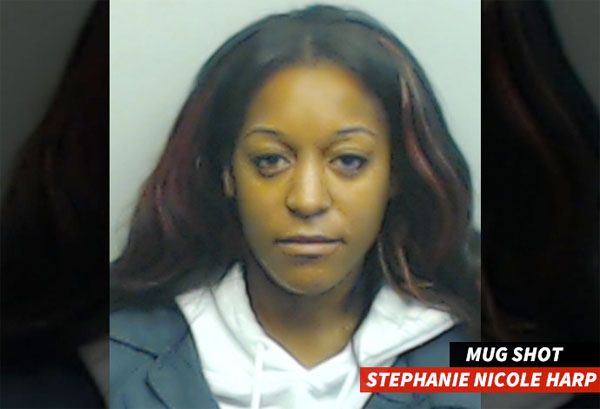 Now…Erica believes Bambi is the one who orchestrated the attack. She claims Bambi had the woman attack her because of her relationship with Scrappy. There is nothing in the police report that mentions Bambi ordered the hit, but Erica insists that her arch nemesis had something to do with the altercation.
Bambi got word about the attack and is now trying to clear her name. She released an official statement soon after the brawl and she claims she had NOTHING to do with Erica's attack. She said the entire story was fabricated and she was not involved in any form or fashion.
The statement reads:

And if you're wondering if Scrappy and Bambi are still together, it seems they are. Scrappy posted the picture below of him puffing on a blunt with what looks like Bambi's left hand across his face.
Is she showing off an engagement ring? Hmm…
Team Too Much...
Photos: TMZ/Scarppy's IG/Erica's IG
​ ​
​ ​ ​