UH OH: Tracy Morgan SUES Wal-Mart OVER Deadly Crash + Meek Mill VIOLATES PROBATION, Will SPEND A FEW MONTHS In COUNTY JAIL!
​
Jul 12 | by _YBF
​ ​ ​ ​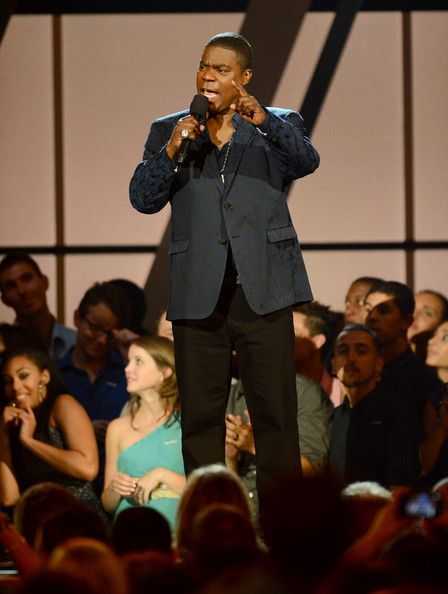 Comedian Tracy Morgan has put the legal department at Wal-Mart on NOTICE....plus Meek Mill is headed to the county jail. More inside....
Guess who won't be getting any rest over the weekend? Lawyers for Wal-Mart. VERY famous comedian Tracy Morgan has filed suit against the retail giant for a crash that left him critically injured and one of his closest friends dead. Let's just say.....this case won't go away quietly. The complaint reads:
"Wal-Mart was careless and negligent in the ownership and operation of its motor vehicle, which caused Mr. Morgan to suffer severe personal injuries. As a direct and proximate result of said collision, Mr. Morgan was caused to sustain severe painful bodily injuries, including but not limited to multiple fractures which required multiple surgeries, extensive medical treatment and will require significant physical rehabilitation."
The plaintiffs (who include Krista Millea, the wife of late comedian James McNair, who died in the accident, Tracy's assistant, Jeffrey Millea, and comedian Ardie Fuqua) are suing for negligence and seeking compensatory and statutory damages, punitive damages, legal fees, as well as pre and post-post judgment interest, among other things at a trial by jury.
The suit was filed on Thursday and Wal-Mart responded saying,
"This has been a terrible tragedy. We wish Mr. Morgan, Mr. Fuqua Jr., and Mr. Millea full recoveries. Our thoughts continue to go out to them, their families and friends, as well as to the families and friends of everyone involved, including Mr. McNair who lost his life. We are deeply sorry that one of our trucks was involved. As we've said, we're cooperating fully in the ongoing investigation. We know it will take some time to resolve all of the remaining issues as a result of the accident, but we're committed to doing the right thing for all involved."
Since the accident....Tracy has been moved to a rehab facility. We will keep you updated on his progress and the lawsuit itself.
In other entertainment news...
A word of caution to anyone on parole...in the words of 2 Chainz "Feds is Watching." Rapper Meek Mill is going to spend a few months in county jail for parole violation. Why? Maybe Meek forgot that prosecutors and parole officers have access to Instagram...and Facebook...and Twitter. Whichever one, the PO PO saw some suspicious activities on social media (that amounted to parole violations). Here's the thing: if you are on parole, NEVER pose in a pic with a gun. It's that simple.
Prosecutors also say Meek repeatedly scheduled concerts without getting them pre-approved and changed his cell number without telling them. Tsk Tsk.
According to Philadelphia officials, Meek was locked up Friday night. Hmmm....we wonder who's gonna go to the bar and get Elle Varner's refills now? #noshade.
Photos via Getty Images
​ ​
​ ​ ​