EXCLUSIVE: "Get On Up" Star Jill Scott SPEAKS About Her DOMESTIC VIOLENCE Scenes And You Won't Believe Which FAMOUS Ex-BASKETBALL WIFE Gave Her The BEST Advice EVER!
​
Jul 18 | by _YBF
​ ​ ​ ​
TheYBF.com caught up with Get On Up star Jill Scott who opened up about her demanding film role, preparing for her domestic violence scenes and also revealed the best piece of advice she got from Michael Jordan's ex Juanita, (who got one of the biggest divorce settlements of all time). Read our exclusive inside...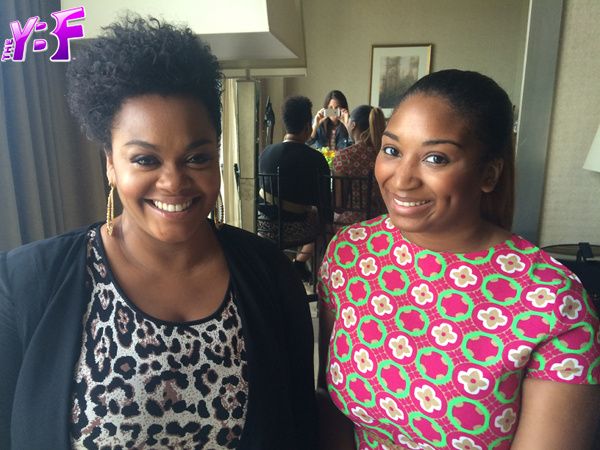 TheYBF.com headed over to the luxurious Mandarin Oriental NYC recently, where correspondent Bree Green sat down with Jill Scott to discuss her role in the upcoming James Brown biopic Get On Up. Jill plays Deidre "Dee-Dee" Jenkins, James Brown's second wife, who is subjected to bouts of domestic violence. During our chat, Jill revealed how she "went all in" and actually bruised herself during her scenes.
"...(W)e did a kind of smack to the face and then I let it happen. I hit the table pretty hard, and I hit the wall pretty hard...I hurt myself pretty good but I was really proud of it because it made people go [gasps]...and that's what you want."
Wow......should we be getting ready for the 2015 Oscars Jilly? By the way, Jill, looked amazing in a Pink Tartan dress, Calvin Klein Jacket, Prada Shoes and BeBe belt. And she was surprisingly candid about her own mother's bout with domestic violence, the importance of paying homage to our musical greats and how James Brown influenced her. Then, Jill shocked us when she revealed that Michael Jordan's ex-wife Juanita (who received one of the biggest divorce settlements of all time) gave her the BEST advice she's ever received. Check it.....
TheYBF: For your role, there was some domestic abuse and you've touched on the fact your mom was also in a domestic situation. What did you do to prepare for that scene?

Jill: Well I knew it was going to happen and I prepared with a stunt man just so I could know how to fall and then I decided that knowing wasn't going to help me that I needed to allow myself to really be afraid and to fall... So we did a kind of smack to the face and then I let it happen. I hit the table pretty hard, and I hit the wall pretty hard...I hurt myself pretty good but I was really proud of it because it made people go [gasps]...and that's what you want. You don't want it to look prepared because you know Dee Dee wasn't prepared for that smack. So how could I be prepared for it. But far as the domestic part of it, when I was told by her grandson that she was still in love with James...now...that's all I really needed. That's how I felt, that that was what I needed to know. The most important thing was that she was absolutely, unequivocally devoted to the man. So this was a bump in the road. This was a bad day, but it wasn't the end of the world. Dee Dee loves James. Period. He's a powerful man and he's someone to love...for many reasons, the talent alone. Then he was actually very loving...at times, and very generous which I'm sure she enjoyed based on the fur and the clothes and the jewels and things of that nature. She enjoyed that, but about 11 years into their marriage she had had enough.

TheYBF: Another powerful moment was when Little Richard gave him [James] the advice on how exactly to kick start his career. If you had to pick one moment with someone that you felt had a great impact on your career, what moment would it be?

Jill: It's been a lot. Trying to think who gave me the best advice. Because I went around, and I asked everybody. Everybody that I met, how do you deal with fame, how do you deal with money, how do you deal with friendship lost, how do you deal with jealousy, how do you deal with feeling alone in a room full of people...trying to maintain your humility. You know all of those things, and I think the best advice I got [laughs] this might sound really trivial but from Michael Jordan's ex wife, she told me to get a stylist. I was just like I'm asking you philosophical, emotional, spiritual questions and you're telling me to get a stylist?! And I understood about 5 years later what she meant. You're in a business and you're a grown up, the least you could do. If you feel bad you don't have to look it, and I was just like..oh [laughs]


TheYBF: It was an "aha moment"

Jill: Yeah it was like you know even if I'm tired, even if I'm feeling kind of overworked try my best look like I care as much as I do and I'm like alright. Sometimes I win, sometimes I lose.


TheYBF: You've been looking great. So it's been pretty much an outpour of biopics lately with the James Brown pic, Aaliyah and Whitney[Houston] in the making. What do you think about them putting out more black musical biopics?

Jill: Well I think it's time, I think it's time because this is the thing…when Marvin Gaye was out fresh and new, and The Pips, and The O'Jays, Patti Labelle…or LaBelle at the time. There were a lot of other artists out too. With #1 hits too…but the cream is remembered, the cream is revered and respected and looked to to remind you what music is. So we're in a time where this may not necessarily be the cream at this moment. There's always going to be some thank God, some miraculous talent that reminds us to be human and to allow ourselves to feel and have a good time. I'm really happy about that. But I think that the biopic is important for these up and coming artists as well as myself to remind us that it takes some "los"t to win. It takes some pain to flourish, and the cost can be very high. To be naked figuratively in front of an audience….there's a cost to pay. The biopic is really cautionary in a lot of ways and it's also, it makes us aware of where this stuff comes from. Currently there are a lot of artist that sings songs by other people, that they don't really have a connection too but they sing the song well. Some of the best songs in the world have been written by songwriters and sung by amazing artist. But then you also have artist like James Brown who put his pen to paper, and all that angst and frustration and passion and [Grunts] witcha bad self. You know just this power comes from him. So I'm really happy to see this, I'm really happy about the Nina Simone story, I'm really excited about Aaliyah. I want to see this stuff, I want to see it. Hopefully it'll inspire other people to appreciate artists more, to look at their lives more, and to respect this thing. It's not all flowers and daisies, and diamonds. It's more too it.


TheYBF: If they were to produce a bio pic from your life and you had to pick from today's pool of actresses……

Jill: I don't know they're somewhere in North Philly


TheYBF: So a brand new actress?

Jill: Yes, coming out of theatre I hope, you know so they could have some chops you know. I would hope for that. It would definitely be a theatre actress.


TheYBF: So you're also going to be in a new movie with Eve, and Regina Hall, tell me about that.

Jill: No we actually start filming in a few days. I read the script and really liked it. I thought it was sweet hearted and funny. I know a couple of those girls you know what I mean?

TheYBF: Who's your character?

Jill: I'm not sure yet…I know one of the three! That's all I know at this point but I liked all three of them so I'm geeked to play any one of the three. I just have to find all my nuances before I go. I got a day or two. We'll see how this works out, but the chemistry is good between Eve and I we're both Philly girls. Then Regina every time I see her I just want to squeeze her cheeks, on her face [laughs], so you know it should be a lot of fun. I can relate to that whole wanted to get married tonight. I can relate, and as much as we're powerful women doing things on our own…everyone wants someone to love wholeheartedly. Front if you want to.

TheYBF: I know you talked a bit downstairs about your favorite James Brown song being, "I'm Black and I'm Proud" but is there a moment where James Brown influenced you in your career, where you maybe -when you did something it reminded you of him?

Jill: You know what I don't read music[either] and I'm always telling my band what to do based on…I'll give them pictures and I will tell an entire story for them to make this sound the way I need it to. I'll give them colors, I'll bring in food for them to taste. This is the way I work. I've always felt like pretty crazy for being that way but finding out that James was just like me is such a confirmation that I'm alright. It is what it is, I haven't changed anything and my band is always superior. My band is amazing, over the last 14 years all the people that have come and gone, my bands have been amazing. I'm hoping that that'll be a part of my legacy. That I really kept a tight band.


TheYBF: Do you have any new music coming?

Jill: Oh yes…


TheYBF: Do you want to tell us about it?

Jill: Oh no [laughs] not yet, it's not time. But I've worked with some producers that I really, really love…and they're showing their asses. You know it's left and it's right. I've been saying left of right all day but you know, that's me thinking about James. I'm really excited for the new music. I have so much to say!



"Get On Up", which will be released nationwide on August 1st, stars Chadwick Boseman as James Brown, Jiill Scott as James' second wife, Deidre "Dee-Dee" Jenkins, YBF fave Tika Sumpter as Yvonne Fair, Viola Davis as Susie Brown, Octavia Spencer as Aunt Honey and
Ralph Tresvant as Sam Cooke. With so much R&B talent, we expect this to be one of the must-see movies of the year. GET ON UP and get to the theater!
Watch the trailer here:
Photos Bree A. Green/TheYBF.com
​ ​
​ ​ ​