Keyshia Cole CLAIMS "SHE" Is NOT A Lesbian, Dishes On Leaving Daniel "Boobie" Gibson & Admits Her Family Needs Help!
​
Jul 25 | by _YBF
​ ​ ​ ​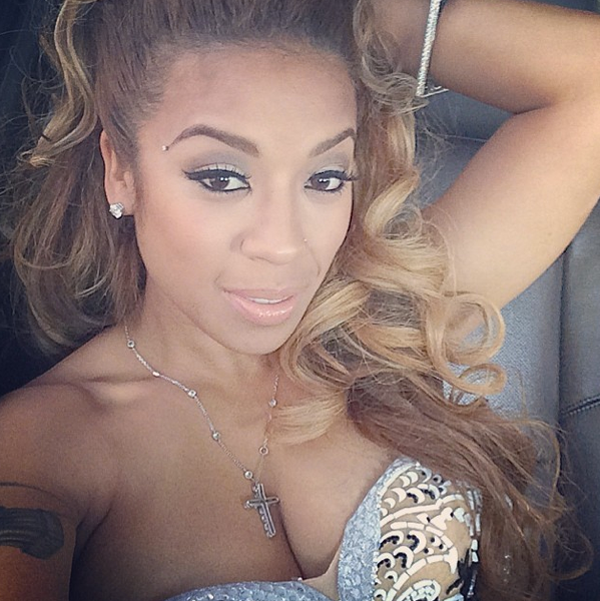 Keyshia Cole is clearing the air about her "SHE" track being about a lesbian love affair, says she's having a hard time trusting men again and she chimes in about her family's rumored reality TV show. Check it inside…
As she treks along her "Point of No Return" tour (which kicked off this week), Keyshia Cole made a stop in Chicago before taking the stage at the House of Blues. She hit up WGCI radio station to chop it up with host Loni Swain and some of her fans about her upcoming sixth studio album Point of No Return, what the "SHE" record is really about, difficulty trusting a man again, her family getting a reality show and more.
After the release of Keyshia's "SHE" record, it was no denying the lyrics seemed to refer to a lesbian love affair, in which many believed Keyshia was singing about a personal experience. Well, according to her the song is NOT about girl-on-girl action, but rather about exploring your own body. She said after being married for 4 years and then not having anyone by her side, she learned how to get familiar with...herself.
She said,
"I had to get familiar with myself so I think that song is really, in essence of what that song "She" is about. It's getting to know yourself. I know people think it's about girl-on-girl action, which it was at first, and then I kinda switched the lyrics around a lil bit."
As you may know by now, Keyshia and her estranged husband Daniel "Boobie" Gibson have been in talks about getting a divorce, although neither of them have officially filed in court. Most recently, Keyshia was hit with fake divorce papers by someone claiming to be Boobie, but he says it wasn't him...it was an imposter. Hey, crazier ish has happened. During the interview, Keyshia was asked how has her perspective on love changed since separating from her husband. She responded,
"It's no way of getting around not knowing if somebody is ready or not. That's the whole thing about friendship. Whoever I end up with, I've been praying that he's my friend first. If you think about being friends, you're not going to go and get them hit up. You not gone put them in a situation where you gone get them shot. You ain't gone put me in a situation where you make another woman think she got something over me. If we friends and you really love me like you say you do, it's certain things you're not going to do out of respect."
Here are a few more highlights:
On her blocking her family's reality show:

"Nah, not true at all. I definitely do think they do need help…as a family we need help. My whole main objective from that reality show from jump was to make sure that we grow."

On her new reality show:

"We went over to Africa and did some filming. Filming DJ having his birthday. Just things I've been going through everyday. We shot for a minute. BET said they wanted to pick it up so…you know what I mean. It is what it is. The fans always ask me can I do it so I don't mind long as they're not intrusive."

On if there are any positive songs on Point of No Return:
"Nah [laughs]. I have some sexy songs though. Once you leave a dude you be like 'aight I'm cool.' Especially if you've been heart broken before. I'm just at the point where I don't want to go through it again but I mean I'm only human. And I have feelings. At the same time being sexy now…that's a whole nother thing."

On what she has been doing to get over her break up:
"Gym…yeah. Just trying to eat better. I did a fast for about 4-5 days…just juicing. I actually loved it. I go in the steam room before I work out for about 10-15 minutes then go work out for about 2 -3hours then go pick up my son from school and get back to my motherly duties. Right now, working. Trying to stay focused."
The "SHE" singer also talked about the backlash she received for posting a picture with Justin Bieber, her fave reality show on TV now and more.
Check it:
Keyshia's next stop on her "Point of No Return" tour is the Paul Brown stadium in Cincinnati, Ohio on Saturday.
And speaking of her new album….
Keyshia just dropped off the official cover art for her sixth studio album, Point of No Return. Looks like we're getting closer to hearing the full album.
EXTRAS:
He's back! Bobby Brown is returning to the New Edition tour (after a brief departure for medical reasons). He'll be hitting the stage tonight. The venue "Chene Park" tweeted "DETROIT STAND UP! Bobby Brown is back TONIGHT at @cheneparkdetroit! It's going down. #chenepark #detroit #newedition #bobbybrown" Welcome back.....
Photo: Keyshia's IG/CheneParkDetroit
​ ​
​ ​ ​