EXCLUSIVE: NeNe Leakes Gets CANDID About Made-For-TV "RHOA" Friends, Wendy Williams' SABOTAGE And SAYS "I'm The Biggest "Queen" Of Them All"
​
Aug 04 | by _YBF
​ ​ ​ ​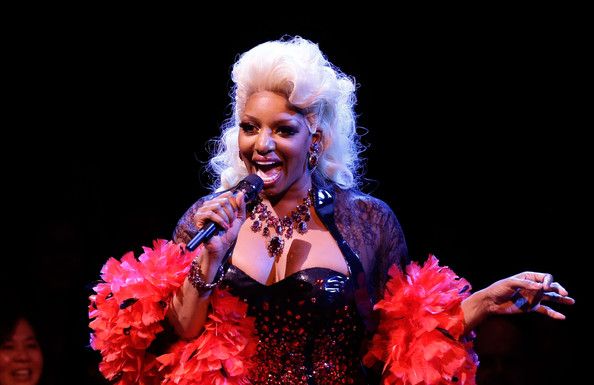 In an exclusive interview with TheYBF.com, NeNe Leakes gets candid about her messy spat with Wendy Williams, severing ties with Cynthia Bailey and how she hopes her HSN clothing line will open doors for other Black women. Keep it real with the fabulous queen of "RHOA" inside....
NeNe Leakes, arguably one of the most successful reality stars of all-time (she reportedly commands a million dollars per season from starring on BRAVO's "RHOA") saw one of her wildest dreams come true a few days ago. As she hawked her exciting new HSN line "NENE By NENE Leakes" to millions around the country, NeNe had an epiphany and was able to marvel at the dreams she'd accomplished.

"Listen, this was just a dream of mine and now I can scratch it off my bucket list. I'm a Black Girl. I've done Glee, I've done The New Normal, I've done The Celebrity Apprentice and I've done DWTS. I've been on every major talk show. I've been on all the major networks. I've done so many things. I've co-hosted many talk shows (The View, The Chew, The Insider). I did Zumanity (In Las Vegas). I sit back a lot of days and think damn. You know those things your mom or grandma may have said to you…"Reach for the stars." It sounds so cliché but you TRULY can do anything you want to do if you put your mind to it. Everything I think of I really accomplish. I see it through."
During an exclusive interview with TheYBF.com, conducted shortly after her departure from HSN studios, NeNe gave up the goods about her talk show dreams, creating her million-dollar brand, the line of affordable luxury womenswear on HSN and some of the most controversial topics that have kept her in the headlines. Nothing was off-limits. From how she feels about her place in life ("I feel inspired. I feel blessed"), the nasty war of words with Wendy Williams ("She's trying to sabotage my career"), outraging the LGBT community with the "queen" word ("I wasn't being derogatory"), why other chicks in the industry fail ("too many of them just want to be cute and wear weave down to their knees"), and the fallout with Cynthia Bailey ("It hurt") – NeNe did not hold back.
And while she will discuss the 180 degree change her "NeNe" character has made on RHOA, don't waste her time with questions about chicks who aren't her co-stars. "Marlo Hampton is NOT a cast member. She's never been one and never will be one." Ladies and Gentlemen……Here's NeNe!
On creating "NENE, The NENE Leakes Collection" for HSN:

I want to make women of all shapes and sizes feel confident and fabulous. My line is affordable luxury for every woman. I want every woman to feel like they can walk into a room and own it. I just try to do things that other women aren't necessarily doing. Obviously there are a lot of women who have clothing lines but they don't necessarily have them in the right places. I wanna be that girl that kicks that door down for us Black girls. Because I feel like if I win…you win. I think when one of us walks through the door of opportunity we can leave it open for the next girl.

On the origin of the Wendy Williams drama:

The thing with Wendy Williams has been going on for a long time. I did not know where it was coming from. Honestly, I've done her show a lot. I'd like to think I'm in the running for being on there more than anybody (else). When she first launched her show, I stayed with her the whole hour. I helped her and supported her and then all of a sudden it just switched on me. She started saying things about me. And I know Wendy does a lot of gossiping…that's how she started her career. But to just start sabotaging me. I felt like she wanted to sabotage my career because she was really saying nasty things about me. And I have done nothing to Wendy. So for me…it was not about the bag….
On TheYBF.com we told you about Wendy blasting NeNe for defacing a $15,000 Birkin bag and calling her tacky.
I was like where is this coming from because I didn't do anything to you. The last time I saw her, I was nice to her. When she had her 500th show I 'd given her a gift (a $3,200 Celine Bag). Just to support another Black sister. I gave it to her and said I'm so proud of you. It's amazing. You're a black girl sitting here doing your own talk show. You're opening up the door for me to do my own talk show. I was very supportive of her. I gave her a full-on speech and hugged her. And GENUINELY meant it. And all of a sudden she was bashing me.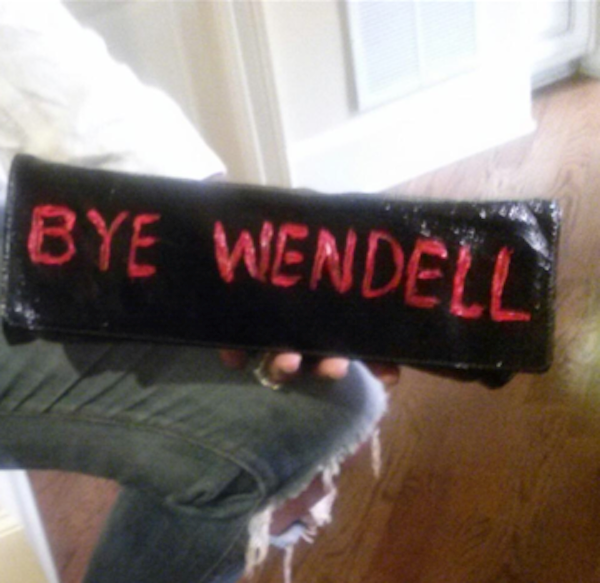 In the pic above, NeNe went on to "deface" ANOTHER expensive bag in honor of Wendy and her gossiping antics.
I felt like she'd maybe heard something, I won't say what the things are but I just thought she may have heard something about me. Nothing negative on my part, but about where my career could be going. And I thought she was just hating or sabotaging. You know I thought she would have been like I don't like NeNe's bags but she's coming out with a clothing line on HSN you guys should check it out. I was like damn…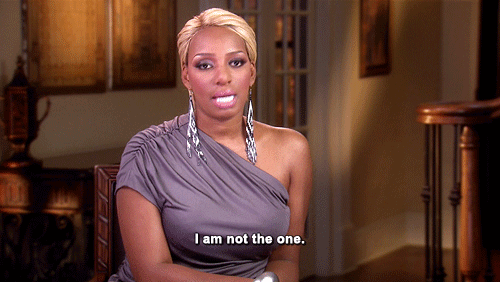 On reality TV friendship vs real friendships….and breaking up with Cynthia Bailey:
The first thing viewers need to know is that they are watching TV. And two, a lot of these friendships are reality TV friendships. I have girlfriends I have been friends with for years…and some of them were in my wedding. But those girls are not on the show. And obviously when you join a reality show you have to form friendships for those shows to go on. And when you fall out with one girl they just make you form another friendship. And to the viewers it looks kinda crazy…I get it. But I signed on to be a part of this show. All I can do is really go on. Sometimes when you do a show like this you really form friendships. I really did form a real friendship with Cynthia. I had never met Cynthia a day in my life until she signed on for this show. And when you do those shows they have to send the girl through somebody so you'll do a scene with me and then the next thing you know she's my friend. And I'd never met Kenya Moore a day in my life until she stepped her butt in Atlanta and they signed her to be a housewife. I'd never met her and never knew anything about her.

And people watch these shows and be like "But you girls were friends." Let's keep it real honey I've only know this girl 6 months. So I don't know what she went through…I just met her. I don't know her from anybody.

So when these friendships fall out, people are hurt. And people are watching…but you don't really know the full story. All you can really do is get up and keep going. I'm all about keeping it moving.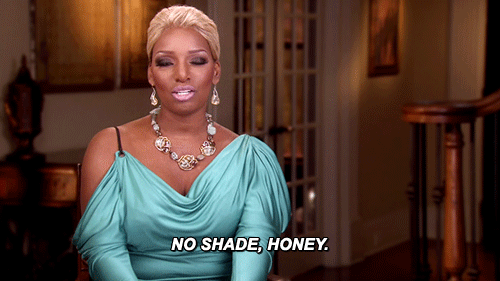 On being a good friend, while others aren't:

People judge every day and sometimes I think people don't understand that at the end of the day we are human and have feelings. Some of these things hurt. I feel like I'm a great friend…so when people say Nene's fallen out with this person, it really hurts me. Obviously it hurts me. I had a wedding and I put women in my wedding (Cynthia/Marlo) who I really trusted. So to have a fallout with them on television...its hurtful.

On sparring with Andy Cohen and the LGBT community about the controversial use of the word "Queen" during Season 6:

"I got a lot of comments from the LGBT community about "You said the word queen!" Well what you need to do is...you stop calling each other queen and then you won't have to worry about somebody else calling you a queen. Now…I DO GET IT. They were saying "queen " is ok but it's how you said it. Well don't start all that either like telling me I have to say it with a smile, slap your thighs and toast you with champagne. And as far an Andy is concerned, he's used the word many times. They have a show called "Fashion Queens" where they're sitting up there with lipstick, heels and weave in their hair. So what you want me to do chile? You sending so many mixed messages….. I don't know what you want me to do? Call you a king? I wasn't being derogatory.

On loving her LGBT fans:

For me….for anybody to come at me about some gay stuff was just crazy to me. I am the gayest queen there is. I hang out with all kinds of gay guys. I've hosted gay events, gay pride, gay everything. I'm like…girl bye. Don't even come at me like that. I can't! I never meant it to come off in a derogatory way. It just wasn't meant to offend.

On why some females don't succeed in the industry:

A lot of the girls in the industry just want be called cute. Oh. I'm cute. My weave is down to my knees. Ok girl. While you're worried about being cute I'm about go over here and get this contract! Too many of them want to get together and take selfies and wear Louboutins. I can't! They don't have their own identity. I'm about my business!

On if she'd ever invite another BRAVO housewife onto the RHOA:

"Our show is very different. There isn't another African American girl to pick and our show is all African American. I honestly don't think a white girl could survive on this show."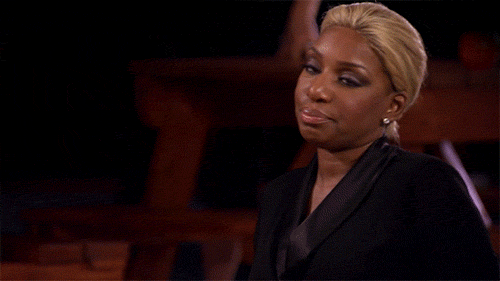 On Nene Season 1 vs. Nene Season 6:

NeNe from season 1 compared to season 6 is definitely a different Nene. Those shows only come out once a year and so many years have passed. When I started this show, my youngest son was in the 3rd grade, now he's in the 10th grade. I started this show now knowing a lot about reality TV. I'd been acting for a bit….but I was new to reality TV. Over the years I've grown and I've become a better person. I'm wiser.

On NeNe "the celebrity" vs. Linnethia Monique "NeNe" Leakes":

Now, Nene on TV is definitely different from Nene Leakes at home. I'm very private. I don't go to a lot of events. I'm just very private. I hang out with my husband. He's my BFF. I think I'm a cool chick, but I'm not that girl just hanging out. I work. I am NOT that girl popping a bottle anywhere. I love to go shopping…I love to travel. I love to go out to dinner. But I don't wear makeup when I'm not on television. I'm just a regular girl.

On the trade-offs of fame:

"I miss going to the grocery store and going on aisle 2. I miss my privacy. For me, you or anyone – to have your privacy ripped away from you is very difficult. But I feel very blessed to be able to do what I do. And before – you were just judged by your friends and family. Now you're judged by the world.
In addition to promoting her HSN line (available in sizes 2-24), NeNe still has a few items on her bucket list. She says she and her husband Gregg are in talks for a collection of menswear items and one day she'd love to star in a dramatic role. Based on what we seen her make happen thus far…we don't expect anything less.
Photos via NeNe Leaks' Official Website/Getty
​ ​
​ ​ ​