SPEAK ON IT: Hundreds Protest By Looting After UNARMED, Black St. Louis Teenager Shot And Killed By Police - FBI TAKING OVER Case (UPDATE)
​
Aug 11 | by _YBF
​ ​ ​ ​
A police officer shot and killed an unarmed 18-year-old Black teenager in a St. Louis suburb on Saturday, a chain of reactionary events occured. It has all resulted in looted businesses, vandalized vehicles and tear-gassed confrontations with police. SPEAK ON IT inside...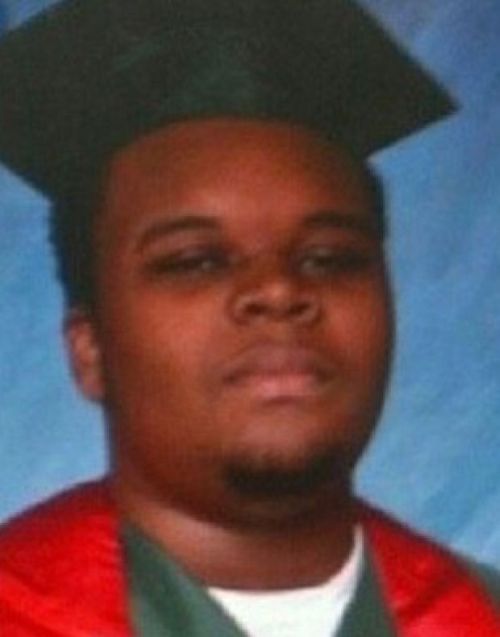 Today should have been the day 18-year-old Michael Brown started classes at Vatterott College, but his dreams of owning his own business were cut short over the weekend after he was shot and killed by police in Ferguson, a predominantly black suburb a few miles north of downtown St. Louis, MO.
According to an account of the shooting by County Police Chief Jon Belmar to the Associated Press,
"...(T)he shooting occurred after an officer encountered two people - one of whom was Brown - on the street near an apartment complex in Ferguson. Belmar said one of the men pushed the officer back into his squad car and a struggle began. Belmar said at least one shot was fired from the officer's gun inside the police car.

Ferguson Police Chief Tom Jackson said authorities were still sorting out what happened inside the police car. It was not clear if Brown was the man who struggled with the officer. The struggle spilled out into the street, where Brown was shot multiple times. Belmar said the exact number of shots wasn't known, but "it was more than just a couple." He also said all shell casings found at the scene matched the officer's gun. Police are still investigating why the officer shot Brown, who police have confirmed was unarmed."
There are MANY unanswered questions about the shooting (including why the cop approached Michael and his friend in the first place), with some witnesses claiming that Michael was actually surrendering before police shot him several times. The St. Louis County Police Department will have to piece the case together WITHOUT any video footage nor a police cruiser dashboard camera.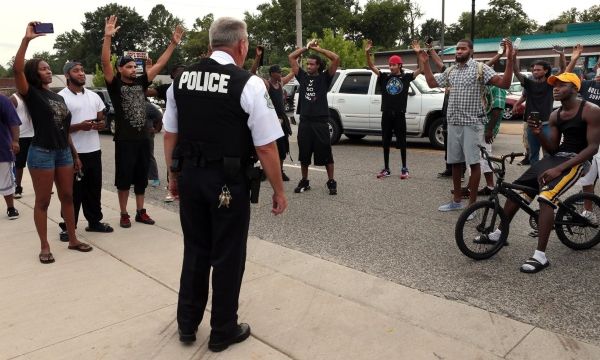 It didn't take long for the news of Saturday night's shooting to spread across the city. By Sunday, a few hundred protesters had gathered outside Ferguson Police headquarters with many of them chanting "Don't shoot me" while holding their hands in the air. Officers didn't use force.......until later.
Tension erupted Sunday night after a candlelight vigil for Michael was followed by a convenience store, a check-cashing store, a boutique and a small grocery store all looted. At some point, officers moved in with tear gas, riot gear and K-9 units.
With the death of Eric Garner at the hands of the NYPD still VERY fresh on the minds of many Blacks, it is understandable why many are suspicious of the police.
"We're outraged because yet again a young African-American man has been killed by law enforcement," said John Gaskin, who serves on both the St. Louis County and national boards of directors for the NAACP.
In addition to the St. Louis County Police Department, the U.S. Justice Department said Attorney General Eric Holder had instructed staff to monitor developments. Meanwhile, the officer (whose race has not be identified) has been placed on paid administrative leave.
We will keep you posted as this story develops....
UPDATE (8.11.2014)
1. The AP is reporting that Ferguson Police Chief Tom Jackson was informed (on today) that the FBI is taking over the investigation into the death Michael Brown. Story.
2. Friend, who was with Michael Brown, gives his eyewitness account of the shooting. Video.
3. A picture of the flier being handed out at St. Louis-area protests for Michael Brown.
SPEAK ON IT
Photos via AP Photo/St. Louis Post-Dispatch, Robert Cohen, J.B. Forbes/Antono French's Twitter/Facebook
​ ​
​ ​ ​