THINGS YOU MISSED DURING THE 2014 MTV VMAS - Lil Kim & K. Michelle EXCHANGE Words On Twitter, The Kardashians TEXTING During Michael Brown's "Moment Of Silence", Iggy Azalea Congratulates Nicki Minaj + More Pics
Aug 25 | by _YBF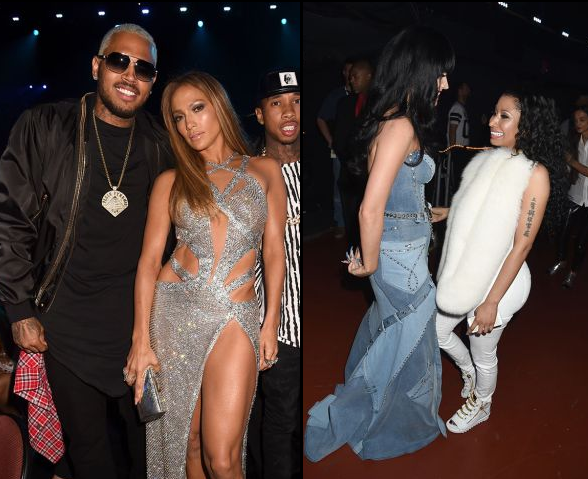 While you watched the 2014 MTV VMAs on television, we were keeping tracking of things popping off backstage, in the audience and on social media. Check the roundup inside....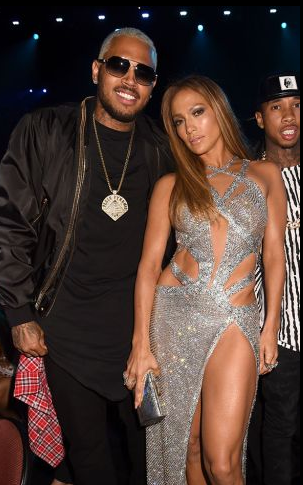 "Loyal" crooner and recent BMI honoree Chris Brown and rapper Tyga posed with the gorgeous Jennifer Lopez.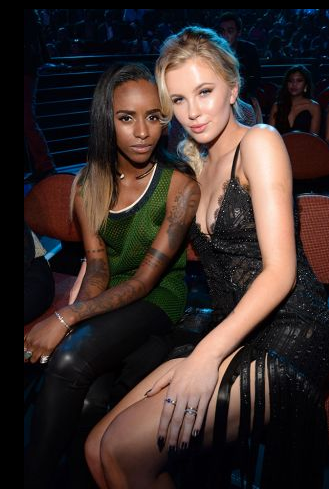 Rapper Angel Haze posed with her girlfriend, model Ireland Baldwin.
Emmy-nominated actress Laverne Cox (wearing Marc Bouwer) shared a laugh with Miley Cyrus.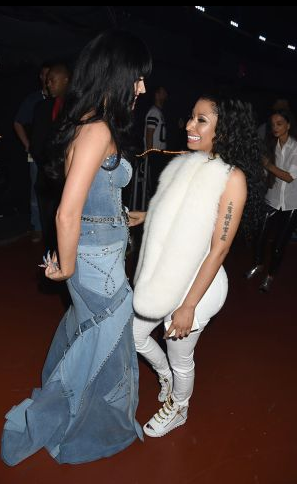 Nicki Minaj chatted it up with Katy Perry.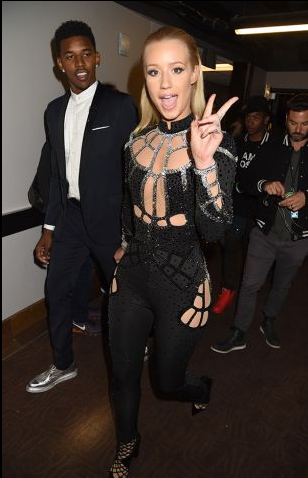 "Fancy" rapper Iggy Azalea was seen holding hands with her baller boyfriend Nick Young.
Also backstage...
All eyes were on Nicki Minaj as she and Iggy Azalea brushed shoulders in the hallway. Iggy congratulated Nicki on her performance ("Bang Bang" & "Anaconda") and Nicki graciously accepted. But....you will see a "hint" of shade in Nicki's eyes. Many people believe Nicki dissed Iggy at the 2014 BET Awards a few months ago....but Iggy isn't holding a grudge.
In the audience...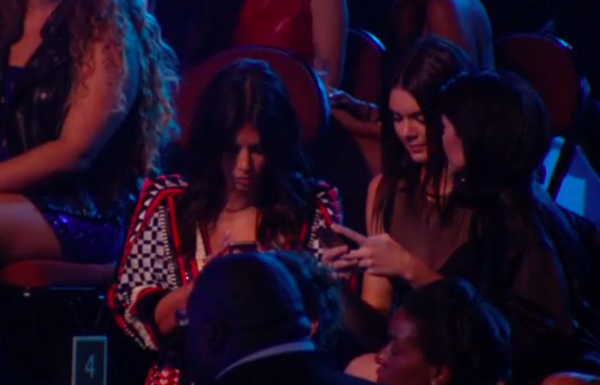 The Kardashians (Kim, and sisters Kendall and Kylie Jenner) were called out for texting during the "moment of silence" for Michael Brown. As Common introduced the Best Hip-hop video and called for a moment of silence for Michael Brown and the protests in Ferguson, MTV cut to a shot of the sisters on their cell phones. We'd like to believe this wasn't "live" and this didn't really happen...but sadly...Instagram and Twitter WERE more important. Sample reactions:
At home on their sofas...
K. Michelle had a small spat with Lil' Kim on Twitter. It all started because K showed Nicki Minaj some love on Twitter and called her "Queen." Sigh...why did she do that? Some of Lil Kim's beehive stung K. Michelle....setting off a chain of tweets (read from the bottom up)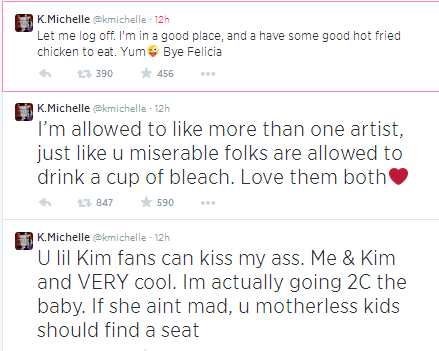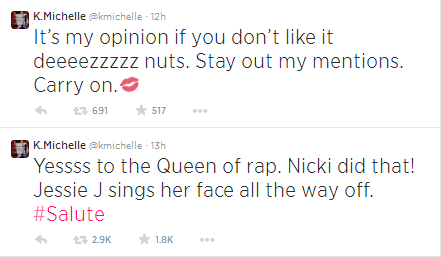 Lil Kim responded to K because she felt like her stans had been insulted.
The ladies then had one more exchange....

Let's hope theses ladies got on the phone and worked it out. We'd love to see them work together.
Photos via Getty/K Michelle's Instagram