BREAKUP?! Brandon Jennings Says Tae Heckard Tried To PLAY Him...So He Called Off The Engagement!
​
Aug 30 | by _YBF
​ ​ ​ ​
Did we see this coming, or nah? Brandon Jennings and Tae Heckard are no more! Deets inside…
Well, that was fast.
Back in May, everything was perfect. They were newly engaged and so much in (Instagram) love. Now, Detroit Pistons guard Brandon Jennings and his fiancée Tae Heckard are done! According to Brandon, Tae tried to "play" him so he "deaded" the engagement and is now a single man.
There were unconfirmed rumors that Tae went out with her ex boy toy Nelly when he came to town, and that was the reason she and Brandon two broke up. Brandon tweeted about the rumor, then said it wasn't true. And then he asks, "Where Ashanti at?"
Bloop!
Peep his tweets (read from the bottom up):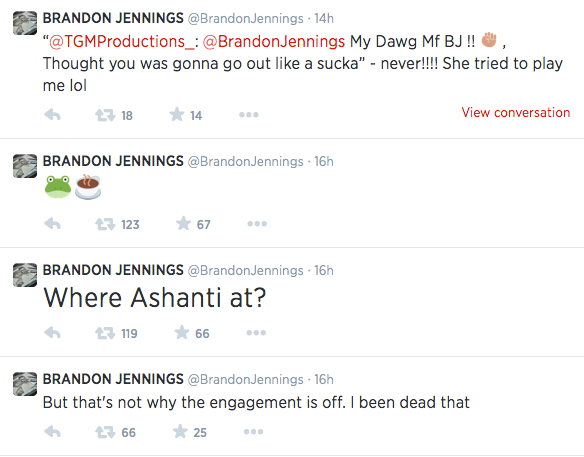 Well damn. Maybe the rumor did have some truth to it if he's spilling some Kermit tea.
During happier times, Brandon would post a picture of Tae to his Instagram damn near everyday. Now…she's nowhere to be found. He has deleted every picture of the video vixen and in her place, he's posted plenty of pics of his two sons.
Over on Tae's IG, there aren't any recent pics of her and her now ex-boo. The last pic she has of them is when they hit the carpet at the Toast to "Young Hollywood" event back in June. She posted a few subliminals about choosing the right people to have in your life and making decisions to keep yourself happy rather than others.
You'll recall the messy love "square" they were entangled in during the beginning stages of their relationship. One minute it appeared Nelly and Ashanti were an item then the next he's naming Tae (or Cookie as he likes to call her) as his "Woman Crush Wednesday."
Teyana is probably somewhere like…Karmaaaaa….
EXTRAS:
1.
Cee Lo Green
entered a "no contest" plea in drug case. He was sentenced to serve probation and community service.
STORY
Photos: Tae's IG
​ ​
​ ​ ​