Robin Thicke ADMITS To Heavy Drinking And Drug Use, REVEALS Why Paula Patton LEFT Him + Naomi Campbell Covers "W" Magazine's "New Royals" Issue
​
Sep 15 | by _YBF
​ ​ ​ ​
During his deposition for the "Blurred Lines' copyright infringement suit, Robin Thicke made some shocking admissions about his heavy drug use and binge drinking. He also revealed why Paula Patton left him. Get the big reveals inside and see Naomi Campbell on the cover of "W."
A year ago, we told you about the messy "Blurred Lines" lawsuits filed by Robin Thicke, Pharrell Williams and T.I. and the estate of Marvin Gaye. Here's the backstory, Marvin Gaye's family and Bridgeport Music made allegations that "Blurred Lines" is very similar to Marvin's "Got to Give It Up" and Funakedlic's "Sexy Ways." In response to those claims, Robin and his crew filed a lawsuit which seeks to prove that they DID NOT sample the records and they shouldn't have to pay any royalties because their "new" composition "reminds" listeners of something else.
Fast forward to now....we've got the depositions (read them in full here). Though most of the proceedings were sealed, a judge allowed the "celebrity" transcripts to be opened...and we learned a lot. Let's just say...Robin Thicke LOVES to get high. He admitted,
"With all due respect, I was high and drunk every time I did an interview last year. Every day, I woke up, I would take a Vicodin to start the day and then I would fill up a water bottle with vodka and drink it before and during my interviews."
Here's how Robin described the creation of "Blurred Lines" and how he was "mentally" out of it.


"Q: Were you present during the creation of 'Blurred Lines'?
Thicke: I was present. Obviously, I sang it. I had to be there.
Q: When the rhythm track was being created, were you there with Pharrell?
Thicke: To be honest, that's the only part where — I was high on Vicodin and alcohol when I showed up at the studio. So my recollection is when we made the song, I thought I wanted — I — I wanted to be more involved than I actually was by the time, nine months later, it became a huge hit and I wanted credit. So I started kind of convincing myself that I was a little more part of it than I was and I — because I didn't want him — I wanted some credit for this big hit. But the reality is, is that Pharrell had the beat and he wrote almost every single part of the song."
Other tasty tidbits are that he was "high" off alcohol and Norco during his Oprah interview! And when asked about his split from Paula Patton he said, ""I told my wife the truth. That's why she left me." BAM!

Now...it gets better. Pharrell spilled the tea on the industry and all of these so-called "writers." He explained why he gave Robin Thicke co-writing credit.
"This is what happens every day in our industry. You know, people are made to look like they have much more authorship in the situation than they actually do. So that's where the embellishment comes in."
Pharrell also said that "Blurred Lines" was a hit because it was a white man singing soul. And the public loves that....
"Q: In your view, what holds 'Blurred Lines' together throughout the different sections?
Williams: What holds it together?
Q: Yeah.
Williams: Robin Thicke's voice.
Q: Does the bass line and the keyboard hold the songs together through the different sections?
A: No.
Q: Why not?
A: Because it's the white man singing soulfully and we, unfortunately, in this country don't get enough — we don't get to hear that as often, so we get excited by it when the mainstream gives that a shot. But there's a lot of incredibly talented white folk with really soulful vocals, so when we're able to give them a shot — and when I say 'we,' I mean like as in the public gives them a shot to be heard, then you hear the Justin Timberlakes and you hear the Christina Aguileras and you hear, you know, all of these masterful voices that have just been given, you know, an opportunity to be heard because they're doing something different."

Hmmm....that was juicy. Forget leaking government documents...can we get more celebrity depositions????
Coming to newsstands...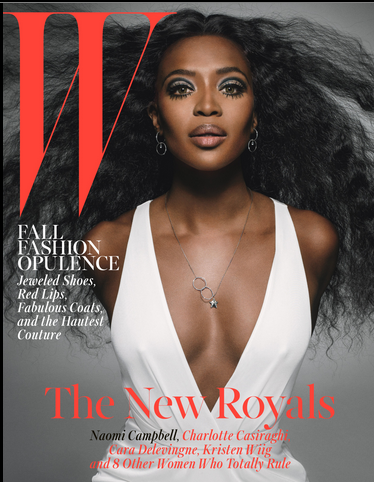 Supermodel Naomi Campbell covers W Magazine's October 2014 Issue dubbed "The New Royals." Though she's always been a QUEEN to us, W hails Naomi alongside fellow supermodel Cara Delevingne and actress Kristen Wiig as women who rule. For her cover photo Campbell wore a Roberto Cavalli dress and Inez and Vinoodh earrings and necklace.
In other Naomi news....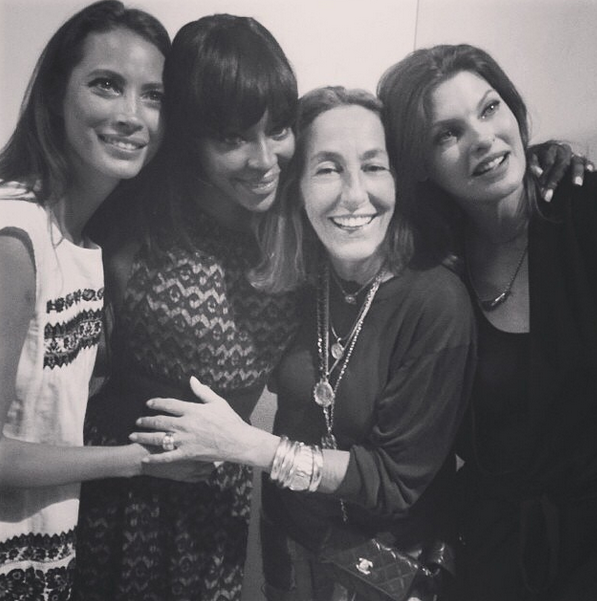 She recently reunited with "The Trinity" (she, Linda Evangelista, Christy Turlington) for Italian VOGUE and a shoot with Steven Meisel.
Photos via Getty Images/W MAGAZINE/Naomi's Instagram
​ ​
​ ​ ​