Viola Davis Reveals Alopecia Trauma & Wearing Wigs To Feel Beautiful + Angela Bassett, Gabourey Sidibe & More Attend The "AHS: Freak Show" L.A. Premiere
​
Oct 06 | by _YBF
​ ​ ​ ​
After responding to the NY Times writer who called her "less classically beautiful", Viola Davis is now weighing in on the "angry black woman" comment about Shonda Rhimes. Also, Angela Bassett, Gabourey Sidibe and more hit the carpet at the "AHS: Freak Show" L.A. premiere. Get the deets and the pics inside…
ABC's new hit series "How To Get Away With Murder" is slowly becoming the new "IT" show during ShondaLand's Thursday nights. It brought in 11.8 million views for it's second episode, making it the most-watched program during primetime outside of Thursday Night Football.
49-year-old lead star Viola Davis brings the seriousness and suspense to the legal drama series. But outside of the show, there has been much talk about this New York Times article written by Alessandra Stanley, which called the Oscar-nominated actress "less classically beautiful." She has since responded to that nonsense, saying she won't stand for the disrespect, and now she's weighing in on the writer calling executive producer Shonda Rhimes "an angry black woman."
In an interview with New York Mag, Viola talked about being tired of people using such negative adjectives to describe black women. She also talked about being compared to "Scandal" star Kerry Washington and whether she watches herself on tv. Here are the highlights.
On NY Times critic Alessandra Stanley's "angry black woman" article:
Davis says she finds the term "angry" as a descriptor for African-American women to be "very offensive, as is 'sassy,' as is 'soulful.' We've used them enough. It's time to bury them in the racial-history graveyard," she says, chuckling. "My feeling about the article is it's a reflection of how we view women of color, what adjectives we use to describe them—as scary, as angry, as unattractive. I think that people are tired of it."

On being compared to Kerry Washington:
"There is no one who would compare Glenn Close to Julianna Margulies, Zooey Deschanel to Lena Dunham. They just wouldn't. They do that with me and Kerry because we're both African-Americans and we're both in Shonda Rhimes shows."

On being in the public eye:
"I see responsibility when I see those posters," she says. "I see pressure. I'm aware that my booty is on the line."

On whether she watches herself on TV:
"I cannot imagine having people over for, like, cocktails and food and sitting down to watch myself. I am not that ego-driven, No. 1. No. 2, I'm sure I'll be working that night."
The fab actress also did an interview with Vulture magazine where she dished on the "angry black woman" comment, described how she sees Shonda Rhimes and how black women are described in the media.
On Alessandra Stanley's "angry black woman" quote:
"Shonda is not an 'angry black woman.' I don't think that Annalise is just an 'angry black woman.' There is a depth to Shonda that can't be minimized by using just the word angry, and we use that too often to describe women of color because we don't want to look any deeper. I see Shonda as quirky, I see her as intelligent, I see her as beautiful, I see her as feminine, I see her as a businesswoman in the juggernaut of television and a mother of three children, and a woman living in 2014. I wouldn't reduce her to 'angry black woman.' Or her characters, for that matter."

On describing black women in media:
"We need to use the same adjectives as we use for any woman. Which could be dangerous, too, but I'll accept that. Any day."
Also in the interview, she opened up about losing all of her hair, suffering from Alopecia areata, and how she would wear a wig everywhere...literally. Check this excerpt:

When Davis was 28, she lost half her hair to alopecia areata. "I woke up one day and it looked like I had a Mohawk. Big splash of bald on the top of my head," she says. "I was like, What is this? Until I found out it was stress related. That's how I internalized it. I don't do that anymore. My favorite saying in the world is, 'The privilege of a lifetime is being who you are.' I am telling you, I have spent so much of my life not feeling comfortable in my skin. I am just so not there anymore."

After that alopecia, she wore a wig everywhere. "I wore a wig in the Jacuzzi. I had a wig I wore around the house. I had a wig that I wore to events. I had a wig that I wore when I worked out. I never showed my natural hair. It was a crutch, not an enhancement … I was so desperate for people to think that I was beautiful. I had to be liberated from that [feeling] to a certain extent." So at the 2012 Oscars, she exposed her "natural hair." She still has her wigs; she wears them on Murder, she wears them to photo shoots, she wears them when she doesn't have time to pick out her hair and get rid of her grays, but she no longer wears them in her everyday life. What matters, she says, is that "it's an option … when it used to never be an option. I had something to hide."

Well good for her.
At an event in L.A.....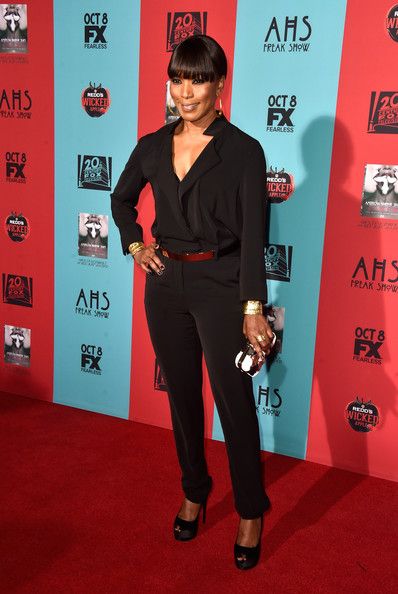 After getting gorge on the L.A. scene earlier, "American Horror Story" star Angela Bassett hit the red carpet for the FX tv series' L.A. premiere screening at the TCL Chinese Theatre on Sunday.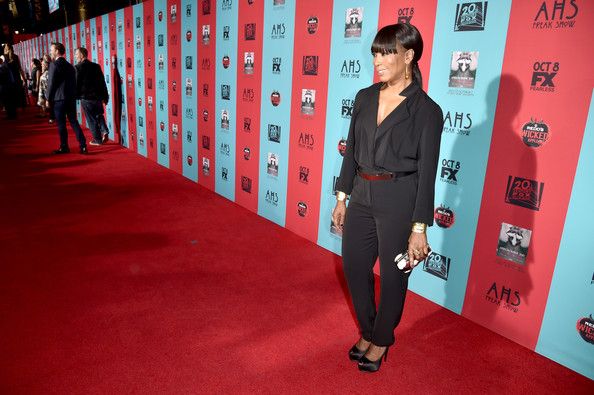 She pulled together some fabness in an all black jumpsuit, black peep-toe pumps with her hair swept back into a low ponytail. Love the look.
Her co-star Gabourey Sidibe showed out on the carpet in this black and red floral printed frock. We're feelin' this look on her.
Gabby caught up with actress Jane Lynch before making her way inside.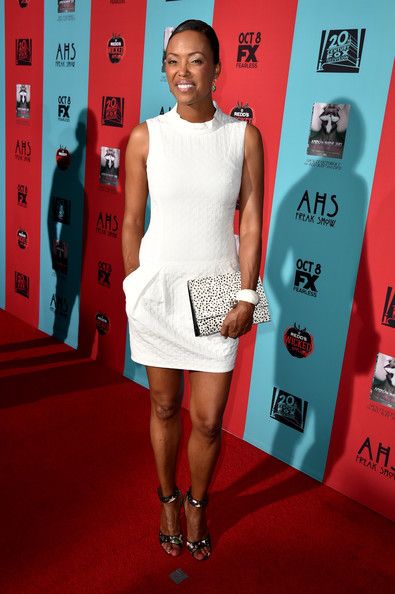 And "Archer" star and "The Talk" co-host Aisha Tyler kept it cute in a textured white mini and sandals. Hot.
After the screening....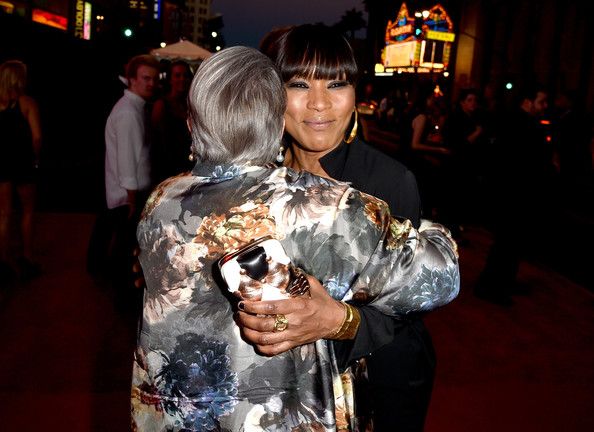 Angela and co-star Kathy Bates caught up with one another and posed it up during the after party at the Roosevelt Hotel.
And then Angela posed it up alongside co-star Michael Chiklis (L) and FX Network president John Landgraf (R).
"AHS: Freak Show" premieres October 8th at 10pm EST on FX.
Photos: Juco/Getty
​ ​
​ ​ ​