Pharrell Williams Goes Green For EBONY Mag's November 2014 Cover, Explains Why He LOVES Black Women
​
Oct 15 | by Natasha
​ ​ ​ ​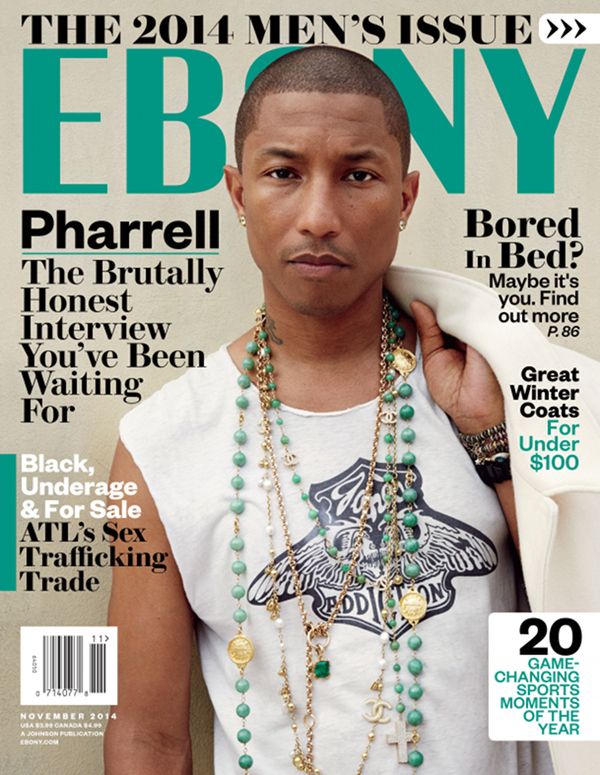 Pharrell Williams is covering the November 2014 issue of EBONY Magazine, and he's telling the world why he loves black women...and how the Mike Brown shooting affects him as a black man and a father. Check it inside....
Pharrell Williams is green with everything but envy for the newest cover of EBONY magazine. In his provocative cover story on topics ranging from women to racism, P is speaking once again on the "black G I R L" controversy, his love for black women, and why he holds back on talking about race.
When all the drama popped off concerning the lack of black (or brown skinned women) on his G I R L album cover and promo materials, the creative genius explained that black women WERE actually involved. But when folks didn't let him off the hook, seeing that the women were all fair skinned, he's professing his love for black women once and for all:
"I love Black women," says Williams. "If you don't think I love Black women, then you don't understand me." He continues to add, "I have obsessed over Black women since the days of Jayne Kennedy, Beverly Peele and Roshumba Williams. Those are the women I daydreamed about growing up."
Interesting.
About how the tragic death of Michael Brown in Ferguson, Mo. impacted him as a Black man, husband and father:
"I don't talk about race since it takes a very open mind to hear my view, because my view is the sky view. But I'm very troubled by what happened in Ferguson, Mo."

"When things like that happen, we need to be a united cell. We need connective tissue to be linked by spirit and spirituality."

"For every individual who gets killed, someone should build a school or teach a child. We really need to balance things with positivity."
Check out P's Bts video from his cover shoot below:
​ ​
​ ​ ​