YBF INTERVIEW: "Beyond The Lights" Director Gina Prince-Bythewood Makes BLACK LOVE Stories The Norm...Talks Hollywood Shading Black Actors
​
Nov 13 | by _YBF
​ ​ ​ ​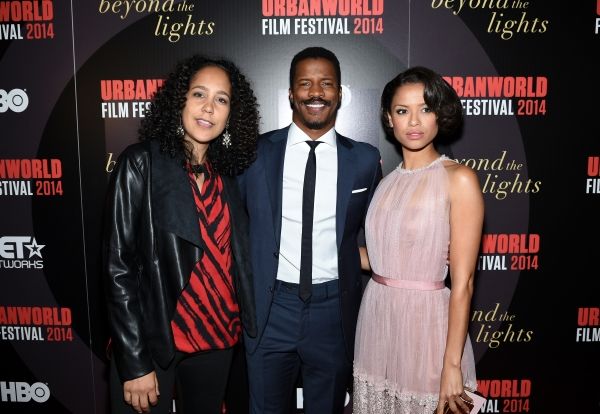 As its nationwide debut approaches, Beyond The Lights director Gina Prince-Bythewood chopped it up with TheYBF.com about putting Black love on the silver screen and creating Black film stars. More inside...
We love a YBF chick who creates fabulousness on her own, without waiting for others to do it for her. Director Gina Prince-Bythewood (shown above with film stars Nate Parker and Gugu Mbatha-Raw) is a woman after our own hearts. She's a true romantic, obviously. She's also been married for 16 years to her best friend...so she's knows a little something about love. With films like Love & Basketball and Disappearing Acts under her belt, it's clear that love is a theme that plays throughout each film project she tackles.
After graduating from UCLA film school, she went on to meet her husband and partner Reggie Rock Bythewood during their first week as writers on "A Different World". Gina believes in the power of love and wants moviegoers to walk out of Beyond The Lights with the same passion. "I see love from within and it's important for me to share it."
What you may not know: Despite love being a universal theme (and despite successful on-screen love stories like Jody & Yvette's and Monica & Quincy's), it wasn't easy to get Hollywood on board with marketing a love story with Black leads. Getting Beyond The Lights greenlit was a long and tedious journey. After writing the first draft in 2007, the script would got through several rewrites and get turned down by numerous studios before it finally landed at Relativity Media. She tells us, "It's been a long journey, but everything happens for a reason. It all works through God. "
When asked about her persistence in getting the film made, she shared, "I only write what I'm passionate about and that fuels the fight. You have to write something that you think others want to see and it's true to you. 'Beyond The Lights' was in me. I saw it everyday. I pictured it everyday. And that got me in the chair writing.
On Friday, moviegoers will get to see her newest a love story that she says was inspired by a live concert performance of Alicia Keys' song's "Diary" and written with the same intensity of the Black classics.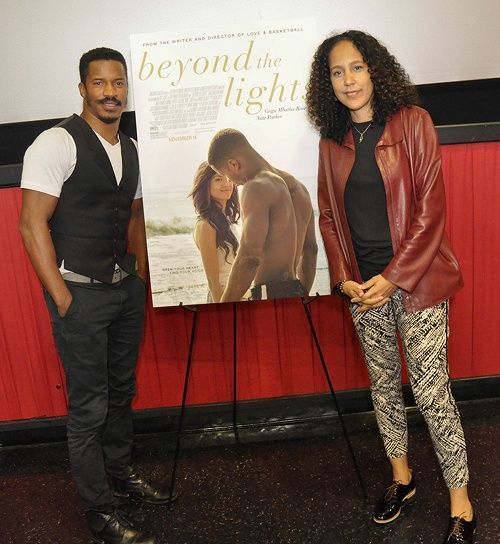 Here's what we learned (including her advice on how to find true love):
On her favorite love story
"My favorite love story is Black Orpheus (a 1959 foreign film made in Brazil by French director Marcel Camus). I'd never seen Black love portrayed so beautifully. And it's just a really cool film. For me, it was very important. Growing up, I never had images to look up to on screen or on TV, or people who looked like me. And very few images of love."
On "love" as a recurring theme in her films:
"As a filmmaker, I love to see love stories. I love to go to the movies. I love to get wrecked and then built back up and inspired. And I want to fall in love again. So for me, I like to write what I see. It's important for me to put that image out there of love."
On seeing "black love" on the silver screen:
"It's important to combat the perception that Black people don't want to fall in love and get married and fight for each other. Because we do. And I think the more we see it, the more it will become normalized and will contradict some of the negative images that we see."
On what makes "Beyond The Lights" so important:
"It's important to put a love story in the world. A story that's deep. That makes me feel. Makes me care. A movie that moves you. Men and women as well. The thing about "Love & Basketball" was that it attracted both men and women. And that's the same with "Beyond The Lights". It's a universal love story and there's depth."
On Hollywood's failure to produce more Black box-office stars:
"[Hollywood] is not developing Black stars. It's a catch-22. When I first saw Nate in "The Great Debaters", I thought to myself, 'Who is this guy and why hasn't he had the opportunity to be a true leading man?' But…he's got that opportunity now. And Gugu is another star whom I think is going to blow. And now, we hope these are two people who can go on to get movies greenlit on their own."
On her own "love story" with husband, director Reggie Rock Bythewood
"We were hired a week apart on "A Different World." It was both of our first jobs in the industry. We clicked and we were best friends first. And it evolved from there. We just think the same way and have the same dreams and aspirations. We have two boys. Been married sixteen years. It's really about working with and wanting so much for each other. Our scripts go through each other before they get out into the world. I'm grateful to have somebody there to make sure that I succeed. And all the great elements of my male characters come from my husband. I see love from within and it's important for me to share it."
On what makes "Beyond The Lights" a different-type of love story":
"This is not just a man saving a woman. It's two characters saving each other. And helping each other find their voice and fall in love that way."
Her advice on how to find true love:
"Find your voice, find your authentic self and be confident and brave enough to live an authentic life. Once you do that, then you're more open, and love will come into your life. To love another - you have to love yourself first."
Hear, hear Gina!
Beyond The Lights (starring Gugu Mbatha-Raw, Nate Parker, Minnie Driver, Danny Glover, Chaka Khan, Amar'e Stoudemire) opens in theaters November 14th.
Photos via Getty/JKDOWD MEDIA
​ ​
​ ​ ​