DOWN WITH THE SWIRL: TV Personality Jacque Reid ACCEPTS Then REJECTS Interracial Dating Site's Offer To Find A Mate
Nov 17 | by _YBF
Jacque Reid backed out of an online dating service's offer to find her a man...of any race. We wondering if Jacque might've changed her mind because interracial dating is still taboo? More inside...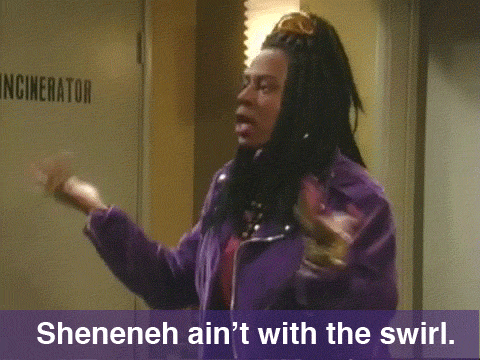 The swirl. Chocolate and Vanilla. Butter Pecan and all the flavors in between. For some folks, interracial dating is still a taboo subject some fear facing...even if it means remaining single.
News personality Jacque Reid ("New York Live", "Tom Joyner Morning Show", Editor-in-Chief of SingleandLivingFAB.com) might be one of those people. Jacque initially signed up with an online dating service, InterracialDatingCentral.com, who planned to hook her up with a date. She told the NY Post, "I've met some good men. I've met some bad men and dated very bad men."
Her situation with InterracialDatingCentral.com was going to be a BIG to-do. The website sent out a press release saying,
"The popular interracial dating website is now announcing that it is searching for eligible New York City bachelors, ages 35 to 45 to submit pictures, a bio, a contact telephone number, and a brief description explaining why they would like to be considered for a date with the beautiful and talented Jacque Reid. "
Sounds fun right? Imagine having hundreds, maybe thousands of eligible bachelors in New York City vying for your attention. What single gal would turn down that attention? Well....Jacque, who has only dated outside of her race once, was on board - at first. But, she backed out of the planned searched shortly after the press release went out. Why?
InterracialDatingCentral's Brand Ambassador, Christelyn Karazin might have an answer. During a candid chat with the NY Post, Christelyn offered the observation that Jacque back out because it's taboo for Black women to date outside of their race...and she suggested Jacque bought into that.
She added, "Black men date or marry interracially at more than double the level women do. They are given a pass. They can date anyone they want to — black women, white women."
One thing's clear....Christelyn does not subscribe to that belief. She's gone on record saying, "This isn't about exclusion, it's about inclusion. What you've been doing almost your entire dating life is excluding. Just because you date or marry a white man doesn't mean you're not black anymore. You still have your black card."
Hmmm....food for thought. For the record, Jacque Reid's official reason for backing out of the deal was that she got "busy" with work. That's completely possible. But it may just be a piece of the story.
Where do you stand on the swirl?
EXTRAS:
Remember Andrew Caldwell...the man who was "deliverdt" from homosexuality? He, and the COGIC congregation received an apology from Bishop Charles E. Blake, the Presiding Bishop of the Church of God In Christ, this week. He apologized on behalf of Superintendent Earl Carter, who used the word "sissy" to describe gay men and shockingly said he hoped they would bleed from their butts in a notorious sermon that went viral. Bishop Blake said,
"On Saturday evening, November the 8th, one of our more than 15 speakers used terms and spoke in a way that was offensive and inappropriate. "Though he alone is responsible for the nature and tone of his remarks, it was on my watch that this took place. Even though I was not present at the service on that night, as Presiding Bishop, I apologize for what seemed to be a harsh, uncompassionate, disrespectful spirit on the part of that speaker."
"I also apologize to Andrew Caldwell, a young seeker for the Lord, who came forth and made statements on that night regarding his change of heart and his purpose in life. His testimony literally went viral and it has brought upon him criticism and sardonicism. We extend our love, our prayers and our support to that young man as he seeks to know God and to serve God. ""
Watch it above....
Photo via Jacque's Instagram