Mary J Blige Clears Up Rumor About NOT Allowing Her Husband Kendu Issacs To Have Female Friends + LIFETIME's Whitney Houston Biopic Gets Premiere Date
​
Dec 02 | by _YBF
​ ​ ​ ​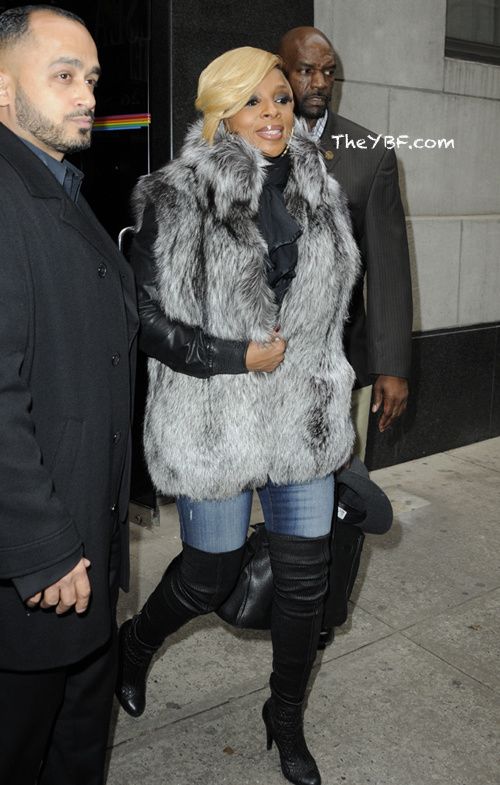 Mary J Blige dropped her London Sessions album today. And she's making her media rounds today, including a stop at the "Wendy Williams Show" this morning and performing her single "Therapy" on "Jimmy Fallon" last night. Find out what she said about the rumor about her not allowing her husband Kendu Issacs to have female friends and more when you go inside....
Mary J Blige has released her 13th studio album The London Sessions today. So she's heavy on the promo trail for her newest musical offering. Not only is she celebrating a new project, she and her husband Kendu Issacs will be celebrating their 11th wedding anniversary on Dec. 7th. Nice.
Speaking of her husband….
Today, the Queen of Hip Hop/Soul hit up by the "Wendy Williams Show" to dish on that rumor of her being a total control freak by not allowing her husband/manager Kendu Issacs to have any female friends.
In a recent interview with Stella magazine, Mary revealed a marital secret. She spilled,
"All females for me, all guys for him. There's none of that, 'Oh, that's my female friend. Oh, that's my guy friend.' No. Not in a marriage, I've never seen that work."
But, she says her words were misconstrued and taken completely out of context. She admitted he IS allowed to have female friends, but she was referring to NEW female friends. No new friends. She said he has plenty of female friends, but they were his friends before the twosome got together. And sure he can have female friends, but she will be "our" friend...not just his. Not mad.
The "Therapy" singer also talked about the unfortunate incident involving her father Thomas Blige being stabbed by his girlfriend Cheryl White. She revealed her father flat-lined TWICE before he was revived, and is now doing just fine. Thank God.
Last month, Cheryl was sentenced to 365 days in the Calhoun County, MI jail, according to reports. The 50-year-old ex-girlfriend has already served 270 days behind bars and will reportedly be given credit towards her new sentence on a charge of assault with intent to commit great bodily harm.
Mary confirmed her father and Cheryl are longer in a relationship and that the incident was a real life wake up call for her. She said she always loved her dad as a little girl and that same love has come over her again since she was so close to losing him.

Check her full interview below:
And last night....
The soulful songtress hit the stage at "The Tonight Show Starring Jimmy Fallon" for a performance of her track "Therapy". Check it above.
In movie news....
Following the premiere (and backlash) of Aaliyah's biopic, LIFETIME has announced the official date of the Whitney Houston biopic. After much controversy surrounding the upcoming telefilm, Whitney (directed by Golden Globe winner Angela Bassett) will make its debut on January 17, 2015.
Starring former "Top Model" chick Yaya DaCosta as Whitney Houston, Angela Bassett will be making her directorial debut in the made-for-tv film. After Whitney's mother Cissy Houston insisted the movie not be made and Whitney's daughter Bobbi Kristina popping off on Ms. Bassett, we were wondering if the film would ever see the light of day. But much like the Aaliyah biopic, even with all it's controversy, the show must go on.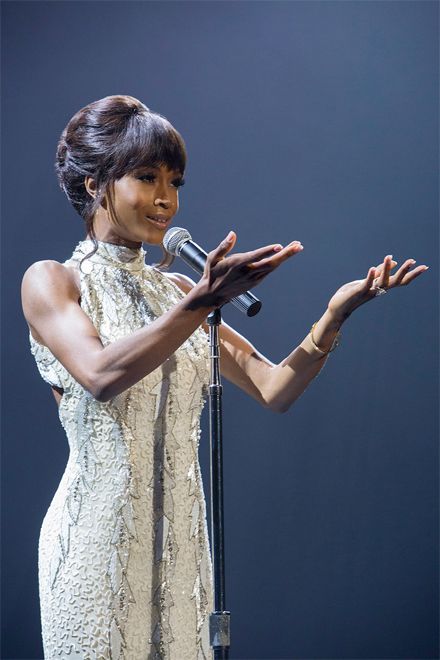 Since wrapping up filming, the "American Horror Story" star popped back at critics who said she didn't have a right to tell the legendary icon's story. She spilled,
"I did spend a little time [with] her, but to know her intimately, intimately -- I mean, who does but the person and the Lord they serve? Who knows a person? But I know a little about being in the spotlight, a little about celebrity and its demands, a little about trying to find a mate and the support that's needed in your industry -- mine being acting, hers [the] music industry. I know about being a woman, about being a black woman that came up in a little hometown ... and yet you are able to become a success because of this God-given gift or talent. So I know a little bit about what it might have been like."
We can only hope the Whitney biopic is well recevied, unlike the other epic failures. Mark your calendars and set your DVRs...Saturday, January 17th at 8pm ET on LIFETIME.
​ ​
​ ​ ​