MELTDOWNS: Tank Quits Music & Says "Maybe I Should've Been Born White" [UPDATE] + Nicki Minaj Hits "Inside The NBA" While Safaree Allegedly Threatens Suicide
​
Dec 19 | by Natasha
​ ​ ​ ​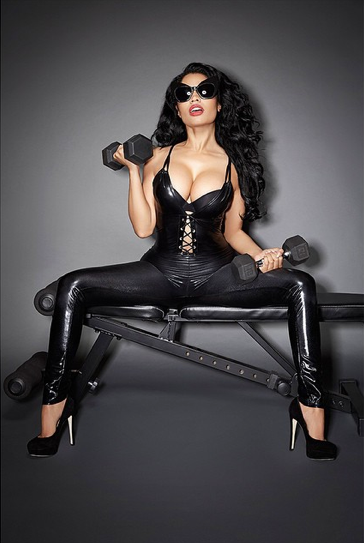 Nicki Minaj, pictured above in a new shot from her 2015 calendar, rolled through NBA's "First Take" today for a hilarious show with the fellas. Plus, word has it her ex Safaree is threatening to take his own life after their breakup. We've got the deets and Tank's latest meltdown inside....
Shaq, Charles Barkley, Grant Hill and more cut all the way up with Nicki Minaj today on "Inside The NBA." Check out Shaq tapping into his struggle-rap days again and proposing to Nicki....and she shut him all the way down.
Hilar.
And the "Anaconda" chick also appeared on today's episode of "The Real". She talked loving her curves, Ariana Grande's freaky side, and more. Check it.
Meanwhile, Nicki's been breaking down crying during interviews while talking about her ex Safaree. And it seems Safaree ain't doing too well himself. TMZ reports:
Safaree Samuels is confiding in friends that he's an emotional wreck over his breakup with Nicki after a 12-year relationship. He's become a shut-in, spends days and nights smoking weed, and has talked openly about suicide.

Safaree is telling friends he won't get in touch with Nicki because she's now hooked up with Meek Mill. He says it's torture for him, because he believes Meek Mill destroyed his relationship with Nicki over false claims he cheated.

Safaree's friends say they're scared these are more than idle threats. They've urged him to see a shrink. The problem ... he's seeing one whom he says has been giving him meds that make him even more emotional.
Hopefully he finds some strength to carry on...
UPDATE [12/20/14]:
Looks like Tank has had a change of heart. The Stronger singer now says he's NOT leaving the music industry, he's simply coming up with a new sound. Oh Tank....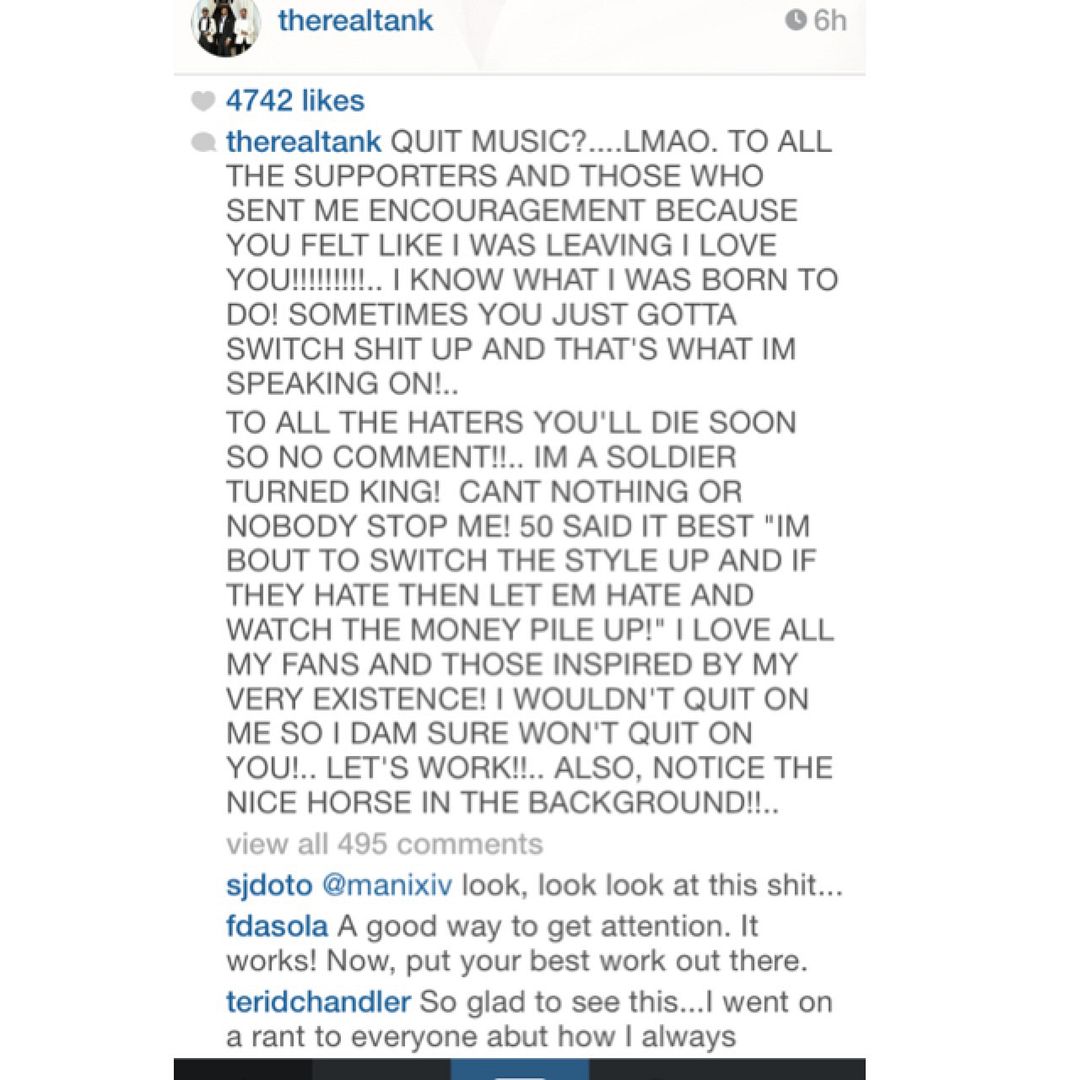 ------------------------------
Speaking of meltdowns, Tank just went off on his Instagram account about the industry. The industry he says he's leaving. Apparently his latest project isn't selling well and he feels he's lacking support from the R&B community. And seemingly taking a slight shot at the blue-eyed soul singers like Adele, Sam Smith, Robin Thicke and the like, he said, "Maybe I should have been born white."
Peep his frustrations below:
If I look tired it's because I am. I'm deeply saddened and disappoint that "Stronger" will not get a video or the continued promotion it deserves! I'd love to blame @atlanticrecords but that would be a lie! It's tough for record companies to continue to fund music that people don't support! I pride myself on giving you real musicianship, real singing, real lyrical content and being true to the music that inspired my very existence. The problem is there aren't many people left that want to hear it or buy it and if there are they won't stand up and be noticed! Who am I doing this for? Who am I maintaining this so called integrity for? Not many as u can tell by my first wk sales..lol. The artist that don't give a fuck sale the most and do the most! Should that be my new route? Maybe I should have been born white then all of my music would go straight to mainstream and pop radio instead of urban ac.. A format that continues to kill the true R&B artist! (Not mad at white artist just to be clear!) What I do know is that i will not continue to be faithful to something or someone that is not being faithful to me. I love you but I have a family. I have a mom and dad just like you. I have goals and dreams just like you. I refuse to work hard for nothing. I look better, sing better, produce better, write better, and perform better than dam near everybody and this is the thanks I get?.. Again I'm not angry I'm just tired.. Please enjoy my last real R&B album "Stronger" cause you'll never get another one! #letterfromaking -
Keep grinding Tank. Your family needs you.
Photos: Tank's IG/Nicki's IG
​ ​
​ ​ ​