Rihanna FILMS Video With Fans In Paris For 'R8' + Rih's Dad Ronald Fenty KICKED Out Of Diamond Ball After Getting Too DRUNK!
​
Dec 19 | by _YBF
​ ​ ​ ​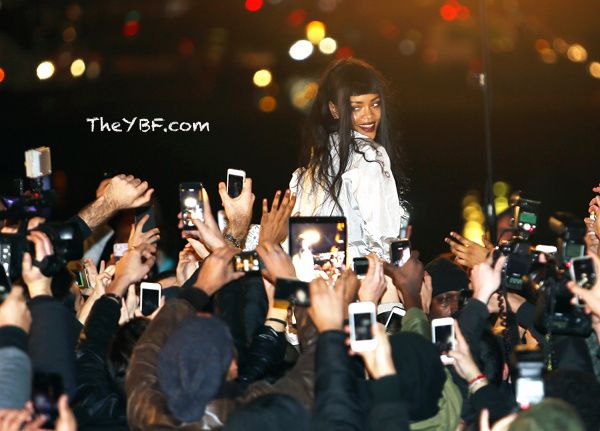 Looks like Rihanna's R8 is getting ready to be released. Last night, Rih was spotted in Paris surrounded by some of her #FrenchNAVY fans on the set of a new video project. In other Rihanna news, it has been revealed her father Ronald Fenty was kicked out of her Diamond Ball soiree for being too drunk! Pics and deets inside…..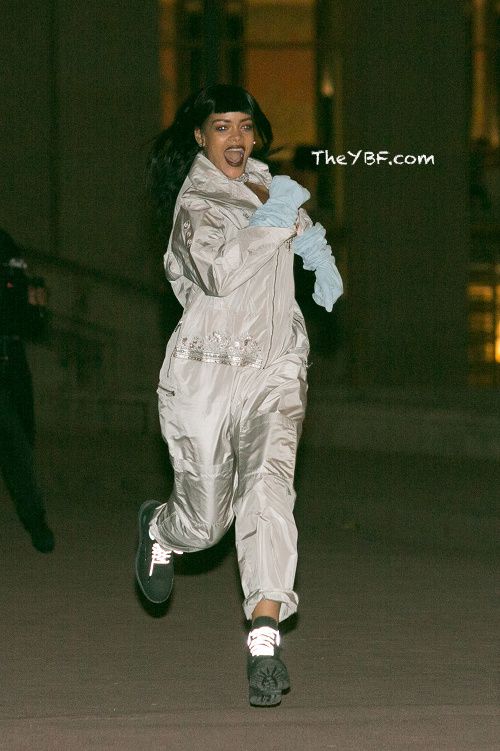 If you're a Rihanna fan, you have probably been waiting patiently for the Pop princess to release her new album dubbed R8 until the official title is revealed. And it appears the Bajan beauty is putting the finishing touches on her new LP before it's released to the masses.
Yesterday, Rihanna was busy working her magic in front of a camera for an upcoming editorial (likely for PUMA since she was named as their new creative director). Soon as she wrapped up on the set, Rih trekked it to the Eiffel Tower to film for a video project she's working on. Once there, chick hopped out her ride and ran towards a mob of screaming fans as the cameras rolled to capture the special moment.
RiRi was perched on the shoulders of one of her bodyguards as adoring fans greeted her with hugs and tried to snap pics of the superstar.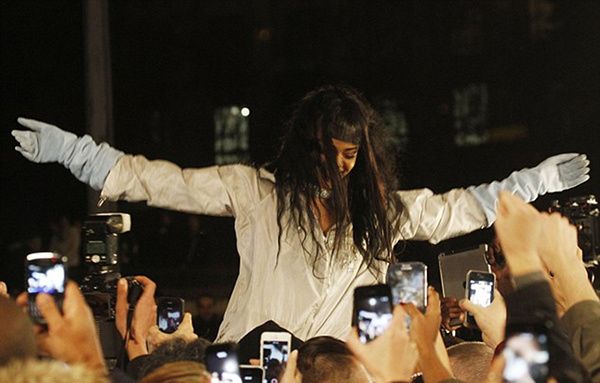 According to French website Reblle Rihanna, the "Diamonds" singer asked her fans to meet her at the Trocadéro in Paris as part of the #R8experience, to film a video for her upcoming eighth album. No word on if the video is for an upcoming music video or something else. Guess we will find out in due time.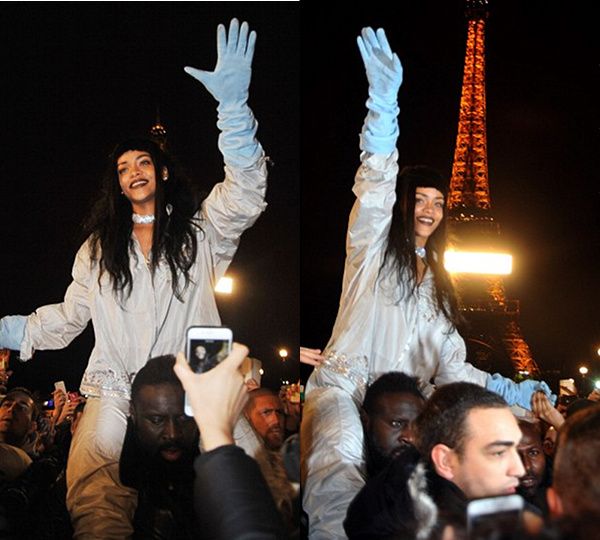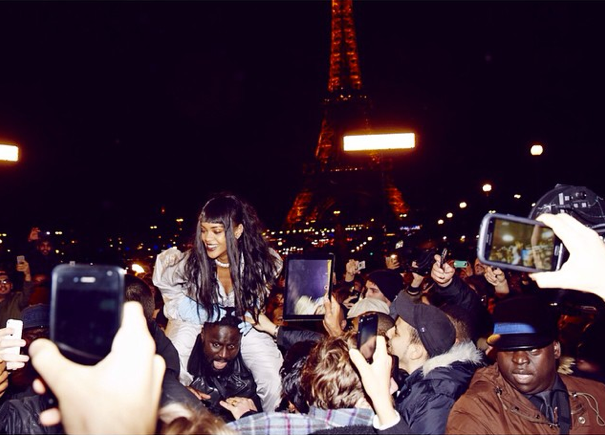 Check out her bodyguard's face during the melee. Loves it.
Peep the video of Rih embracing her fans below:
Also...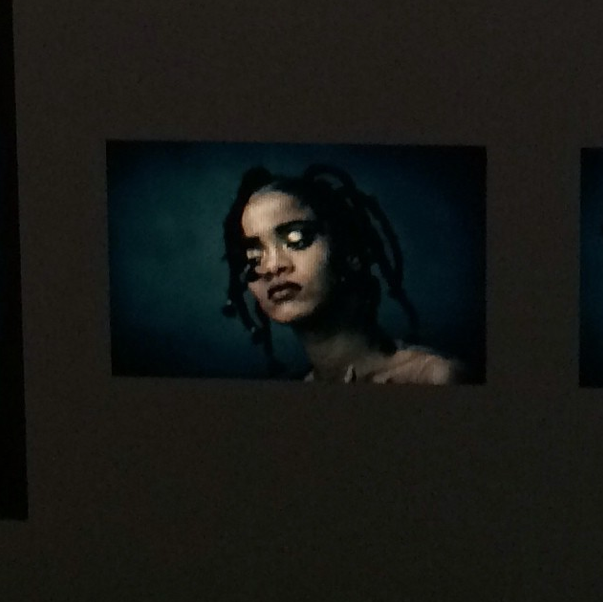 If you needed more proof that Rih's upcoming eigth studio album is on the way, the "We Found Love" singer posted the pic above with the caption "R8". Is this the cover art for her new LP? Or a shot from the album's art booklet? Hmmm...
In other RiRi news....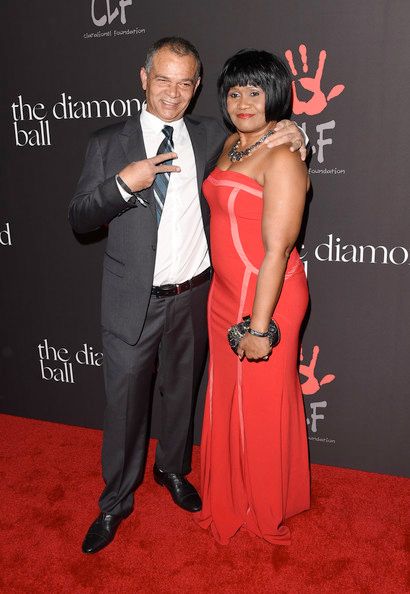 Rihanna's first annual Diamond Ball was a huge success. But apparently, ish went left before the songstress even made it to the red carpet.
Rih's father Ronald Fenty was kicked OUT of the ball because he was heavily intoxicated! Her 61-year-old father has been trying to kick his alcoholic habit for the past year, with the help from his famous daughter. But the night of the Diamond Ball, he had a major slip up.
Before the event kicked off, Ronald stopped on the carpet with Rih's mother Monica Braithwaite (above) and posed it up for the cameras, looking like he may have been a little tipsy. According to him, he simply tripped over a chair that was pulled out, but that was enough for someone to alert security that he may have had too many drinks, so they escorted him out of the event. He told the Daily Mail,
"I had been on the [red] carpet for the pictures, I meet a couple of famous people I knew go and talked with them, and then somebody left a chair and I stepped back and fell over, I saw my ex (Monica) look up, and within a few minutes after the picture was taken, security came up and said 'we're taking you home'. I said 'but I haven't seen my daughter yet'… and they said "don't matter man".

Ronald believes it was RIhanna's mother who had him removed from the soiree. He said he feels bad about his actions and hopes his daughter isn't upset with him. He said,
"I'm sad how it ended of course, I should have never taken that first drink or any drink for that matter. I wish I had seen her of course. She will probably hear how I was and how I had a few drinks, so I guess she would be angry with me. I think she is, I'm not sure, we haven't spoken just yet."
So what caused Mr. Fenty to pick up the bottle in the first place? He said he was upset that two of his other children weren't invited to the event and were giving him a hard time because of it. He revealed,
"That day of the event I was really down. My other son and daughter in Barbados, Samantha and Jamie, were not invited and they were on my case about it and making me feel bad and guilty. Cousins and everybody on the other side was invited but why wasn't Jamie and Samantha there? It wasn't the first time either. I got really down and depressed and that was basically why I started drinking that day."
Also in the interview, he talked about how Rih put him in rehabilitation center in Malibu last year (which set her back about $58K) to help with his alcohol addiction. He needed to complete the program to keep him out of jail after he was arrested in Cali previously. He also talked about his disdain for Rih's bestie Melissa Forde. He said,
"I think Melissa should be old enough to be able to stand on her own two feet, of course come and visit her like the rest of her friends but she doesn't need to be there all the time"
Bloop!
He also talked about his daughter's relationship with ex-boyfriend Chris Brown. He believes she has totally gotten him out of her life….and probably for the better. He talked about the time she completely ignored him when they both attended Roc Nation's Summer Classic Celebrity Charity Basketball game back in August. He spilled,
"I don't know what their relationship is now. At the basketball game, they just said "hi and hello. When we was going to the car park he was trying to talk with her but she turned and was talking to somebody else, so he came and talked to me and I had a picture with him. Afterwards Robyn said, 'dad you really taking pictures with him though?'(sic)."
So is he hoping his daughter and Chris will rekindle their love? He said,
"'Chris is a player, he ain't ready for no one women yet, he ain't ready. He's a party guy."

Papa Fenty loves to talk to the media doesn't he?
EXTRAS:
1. Beyonce and Jay Z were outbidded on a Beverly Hills mansion by a billionaire video game programmer. STORY
Photos: Splash/Getty/Rihanna's IG
​ ​
​ ​ ​