Big Sean DISHES About BREAKING UP With Naya Rivera, HOOKING Up With Ariana Grande + Lil Wayne's MESSAGE TO Birdman...I'm Taking Drake & Nicki Minaj With Me!
​
Jan 27 | by _YBF
​ ​ ​ ​
Big Sean covers the February/March 2015 issue of COMPLEX where he talks candidly about ex-fiancee Naya Rivera, his new boo Ariana Grande and his thoughts on Ferguson. See highlights inside and get the latest on the Lil Wayne/Birdman legal war.
"IDFWU" rapper Big Sean covers the latest issue of COMPLEX as he preps for his third studio album, Dark Sky Paradise. Inside the article, the mag follows Big Sean back to his roots in Detroit and gets him to open up about his very public breakup with Naya Rivera (whom he admits DID inspire the last line of "IDFWU"), he opens up about meeting and falling for Ariana Grande ("We started as friends") and he explains how he felt emotionally when he learned about Ferguson and Eric Garner's death.
Read the full article here and check out the highlights below:

On responding to Naya Rivera's accusation that he stole a Rolex from her:

"You can come to that conclusion yourself if you just look at the facts," he says before pausing and then letting out a laugh. That's probably why he says he wasn't shocked by it. "I felt like it was unnecessary drama 'cause in my eyes it wasn't true. I wasn't surprised by it," he says with another long laugh. "Even though I didn't steal anything, I wasn't surprised by it."
First of all, why would I have to steal a Rolex" he asked. "Second of all, every Rolex that I have, I have receipts for, papers for, certificates of authenticity for. I would never steal a Rolex from anybody. You see that tweet got deleted in like 20 seconds."


On hooking up with Ariana Grande and being friends first:

"We started as friends," he says. "I'd never done that. Usually you meet a girl and then start dating. We always saw each other in the studio, and we'd talk about songs we were working on. It was cool to have a girl that I could talk to about my problems. I did that with her. It's not some fake-ass, inauthentic shit when I say we were friends. This is something special and I appreciate every moment of it." But what about the pressures that come from dating another celebrity? Finding time to see each other? Having your love life in the news? "I don't think about it like that," Sean says. "You can't be afraid, because when you're afraid you don't give it your all."

On Ferguson and Eric Garner:

"It don't even surprise me," he says. "It's sad. It is a racial thing, but the fact that the law can get away with this is sad. That you can kill somebody on camera. It's been happening. It's so wrong, on an ethics level, on a racial level, on so many levels. It brought my spirits down yesterday when I heard about Eric Garner. I didn't even tweet about it. I didn't do anything. I couldn't."

On the "Control" record:

"Looking back on it, it was a different vibe than my album," he said about the song. "There's a lot of negativity on that song, and I don't f— with negative s—. People love drama, people love bulls—. I knew when Kendrick did that name-dropping, that it was just gonna set it off… I never wanna shade anybody. I would've been a ho-ass n—- if I cut that out of his verse, or if I didn't put the song out."
In other rap news...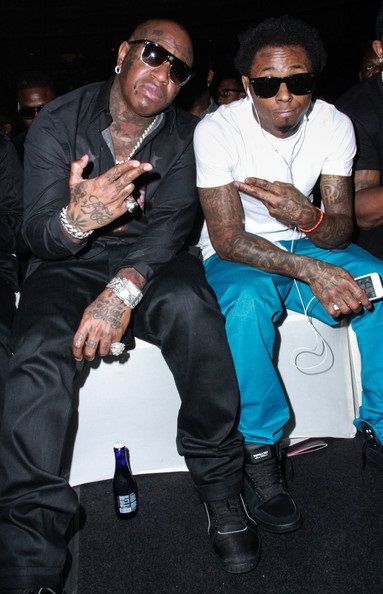 As lawyers for Lil Wayne and Birdman hammer out the details of a possible separation, the former friends are trading jabs in public, with each dropping a dime one how he feels about the other.
A few days ago, "sources" from Birdman's camp revealed how angry he was about the "Coco" diss record and that he's mad Wayne wants to leave Cash Money records. Now, TMZ is revealing Wayne's alleged next moves.
According to sources from Wayne's camp, he definitely wants OFF Cash Money and when he leaves, he plans to take all of his artists with him. In addition to demanding the $8 Million advance he claims he's owed for Tha Carter V, Weezy plans to see to ensure that all of his artists (Drake, Nicki Minaj, Christina Milian, Lil Twist, Mack Maine) each remain under HIS Young Money umbrella.
Legal experts expect that the matter will be settled out of court....but would that leave Cash Money without any marquee acts? Could this be the end of the cash money empire? We'll stay tuned in to this power struggle.....
Photos via Pacific Coast News/ TIMOTHY SACCENTI
​ ​
​ ​ ​