Kanye West ANNOUNCES He's Hitting The Studio With Taylor Swift, Addresses Beck Drama At The 2015 Grammys
​
Feb 11 | by _YBF
​ ​ ​ ​
Kanye West just announced he will be hitting the studio with America's Sweetheart Taylor Swift, following their reconciliation at the 2015 Grammy Awards. Also, he's opening up about why he got out of his seat once Beck was announced the winner of the Album of the Year Award and why he went on one of his infamous rants after the ceremony. Get it all inside….
The 2015 Grammy Awards came with a few surprises thanks to Kanye West (above, leaving his NYC apartment today). And now, he's opening up about why he was full of rant-filled antics during the most prestigious night in the music industry.
We all remember his infamous stunt at the 2009 MTV Music Awards as Taylor Swift took the stage to accept the Best Female Video award. He hopped on stage to interrupt Taylor to praise Beyonce as the real winner of the award. Since then, that moment has been a highlight in entertainment history.
But, Taylor hasn't harbored any ill-feelings towards Yeezy as they smiled and snapped it up during the 57th Annual Grammy Awards this past Sunday. And now, Ye says he will soon be joining the "Shake It Off" singer in the studio to collaborate on some new music. He announced to Ryan Seacrest during a phone interview this morning saying,
Yeah, she wants to get in the studio and we're definitely going to go in. Any artist with an amazing point of view, perspective, fan base, I'm down to get in the studio and work. I don't discriminate, I don't have an elitism of music because of like how many Grammys or you know, the amount of ratings you get on an album. I that think everyone loves music whether they love hip-hop, alternative, country, and if I could be involved in giving people any type of energy, advice in the studio, whether you're Beyonce, whether you're Taylor Swift, whether you're Jay Z, whether you're Beck, whoever, and they can be reciprocal with that, I'd like to be involved with that.
'Ye then went on to talk about what made him get out of his seat as Beck accepted the Album of the Year award Sunday. He addressed people who believe he did that to Beck because he is white and also talked about his post-Grammy rant blasting the members of the Recording Academy and more.
Below are the highlights:
Why did you decide to get out of your seat and come up when Beck won album of the year?
You know, I felt like just the whole Grammys, right when that happened, everybody was looking at me and then people started screaming, "Kanye! Kanye! Go do it!" Ok, that didn't really happen, these were voices in my head. So the voices in my head told me go and then I just walked up like halfway up the stage. You know, what I really wanted to do is just joke around about what had happened before, but I just really didn't want to take away from Beck's moment or the time he's having to talk because you know the Grammys, they play music really quick no matter who you are and everything. So I didn't want anything to take away from his screen time. So I just walked back down because you know, it was kind of a joke like the Grammys themselves.

Some say it was disrespectful to Beck. What would you say if you could say anything to him?
Well first of all, Beck is one of the nicest guys and one of the most respected musicians in the game. So, there's nothing that I will want to do as a fellow musician to disrespect him in any way. And the weird thing is like, and I don't feel like I have the right to take away from people's moments, but the reality of it is — and case in point by who came up to me right afterwards — is it's almost like a chiropractor. You know, you just get a little crook out like, "Wow, this crook has been there!" It's just a little jolt of truth, right? And then you know, everyone feels better after the fact, or everyone is way more famous after the fact, or everyone sells way more albums after the fact, and then Kanye just goes on being an a**hole to everyone.


Do you think there's an issue with perception versus intention?
Oh yes, definitely, but the road to hell has been paved with good intentions. You know, I'm at a point where it's ways to do things in a smoother way. And feel like at the Grammys — I don't know exactly what the press has been [saying] because I don't keep up with that — but at the Grammys when I did go up onstage and left off, there was a really good vibe about it, and everybody was laughing and smiling.

On his serious post-Grammys rant with E!:
Well you know what happened? It's because I sat there and I kind of let that [smolder] and I was asked my opinion and I was given a platform. And when given a platform, it's very hard as we know — and I'm going to talk in third person like I'm a crazy person — but it's very hard for Kanye West to not be very true and vocal to what he feels. You know, it's like people take the Grammys for granted in a way because of the commercials, because a lot of the musicians are very rich and everything, but this is our Super Bowl. You know, and someone's got to be mad that [Marshawn Lynch] didn't get the ball.

On the critics who say his stunt stemmed from racism:
I also wanted to stress to people that it's not a black or white thing at all. It's not me always standing up for a black artist. I feel that racism is a distraction to humanity. We are one race. We are the human race, period. And I feel that we have to base our new society, the future post-Internet society, off of blocks and bricks of truth. And if the Grammys are capitalizing off the amount of views that Beyoncé gets for them and still not laying that brick of truth and being respectful towards [deserving artists] — because Beck says afterwards, literally, says, "Hey I think Beyoncé should've won it."

On his comment about Beck disrespecting artistry:
And when I said that thing about respect artistry, I think it came off the wrong way, and that was a mis-wording on my part because obviously Beck is one the most respected artists and respects artistry. But I felt — and this is my opinion and he's his own man and he's not wrong and we'll still go play basketball and stuff [unless] he doesn't want to do it — but I felt that even though the Grammys some times gives awards to people who you wouldn't think should win in the category, as a respect to artists, we mention the other artist's name in our speech. And that was the point I was making about it. There's like many of times I gave other people my award, literally made them come up onstage. Maroon 5, when they won best new artist, [Adam Levine] mentioned me because it was the College Dropout and [it had] 10 nominations and all that.

Do you believe Beyoncé didn't win because she's so commercial, popular, and successful?
I believe she didn't move and run to the stage because she's a respectful individual. But because she is so successful, a lot of times, success disables your ability to communicate exactly what the f**k you want to say!

Sighs. Kanye wasn't nominated, but he made sure to be on everyone's lips the next day.
Check out his full interview below:
Speaking of the latest "KANYEGATE" controversy....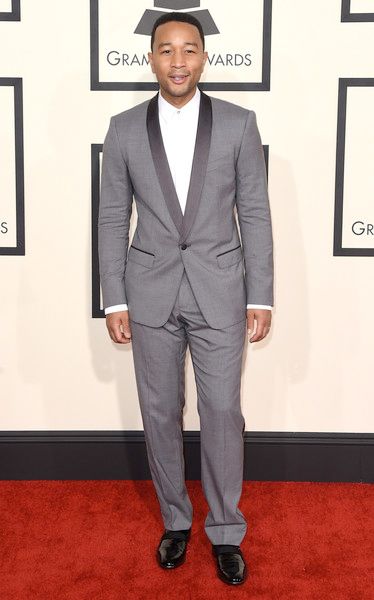 John Legend got caught up in the firestorm of controversy after Kanye's wife Kim posted an us-ie of herself, the "Glory" singer and his wife Chrissy Teigen with the caption, "This is the Beck won that award face?!?!?!"
John took to his Twitter to clear up any confusion that lead people to believe he felt the same sentiments as Kim. He tweeted:
Congrats to all winners, including @beck. Much respect. That selfie was taken before Album of the Year was announced.

— John Legend (@johnlegend) February 10, 2015
When a person isn't part of an industry but they feel entitled to chime in and wrecklessly affect ruin the image of another who actually WORKS for a living...in said industry...
Later, the "All of Me" singer took to his Instagram to explain why he said the antics Kanye peformed during the Grammys were funny. It appears his words were taken out of context. Basically, he felt 'Ye going up on stage during Beck's acceptance speech was funny because it was a way of poking fun at his own self after his 2009 stint with Taylor. BUT, he made it clear he did not approve of Ye's rant on the E! AFTER the show. He said Beck is an incredible artist and deserved the win.
He eloquently wrote:
I want to clarify my thoughts on Kanye's actions at the Grammys on Sunday. First of all, Kanye is my friend. He believed in me years ago when very few did, and I wouldn't be here without his support. That doesn't mean we'll agree on everything, but it does mean that I am grateful to him. And I also believe he is one of the most gifted people I've had the privilege of working with.

In my comments to US Weekly, I said that when Kanye walked up on stage, mimicking his interruption of Taylor Swift's VMA acceptance speech, then turned around as if he was just playing, most of the room including me saw this as funny, as a way of taking the piss out of himself for his infamous behavior several years ago.

When I said that was funny and people should lighten up about it, that's what I meant. I wasn't referring to Kanye's comments after the show which I have now seen and heard. I disagree with those comments. Beck is indeed a true artist's artist. He's a multi-instrumentalist, a creative and unique singer-songwriter whose music I have bought and enjoyed over the years. While his win may have been a surprise to many, it's not because he's not a great artist deserving of recognition. All of the other nominated artists, including Beyonce, are incredible in their own right, and arguments could be made for any of them deserving to win. This is not an objective process. It's completely subjective, in fact. We can all debate who we thought should have won. But even if you didn't vote for him, plenty of our colleagues in the music business did. These voters are all creators who love music and have dedicated their lives to it, and the plurality of them chose Beck as the Album of the Year. I respect their decision and congratulate Beck on this outstanding accomplishment.
Well said.
Photo: FameFlynet/Getty
​ ​
​ ​ ​