Amber Rose Says She's NOT A Black Woman, HATES Anal Sex + HINTS At James Harden Being Her Valentine, Throws SHADE At Tyga & The Kardashians
​
Feb 13 | by _YBF
​ ​ ​ ​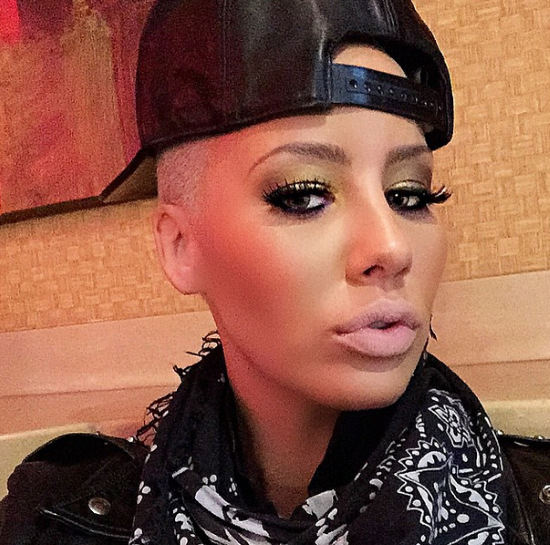 Amber Rose swung by Hot 97 where she dished on her divorce from Wiz Khalifa, revealed why she only dates celebrities and disclosed that she's not a fan of anal. TM!? Well she also made it clear she doesn't consider herself a black woman. Listen to the interviews inside and check out her Kim Kardashian impression...
Since hooking up with Nick Cannon (as a manager...not lover) Amber Rose's career is on the upswing. In the past week, we've learned that she's set to appear on the Comedy Central series "Inside Amy Schumer", landed a lead role in forthcoming movie Sister Code starring Drew Sidora and Eva Marcille and she's going to be in Zoolander 2. And the week's not over yet!
Today, she appeared on Hot 97 where she dished about her divorce from Hip Hop star Wiz Khalifa, talked about why she only dates celebs, revealed how she likes to get down in the bathroom and shut down rumors about plastic surgery. Here are the highlights:
On the split with Wiz Khalifa:
I sat in the house and cried for 4 months. Every day. When I woke up. Went to bed. Cried and cried. Wiz was the love of my life and he broke my heart.
On calling her family "racist" during the OWN docuseries Light Girls:
"Let me make this very clear, because the White side of my family got really mad at me. My dad is White. It was not the White side of my family. They're not racists at all. [It was] the Cape Verdean side of my family… not my entire side of the family. I'm talking about the old heads."
On why she only dates celebs:
"I personally feel like I don't want to date a regular guy, because a regular guy is not fully gonna understand my life."
On being a role model:
"I have women, they come up to me and they cry….These girls really do feel repressed by their men, their families. They're a mom. They can't be sexy…They hafta wear a cardigan and be covered up"
On sex and bedroom skills:
"Not just on top. It's gonna be all over the room. It's gonna be everywhere. It's gonna be passionate. It's gonna be a lot of kissing. I talk that talk. I don't want nothing in my a**. That's the only thing I don't want. Other than that, it's all good."
On race and being bi-racial:
"I do not consider myself a black woman. Absolutely not….Bi-racial. I embrace everything that I am, I don't feel like I'm more one thing, than the other."
On denying plastic surgery:
"I've seen the before and after photos that you're referring to. And I'll tell you, the before pictures — I was a buck, twenty (120). I'm a buck, sixty now (160)….I don't have implants. My body is bigger….I did not get plastic surgery…It's been two years. I've been tryna work on my body and do it the natural way."
Why she twerked on Chris Brown at the club:
"Being petty cuz I was hurt over my husband. My husband has been out with 50 different women, pulling sweaty white bitches out the club. And all these other girls. And not only was I in the house crying every day mourning my husband. I had to see that….And I'm in the house."
Damn!

Wait....she's not done talking...
Amber also stopped by the Breakfast Club were she dropped a few more "gems". During this interview, we learned that she's crushing on NBA stat James Harden, thinks Tyga dating Kylie is disgusting and she didn't mind when Dwyane Wade followed her on Instagram. But the best shade is reserved for her ex Kanye's new wife Kim Kardashian...and it comes with impressions!
On Houston Rockets player James Harden being her "Bae" (15:41): "Me and James have a very "special" friendship for sure." She added, "I didn't get the "D" yet.
On Tyga (her best friend Blac Chyna's ex) dating Kylie (27:12): "She's a baby. She needs to go to bed at 7 o'clock. Have a glass of milk. That's ridiculous. He should be ashamed of himself. He has a beautiful woman (Blac Chyna) and a baby and left that for a 16-year-old who just turned 17. Like naw...."
On Kim Kardashian: Outside of her cheating with Kanye (which she says @11:47), Amber thinks Kim is fake and her selfies are contrived. Then she launches into a full-on impression of Kim talking a selfie of her bosom.
On Dwyane Wade (17:56): She said she's not surprised that Dwyane Wade followed her (then unfollowed her) on Instagram because she posts pretty pictures.
Oh. Gotta love that Amber....
​ ​
​ ​ ​