TV FAB: Rickey Smiley Sets The Record Straight On If He's Dating A "RHOA" Star From His Radio Show...And Who He Clearly Has A Crush On
​
Mar 14 | by _YBF
​ ​ ​ ​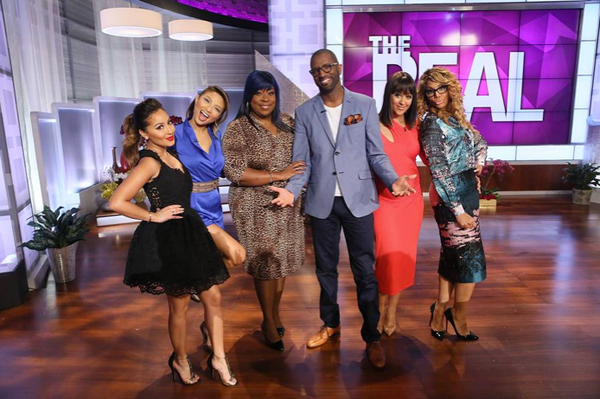 Apparently, there's a rumor that Rickey Smiley could be getting it in with one of the stars of "Real Housewives Of Atlanta." Find out who it is and whether or not he's getting it with said person inside….
Funnyman Rickey Smiley drops in on "The Real" to chat it up with the ladies for an episode airing on Monday. And he came to set the record straight on whether or not he's dating a star on BRAVO's "Real Housewives of Atlanta."
The woman in question? Well that would be Claudia Jourdan, who is also his co-host on his nationally syndicated radio show "The Rickey Smiley Morning Show."
When asked if he was dating his co-worker, Rickey made it clear he does not sleep where he makes his money. Hmph. Oh yeah, and the comedian is single too.
Below are the highlights:
Adrienne Bailon: Are you single?

Rickey Smiley: I am!

Adrienne Bailon: But there is a little bit of word on the street that your radio cohost, Claudia Jordan is your boo. So here is the time to set the record straight on The REAL.

Rickey Smiley: What y'all think? Y'all think I hit?

The REAL: (Laughs and Claps)

Tamera Mowry-Housley: Oh my gosh!

Rickey Smiley: No, I'm professional. I've been in this business twenty-six years.

Tamar Braxton: Absolutely!

Rickey Smiley: I do not sleep where I make money!
And when asked about the other "RHOA" star who is also his RSMS co-star via Dish Nation, Porsha Williams, he acts like he has a school boy crush.
Rickey Smiley: Porsha thick! Porsha is thick! Thicker than a snicker!

Adrienne Bailon: Yes she is!

Rickey Smiley: Porsha is the real deal!
Check it below:
Rickey also talks about being a father to 10 children (sheesh!), with two being his biological kids and the others being children he took in from parents who were unable to raise them. He also talked about sometimes having keep his stand-up act PG. You can catch his episode when it airs Monday, March 16th. Check you local listings for the time.
Photos: Patrick Wymore/WARNER BROS. Entertainment Inc.
​ ​
​ ​ ​