Reginae Carter POPS Off At Young Thug Over 'Carter 6' Album + Marvin Gaye's Family After T.I. For "Blurred Lines" Royalties
​
Mar 18 | by _YBF
​ ​ ​ ​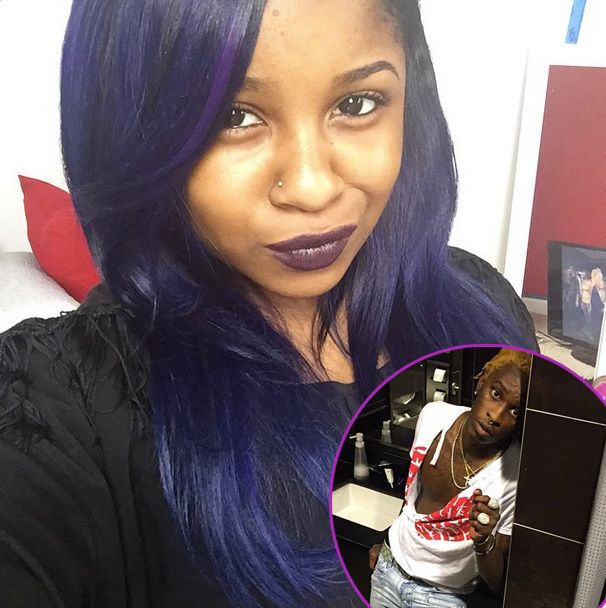 Reginae Carter is poppin' off on Twitter in defense of her pops Lil Wayne. And she's coming for rapper Young Thug after he announced he was naming his next album the Carter 6. Peep her shade-filled tweets and get the latest drama that's being continued by Marvin Gaye's family (Yes, they're seeking more money for "Blurred Lines") inside…..
Young Money artist and daughter of Hip Hop superstar Lil Wayne has kept quiet long enough. And now, Reginae Carter is poppin' off at rapper Young Thug after he announced he will be naming his next album Carter 6.
On Instagram, the Atlanta rapper recently posted up a video with the #Carter6 hashtag, while previewing a track:

For months, there have been rumors that Thugga Thugga would be naming his next album Carter 6. And during a sit down with the Power 105's The Breakfast Club last month, the 16-year-old Young Money princess spoke briefly about Young Thug naming his album something similar to her pop's. We all know the drama behind Weezy's Tha Carter V album being shelved after he didn't get paid his money, launching a multi-million dollar lawsuit. She said,
"He did say that. That has nothing to do with me. Whatever he wants to do, I guess that's cool. I feel like all of that is just childish. I love Young Thug's music. I'm a fan of his so whatever he wants to do."
In case you were wondering the Young Thug/Lil Wayne connection, he's signed to Birdman's Rich Gang management company. That explains why Young Thug and Birdman are often seen together.
Well…Reginae must have gotten wind of Thugga's latest IG video clip and decided to respond, saying Young Thug needs to try again and would first have to get on her father's level. Bloop! She tweeted (read from the bottom up):
She then added (read from the bottom up):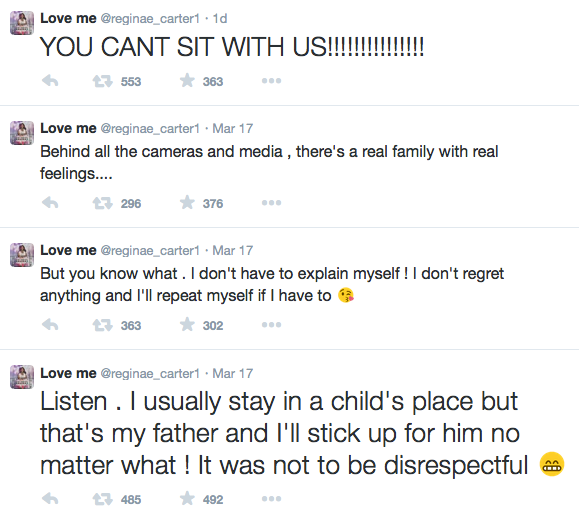 Welp...can't blame a kid for taking up for their pops!
Meanwhile, Weezy just dropped the new video for his "CoCo" remix. Check it below:
In other news....
The Marvin Gaye family legal drama continues! And now they want T.I. to cough up some of the dough he made after dropping bars on "Blurred Lines," also featuring Robin Thicke and Pharrell Williams.
You'll recall, the Gaye family was awarded $7.3 million after a jury decided the R&B singer/songwriter and super-producer were guilty of copyright infringement for their hit 2013 track "Blurred Lines." At the time, T.I. was not required to pay up, but now they want it all!
During court testimony, it was revealed "Blurred Lines" made a total of 16,675,690 in profits. Robin and P raked in about $5 million a piece, while Tip made about $704,000 for his rap verse. The rest of the money was divided up between their respective record labels.
Now, the Gaye family wants every cent they're owed and is seeking funds from the Atlanta rapper and their record labels, including Universal Music, Interscope Records and Star Trak Entertainment. SONY dodged court and settled with the family (for an undisclosed amount) in January 2014.
TMZ reports that now that the Gaye family are involving the record labels, this could be the first step in trying to stop distribution of the track until Marvin receives writer's credit, in which, the family will receive the royalties.
Also, if you haven't heard, the Gaye family is deciding on whether they want to fire off another lawsuit against Pharrell over his highly successful "Happy" song (which was featured in the Despicable Me 2 soundtrack). They also claim Robin's "Love After War" misappropriated Gaye's "After The Dance."
This is getting messier by the minute…..

Photos: Reginae's IG/Young Thug's IG
​ ​
​ ​ ​