WHAT'S THIS? FIRST PIC Of "Rumored" Twosome Jamie Foxx And Katie Holmes...Holding Hands
Mar 18 | by _YBF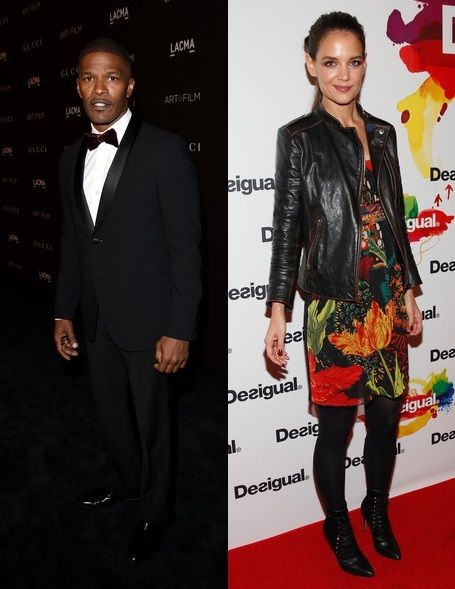 An "exclusive" photo of Oscar-winner Jamie Foxx holding hands with Katie Holmes (the ex-wife of his friend and former co-star Tom Cruise) hit the web and has folks all in a tizzy. Are they dating? Hooking up? Getting it in? What's it all about Jamie?
Somewhere around the world, Tom Cruise is singing "These BROS ain't loyal." Because in 2004, Tom and Jamie Foxx shared a worldwide bro-mance as they trekked from North America to Europe and beyond, promoting their blockbuster flick Collateral.
During this jaunt, Jamie befriend Tom's wife (now ex-wife) Katie Holmes. Fast forward to THIS WEEK and Katie and Jamie, who is getting back into music, are on the cover of US Weekly which claims to have exclusive deets about their "secret" romance. And now, there's the pic (above) of the two holding hands!
Last month, rumors swirled about these two possibly being an item. But there was no proof...then.
It's Hollywood, however, and this is all speculation. For all we know, these two could just be working on a film together. Who knows...
US WEEKLY claims the twosome started off as a fling in August of 2013 (after a party in East Hampton), then it became more romantic. It should be noted that the picture above was taken in February. One source claims to the mag, "Jamie is someone she can trust and have fun with. She's getting everything from Jamie that she didn't get with Tom." Another insider said Jaime refers to her as "my girl."
The new issue (on stands now) also says most of their intimate time is spent at Jamie's place in the Santa Monica Mountains. And he's "cut his roster" of ladies. Also, PEOPLE reports that Katie recently moved into a new California home with her eight-year-old daughter Suri, and she drops by Jamie's nearby house 'often.'
Sips tea....

Photos via Getty/TheYBF Instagram