Drake SMASHED Lil Wayne's Girlfriend & Weezy Found Out While Locked Up On Rikers Island...Now Wayne's Writing A Book About It!
​
Mar 20 | by _YBF
​ ​ ​ ​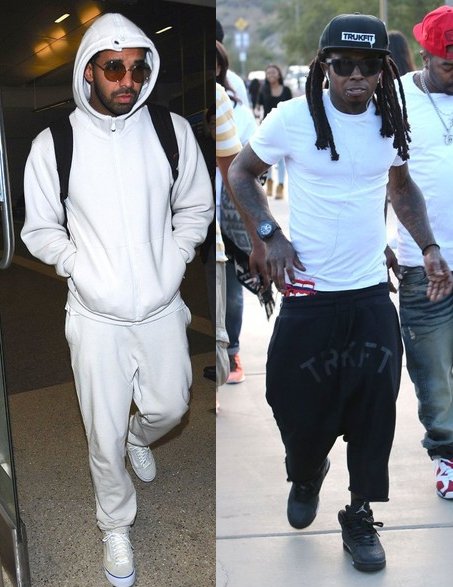 Lil Wayne is shopping an explosive tell-all that includes a "tale" about Drake sleeping with his girlfriend! And did we mention this all went down while he was locked up on Rikers Island?! More inside...
In the near future, you'll be able to boot up your Kindle and read about Lil Wayne and Drake smashing the same chick. We'll explain...
According to TMZ, Weezy is reportedly shopping a juicy tell-all book about his life and we've got a sneak peak at one of the tome's juiciest stories. Do you recall Lil Wayne' unfortunate incarceration on Rikers Island? While he was locked up, Drake revealed to him that he'd smashed his girlfriend. Seriously! Drake visited him one day and said "Yeah, it's true. Don't f*** with her like that cause I did f*** her."
Wayne goes on to reveal that he and his lady had been arguing a lot so that compelled Drake to fess up. But it didn't ease the pain. He said,
"This is the type of s*** that a man never wants to find out when he's locked up. Or, maybe so, cause only God knows what I would have done if I wasn't locked up right now."
He continued,
"I woke up feeling f***** up about the f***** up day that I had ... finding out that she f***** Drake was the absolute worst thing I could've ever found out. As a man, honestly, that s*** hurt ... and not because it was Drake, it could have been any man. It would've hurt the same."
In the "unnamed" young lady's defense, he did reveal that she smashed Drake the day before she met Wayne and began a relationship with him. She might be sloppy...but she's not a cheater! Weezy says he was so depressed that he didn't come out of his cell for days!
Hmmph...if the rest of the book is full of tales like this....we're all in!
And speaking of Drake, he's safely on US soil again. We spotted him walking in LAX yesterday (above) after a very eventful trip to Dubai. You'll recall that he was assaulted at Movida Nightclub. Thankfully, he emerged unscathed.
Photos via FameFlynet
​ ​
​ ​ ​