Kendrick Lamar & Girlfriend Whitney Alford Celebrate His #1 Debut With A CD-Signing In Compton + J. Cole's "G.O.M.D." (VIDEO) + Tyga's "40 Mill" (VIDEO)
​
Mar 23 | by _YBF
​ ​ ​ ​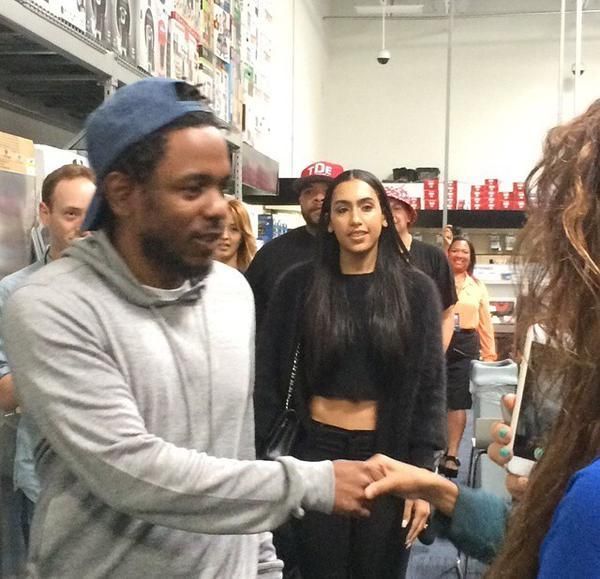 Kendrick Lamar attended a CD-signing in Compton with a very "special" guest. See pics inside and watch the latest videos from J. Cole and Tyga.
Kendrick Lamar, who announced today that he's headlining Summerfest at the Marcus Amphitheater on July 1, held a CD-signing in his hometown, Compton, on Saturday. There was great news to celebrate at the signing, Kendrick's disc To Pimp a Butterfly is expected to debut at #1 in US and is already #1 in the UK.
The meet-and-greet for lucky listeners was held at Best Buy and K-Dot brought out a familiar face, girlfriend Whitney Alford (above). Whitney does not crave or chase the spotlight, but he often speaks of her in loving terms. In addition to attending the 2014 Grammys with him, Kendrick talked about her during a Billboard interview saying, "I wouldn't even call her my girl. That's my best friend. I don't even like the term that society has put in the world as far as being a companion. She's somebody I can tell my fears to."
At the signing...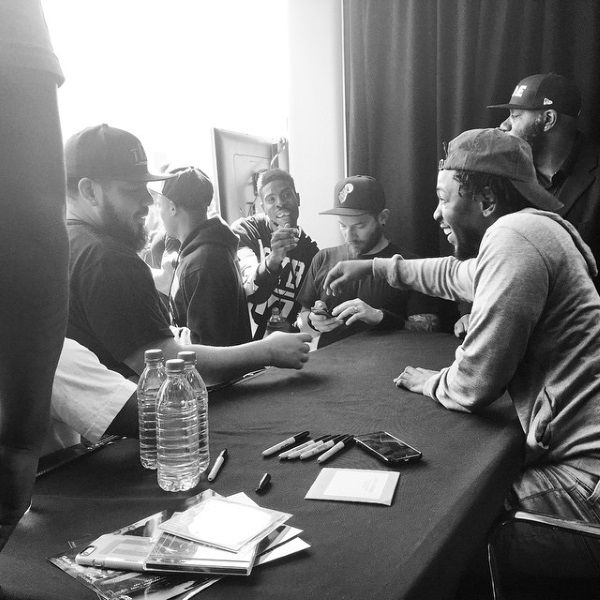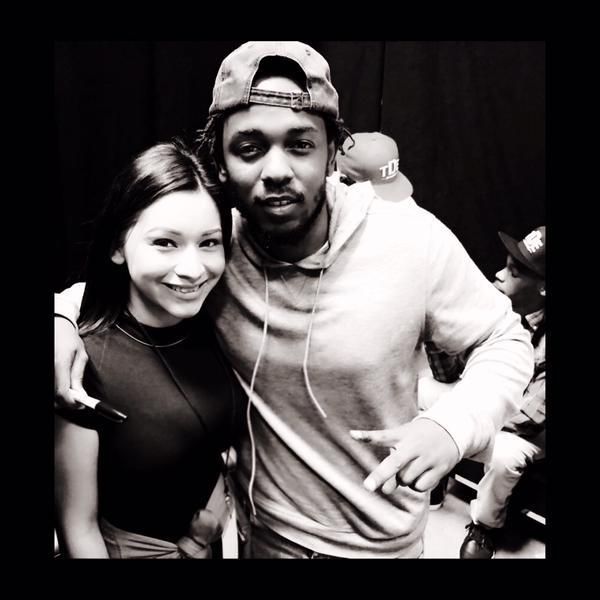 Over 2500 fan showed up and Kendrick told ABC 7, "It feels good to be back in my city, to go out here and see these kids still motivated by my music and by my dreams and aspirations."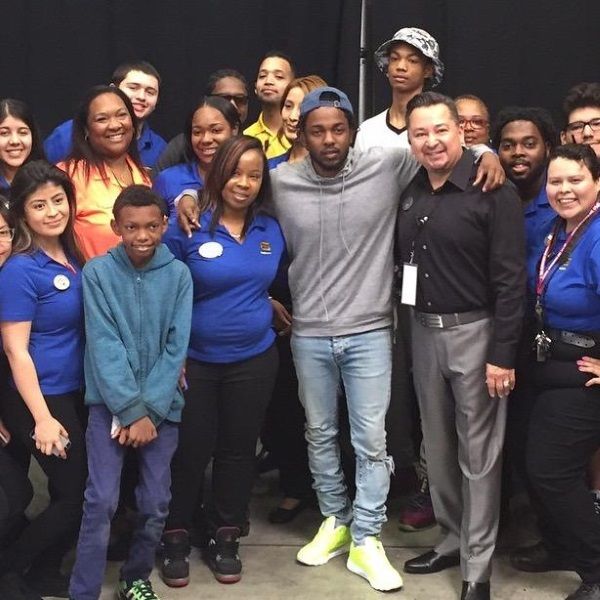 He added, "I wanna say thank you. Thank you for believing in me since day one. I've been doing my thing on the underground scene for years, you know, proud to be putting out any albums," Lamar said. "These the same people that have been rocking with me so I want to say thank you for believing in me and I believe in you the same, so as long as we believe in each other, I will continue to do this music."
In new music videos...
J.Cole next video from his top-selling disc 2014 Forest Hills Drive is the powerful "G.O.M.D."
In the clip, J. Cole plays a house slave (cue the light-skinned jokes) who organizes a revolt on the plantation. He steals the master's keys and unlocks the guns - which he gives out to the fellow slaves. They tie up the owners and celebrate by dancing around a bonfire. It's pretty deep.
In other news, J. Cole fans can catch him at the House Of Blues in New Orleans tonight.
Also....
Although Tyga is dating Kylie Jenner, a chick from one of the most famous families in the world (arguably) his new video carries and interesting message, "Fame is the Devil." If that's the truth - why are you involving yourself in a family that seems completely driven by a quest for fame?
The song is "40 Mill" and was produced by fame-seeker Kanye West and Mike Dean. It appears on his upcoming LP The Gold Album: 18th Dynasty (no release date).
Tyga directed the clip which shows "evil" lurking in the shadows and following him throughout his seemingly exciting life. But in the end - fame leads to an untimely death.
Photos via Kendrick's/ABC7 Instagram/ Rap-UP Instagram
​ ​
​ ​ ​