Gabrielle Union & Dwyane Wade Have "His & Hers" Motorized Toilets + 50 Cent Gets HOT & Heavy With A Chick + Chris Brown DEBUTS Rainbow Hair
​
Apr 09 | by _YBF
​ ​ ​ ​
Gabrielle Union reveals she and Dwayne Wade have made a major change in their new home. And she called it the best thing that has happened in their marriage. Peep what she revealed inside. On Instagram, 50 Cent is busy getting kissy with a chick and Chris Brown debuts his new hue(s). Check it inside….
Gabrielle Union is no stranger to sharing what it's like being married to Miami Heat baller Dwyane Wade. So, it comes to no surprise she's dishing on their bathroom arrangements.
During a segment on "The Meredith Vieira Show," the "Being Mary Jane" star was grilled with a few questions to see if the two were still basking in the honeymoon phase. The twosome tied the knot in August 2014.
The 42-year-old actress revealed she pretty much got super comfortable with D. Wade at the beginning, wrapping her hair up at night and having NO issue with using the restroom (yes, #2) around him. She then went on to talk about if D. Wade leaves the toilet seat up or not, in which, she disclosed they don't have that problem. Why? Well, they both have their own toilet seats…and they're motorized.
Peep the highlights below:
Meredith: Honeymoon phase does not last forever so I am going to ask you a few questions and we will see where you are in the process okay? Last romantic thing Dwyane did for you?
Gabrielle: He does it every day. We don't leave the house without kissing me and telling me he loves me.
Meredith: That's very sweet. Have you started wearing sweatpants to bed?
Gabrielle: I led with that early on, let's get this out of the way and a head wrap honey.
Meredith: That was from day one?
Gabrielle: Day one. And I am going to go to bathroom and hope you have reading material because I am going to be in there awhile. Let's just get it out of the way early, I'm regular. How about that.
Meredith: Okay, does he leave the toilet seat up still?
Gabrielle: We have actually motorized toilets. It senses when you come and for him it will go up and also down.
Meredith: But how does it know he walked in instead of you?
Gabrielle: I have a different toilet than he does. We have our own toilets and he actually put a urinal in his bathroom.
Meredith: Really? Wow? Because he just prefers?
Gabrielle: I don't know what happens in there because we are no longer sharing a toilet which I think is the best thing to happen to our relationship.
Must be nice.
Check out the clip below:
You can catch Gabby's episode when it airs tomorrow.
On social media....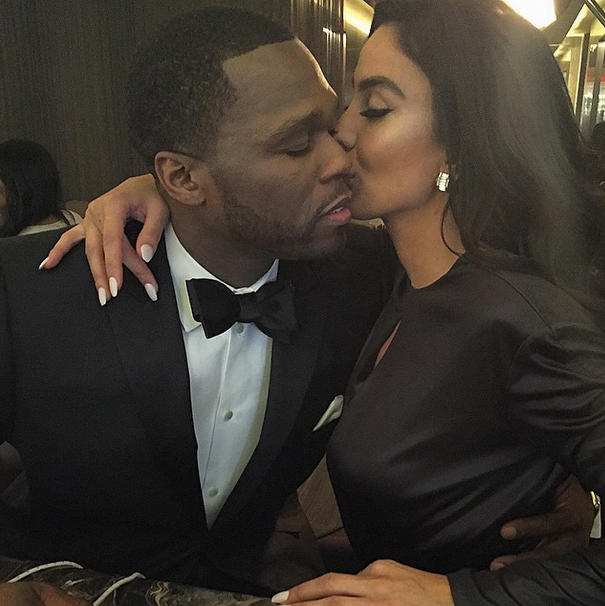 50 Cent posted up a new pic on Instagram getting kissy with chick today. And we wonder who this "mystery chick" is. He captioned, "Some times you have to just listen close. Then you can hear her heart, or how much she wants.lol #EFFENVODKA #FIRGO #SMSAUDIO"
Is it his ex-flame Tatted Up Holly? The chick that claimed she was assaulted by the NYC rapper? Is it his new "main" chick? Or is it simply a model for a photoshoot the "Power" star/producer has in the works to promote his spirits line EFFEN Vodka. He also has a few other shots of himself on his account that look like flicks from a possible spread.
We're not exactly sure, so we'll let you discuss amongst yourselves….
Also on Instagram.....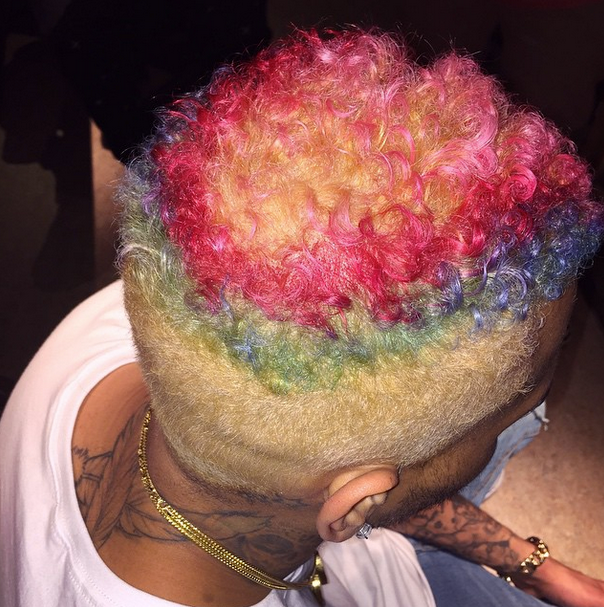 Chris Brown sure loves trying new things with hair dye. And that's evident with his new "Fruity Pebble" colored coif.
Recently, Breezy turned his hair ice blue, then lavender and now, he has decided to go rainbow bright, sporting an array of colors on his head. During a late night studio session, the big reveal went down on Instagram: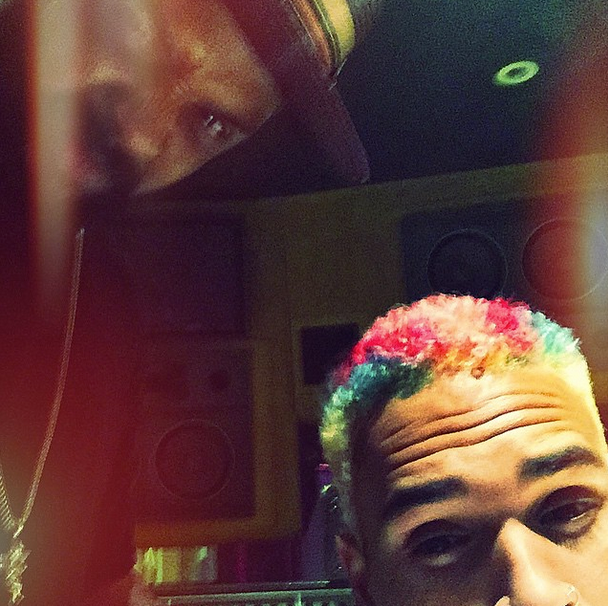 Hmm...we feelin' it?
Photos: The Meredith Vieira Show/50's IG/@starino
​ ​
​ ​ ​