Chris Brown Posts Birthday Shout To His Mama, Karrueche And Royalty + Terrence Howard EXPOSES Ex-Wife's Extortion Plot!
​
May 06 | by _YBF
​ ​ ​ ​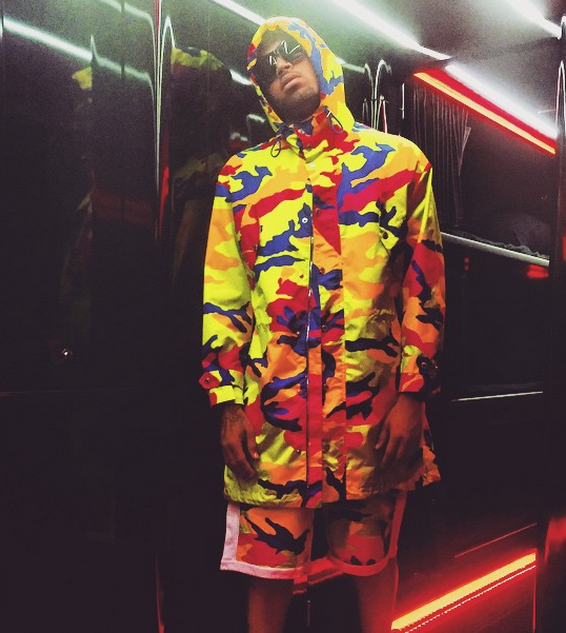 26-year-old Chris Brown, a Taurus, posted a birthday shoutout to his three favortie ladies via Instagram. Read it inside and get the explosive deets about Terrence Howard's sexploitation plot!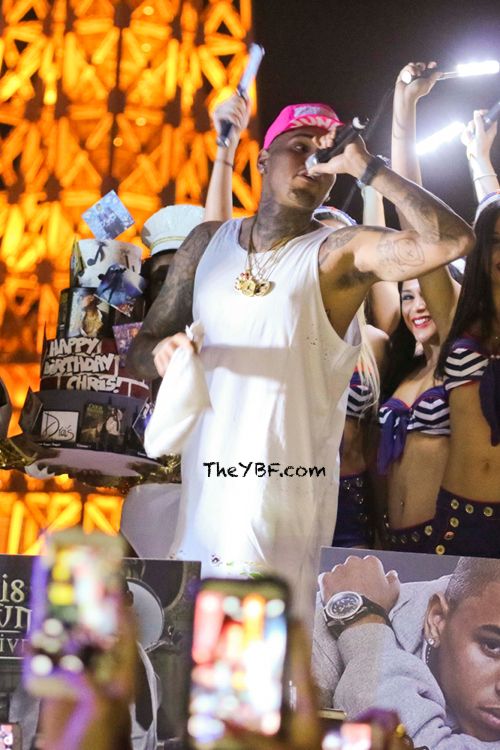 Earlier today, we shared photos from Chris Brown's 26th birthday party bash at Drai's Beach Club...and he's still beaming from the night's festivities.
Chris, who reps for the May birthdays (not perfectly though), woke up in such a cheery mood that he posted a message to his three favorite ladies, and they're all May babies too! Chris' mom Joyce Hawkins, his ex-girlfriend Karrueche Tran (who turns 27 on May 17th) and his daughter Royalty (May 27th). He wrote,
"Thx for making my bday a special.. All my friends family etc.. #taurus season.. I have three special ladies celebrating this month. Mother's Day for momma. May 17th miss you know who. And May 27 is my baby #Royalty be humble and learn that it doesn't take effort to love! We create our own outcome and destiny in life. My paths has been a very blessed 26 years on this planet and I'm still learning. I can only be the best I can be. Sorry enough wit the rants! Love y'all! Thank god! I'm grateful and so thankful"
Hmm.....we suspect that Ms. Tran is going to get a really nice birthday gift from Mr. Brown after all she's been through this year. We know it's only a matter of time before she returns to play stepmommy. Stay tuned...
In other news, we've just learned that Chris has been booked to appear on next week's "American Idol" finale where he'll take part in a tribute to Michael Jackson.
The tribute/season finale, airing next Tuesday and Wednesday on Fox, will feature Michael's brothers The Jacksons, Echosmith, Fall Out Boy, Vance Joy, Ricky Martin, Michael McDonald, Janelle Monáe, Nile Rodgers and Prince Royce, New Kids on the Block, Pitbull, Jamie Foxx and Steven Tyler.
BONUS:
While celebrating his 26th birhtday at Drai's Beach Club last night, Breezy's daughter Royalty was plastered on the big screens, waving at her daddy to wish him Happy Birthday. Adorbs.
Check it:
Attention Terrence Howard fans, we were VERYCLOSE to seeing his penis, but he shut that ish down. We'll explain. While there is always hope that Lee Daniels will make Mr. Lucious Lyon swang that thang across our tv screens, Terrence and his legal team will make sure it's on his own terms - and not those of his ex-wife.
A few weeks ago, we told you about Terrence bringing litigation against his ex-wife Michelle, whom he claims blackmailed him with some dirty pics. Now, we've got MORE deets about the extortion plot. Grab a cup....
New docs filed by Terrence's attorney Brian Kramer claims there are secret recordings of the ex-Mrs. Michelle Howard saying:
"I can make a good $2 million right now ... you want to see your little **** out there in front of TV?"
and...
"Trust me, you're f****** with the wrong person. You f***** with me way too much. I will f****** bury you deep in the ground."
and...
she threatened to tell every woman in the world he gave her an STD (sidebar - he didn't say which one).
As we told you during our previous breakdown of their battle, Terrence gave Michelle a HUGE alimony settlement, which he later claimed he only did to keep the XXX stuff off the black market.
But now...T Howard wants the judge to throw out the settlement agreement so he doesn't have to pay the balance. Michelle's current settlement runs for another year, but that would give her access to major coins from his "Empire" salary, which is expected to increase for season 2.
Hmm....while Michelle was worried about Terrence's $2million penis, she should have focused on his balls because he's showing he's got some. He is NOT BOTHERED by her and her demands anymore. In fact, XXX pics might HELP his career.
NOTE TO MICHELLE - The ways of the world have changed and some of us like to see our celebs in compromising positions.
Photos via Chris Brown Instagram/Getty
​ ​
​ ​ ​