LOVE & FOOTBALL: Is Ashanti DATING NFLer Darnell Dockett?! +Washington Redskins WR DeSean Jackson Expecting A Baby With Girlfriend Kayla Phillips
May 28 | by _YBF
Does Ashanti have a new man? We think so. And we think it's San Francisco 49ers baller Darnell Dockett. Find out why and get the deets on Washington Redskins wide receiver DeSean Jackson baby announcement with girlfriend Kayla Phillips inside….
"Ashanti got a man at…home…and he's so good to her." Ha!
No, but seriously. It appears Ashanti may have a new man in her life. The lucky guy? San Francisco 49ers defensive end Darnell Dockett. We've been hearing plenty of credible rumors about their new dating situation. And now, there's this.
Since calling it quits with Nelly, the Braveheart singer has been pretty secretive about who she may or may not be dating. You'll recall, during a panel discussion on "The Meredith Vieira Show" back in April, the 34-year-old songstress (who was once linked to Washington Redskins baller DeSean Jackson) confirmed she had hopped back in the dating pool and went on an amazing first date with a guy, but she kept his name under wraps…until now.
Yesterday, Darnell celebrated a birthday where Ashanti hopped on Twitter to give him a birthday shoutout, calling him her baby. She tweeted:
"Happy Bday Baybayyyyyy lol [emojis] @ddockett"
Baybay? Oh….
Then, Darnell followed up with, "Thanks boo! [kissy emoji]"

We did a little digging and upon scanning Ashanti's Instagram, it appears Darnell knows just how to get the "I Got It" singer in a good mood:
She captioned, "When he makes ur mood a reality... #CurrentMood #Thankubabe"
The twosome have been e-flirting on social media in the past month and now it looks like it's almost official. Neither Ashanti nor Darnell have confirmed their coupledom status, but it definitely looks like these two are in the beginning stages of a new relationship. Not mad.
Darnell is the father to two beautiful children, Dillon Dockett (8) and Riley Dockett (1). Once Ashanti meets his kids (if she hasn't already), then we'll know it's real.
In another fairly new relationship....
Washington Redskins wide receiver DeSean Jackson will be a first time dad soon! After confirming he is in a relationship with Kayla Phillips (and "instagram model" who was once linked to Justin Bieber) earlier this year, the NFL star and his girlfriend are now pregnan. This will be Kayla's second child as she has a son from a previous relationship. The usual....
Kayla made the official announcement via Instagram, snapping a pic of her growing belly: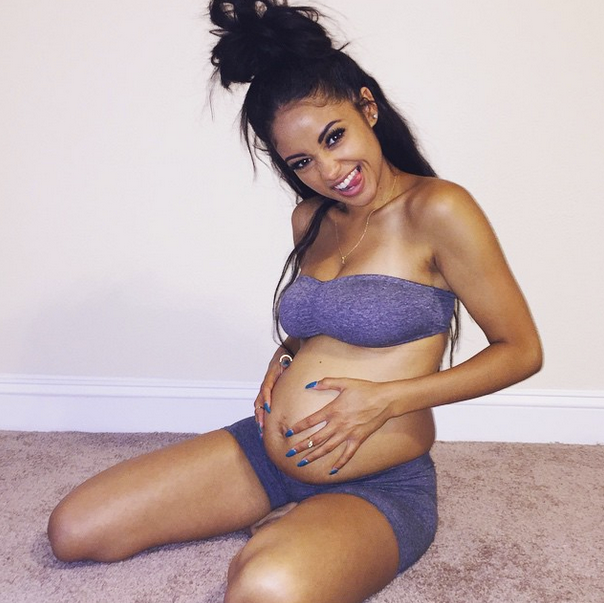 We'll get an inside look at their life together on DeSean's upcoming BET reality series titled, "DeSean Jackson: Home Team." According to Variety, the show will center around the star receiver and the women who run his life, including his girlfriend Kayla, "momager" Gayle, his sister and assistant A'Dreea, and his publicist Denise. The show is set to premiere June 30th.
Will you be tuned in?
Photos: Ashanti's IG/Darnell's IG/Kayla's IG