Jada Pinkett Smith & Her Killer Legs Make Promo Rounds In NYC – Dishes On Volatile Relationship With Tupac + EJ Johnson Celebrates Birthday With Parents Magic & Cookie Johnson
​
Jun 06 | by _YBF
​ ​ ​ ​
While we know Jada Pinkett Smith has trekked it back to California following her NYC press rounds this week, we had to bring you these two smoking hot looks from the Hollywood actress while she was in the Big Apple. Peep her gorgeousness, the deets on her intense relationship with late rapper Tupac and check out flicks of EJ Johnson celebrating his 23rd birthday with his parents Magic & Cookie Johnson last night inside….
Former "Gotham" actress Jada Pinkett Smith was lighting up NYC as she made her Magic Mike XXL press rounds earlier this week.
The fab mother-of-two showed off those tone and tight legs in a white flirty dress paired with gold stilettos as she made her way inside ABC studios for a "Good Morning America" appearance.
And if this is what 43-years-old of age is looking like these days, sign us up!
Later....

The Magic Mike XXL star changed into a bright red long-sleeved blouse, which she paired with some funky printed black & white shorts and black pumps. Hot.
While on the promo trail, Jada stopped by The Howard Stern Show on SiriusXM to chop it up about a number of things. In the interview, she explained her "open relationship" with her husband Will Smith, but she also talked about her very intense and passionate friendship/relationship with slain rapper Tupac.
It's been 20 years since the passing of the legendary west coast rapper, but Jada still gets choked up talking about him. During her chat, she revealed there were a lot of strong feelings and emotions felt between the two, but there was absolutely NO sexual chemistry. She spilled,
"You know, it's so funny. Now being older, I have more of an understanding of what that was between us. When you have two young people that have very strong feelings, but there is no physical chemistry between us at all. And it wasn't even just for me! It was him too. There was a time when I was like, 'Just kiss me! Let's just see how this goes.' And when I tell you it had to be the most disgusting kiss for us both.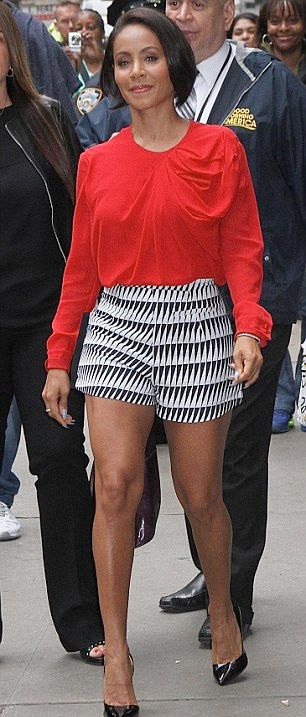 She said she felt it probably just wasn't meant to be…and that may have been a good thing. She explained,
"The only way I can put it is that the higher power didn't want that. If Pac and I had any kind of sexual chemistry, we might have killed each other because we were both so passionate. And you know, we loved deeply. It was hard enough with us just being friends. We had a very volatile relationship."
She then talked about how their relationship took a turn after she went off to L.A. to pursue her career and Pac went to jail.
"There was a lot of things that transpired once he went to jail. It was really once he came out that he changed quite a bit. Jail was a very difficult experience for him, and of course, we were on two sides of the spectrum. Pac and I have always had very intense conversations [laughs]. If we disagree with each other, we disagree hardcore."
Pac and Jada had stopped talking for a couple of years after a heated disagreement (which she said was common during their friendship) and he was murdered before she could make amends.
"I don't think I was guilty as much as I felt just sadness, for not having the opportunity to tell him that I loved him. But, I know he knew that. It wasn't the first time that we had had a bad argument and stopped speaking. That was a constant in our relationship. It definitely taught me a lesson, which is life is too short. Do not let disagreements stand in between you and people that you love and care about."
She ended, with tears in her eyes, "You know, I love him."
Check it:

On the west coast....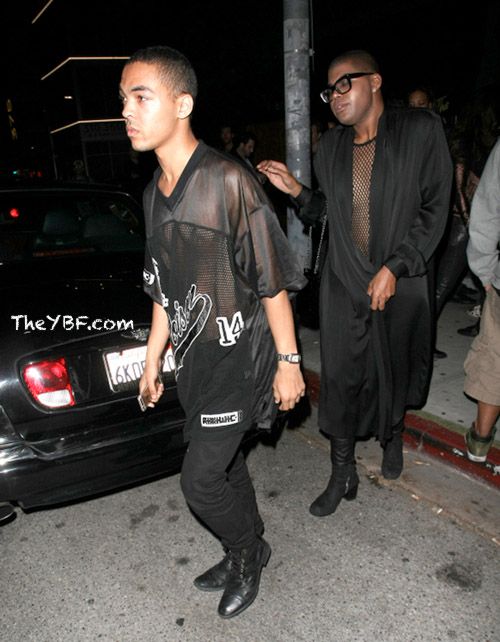 After lunch with friends at The Ivy, #RichKidsOfBeverlyHills star EJ Johnson continued his birthday celebration over a lavish dinner with the parentals and his sister.
It was a total family affair as NBA Hall of Famer Magic Johnson, his wife Cookie Johnson and EJ's sister Elisa came out to celebrate EJ's 23rd birthday at Mastro's steakhouse in Beverly Hills last night. EJ also brought a friend to the festivities. Fun times.
Photos: Splash
​ ​
​ ​ ​