ON THE 'GRAM: Emily B Accused Of Wearing A Waist Trainer After Posting Up 2-Week Post Baby Bod Pic...So Em' Claps Back!
​
Jun 18 | by _YBF
​ ​ ​ ​
A few weeks ago, Emily B gave birth to a bouncing baby boy with her longtime boyfriend Fabolous. So today, she posted up a progress pic of her 2-week "snap back" which caused folks to accuse her of wearing a waist trainer. Peep the pics for yourself and see how Em clapped back inside…
Former "Love & Hip Hop: New York" star Emily B and her longtime boyfriend Fabolous welcomed a bouncing baby boy a few weeks ago. Baby Jackson joins big sister Taina (from Emily's previous relationship) and big brother Johan in the Jackson family fold.
Showing off her post baby bod, the mother-of-three took to her Instagram to share her "snap back" progression with the masses. She posed it up in a mirror shot (above), showing off her incredibly flat stomach with the caption, "Time for a manicure - 2 weeks post baby #tainasroomhasthebestmirror."
Soon after, her comments section was riddled with backlash from fans accusing the former reality star of wearing a waist trainer. So, Em decided to hush the haters with another shot and this time, she tied her shirt to show nothing is holding her in: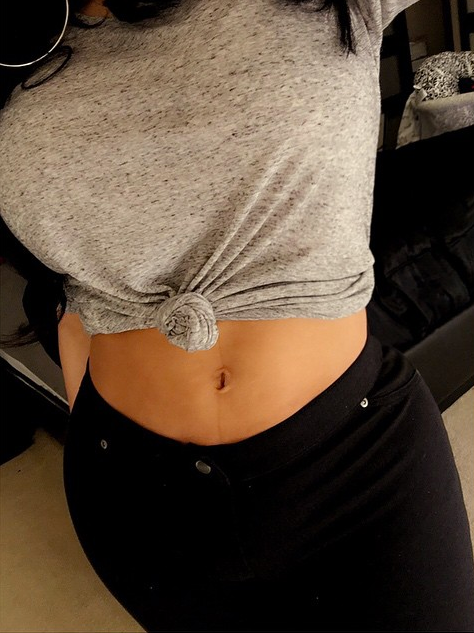 She captioned, "Petty Crocker."
Following that pic, Em felt inclined to explain the complications with her son's birth. She details having to have an emergency C-section after not dilating past 9 cm and her son's heart rate dropping. During the process, she said she lost 45% of her blood and ended up having to get a blood transfusion. After everything that went down, she said she was hospitalized for a week after his birth and lost 15lbs in the process, which had a lot to do with her body snapping back so quickly.
She explained,
I really enjoyed being pregnant but what you didn't know was that I suffered from horrible nausea and I lost weight during pregnancy. I was in labor for 16 hours and wouldnt dilate past 9cm.. I pushed & pushed and shredded up my cervix. My sons heart rate dropped and his head was stuck in the birth canal so I had to get a emergency c-section-- which by then my epidural had wore off so I had to get a local spinal which numbed my esophagus! I felt like I was going to DIE! I couldn't feel myself breathing or catch my breath- I had a panic attack and had to be sedated .. I lost over 45% of my blood and had to get a blood transfusion. By the Grace of GOD I'm ok and my son is healthy. I'm stating all this to say - I lost 15lbs after spending a week in the hospital. I've only been home a week and I'm still not recovered. My incision is very low but is still filled with fluid and hurts badly.. I salute all the moms & moms to be! By far one of the toughest experiences of my life! Just wanted to share that - I know by looking at my pic post two weeks it looks like it's unrealistic but the truth is it also came from being severely anemic & dehydrated mixed with a little SnapBack lol. I will continue to work on getting healthy & in shape! Love you guys and happy healing to anyone who just went thru childbirth! #TBT"
Happy to hear she and Baby Jackson are doing well now. She also shared the first shot of her infant baby boy:
She captioned, "Pure Bliss #BabyJonas," so we assume Baby Jackson's name is Jonas! Aww....
Congrats again to the couple!
Photos: Emily's IG
​ ​
​ ​ ​