YBF FRESH FACE: Meet "Dope" Star Kiersey Clemons -- Her Take On Why Former Disney Stars Go Crazy, Her Wine Obsession & Her Island Fantasy With RIHANNA! [EXCLUSIVE INTERVIEW]
Jun 19 | by Natasha
Kiersey Clemons is quickly becoming one of our fave YBF chicks of the moment. After seeing the fresh faced cutie play a not-so-hard tomboy in the new movie Dope, we HAD to meet her. And we're loving what we've learned so far.
Check out our interview with one of the Dopest chicks of the moment inside....
21-Year-Old Kiersey Clemons is a fresh face we're loving. While she isn't new to Hollywood, she definitely grabbed our attention in her new soon to be hit movie Dope. And we're now taking notice.
She plays "Diggy", the tomboy who can blend in just like one of the boys (when she needs to), in the new flick. So when we spent some time chatting up the former Disney star one recent Saturday afternoon, we got to the bottom of how she nailed the role.
Kiersey already had more than a little acting experience. She's co-starred in a few Disney channel shows like "Austin & Alley" and "Shake It Up" since 2010. She even co-starred with Nickelodeon star Victoria Justice in the new MTV series "Eye Candy" and with Halle Berry on the new ABC show "Extant." The L.A. native is also currently starring on Amazon's first original series called "Transparent" that's getting rave reviews.
Now, the giggly actress has a hit on her hands with Dope, and she seems to be navigating the world of the Hollywood career climb quite nicely. Kiersey has no problem being who she is, and letting you know she won't be anything but that. And that's refreshing to hear from someone in the younger YBF Hollywood set.
When she started our chit chat saying, "I'm young, I'm black, and I'm fabulous," we knew this would be good. She's just the rebelliously fun and bad ass chick we thought she would be.
Kiersey tells us about her drinking policy (you can't call her an alcoholic because she's "just being 21"), her insightful take on why kid stars go crazy as grown ups, and her hot island fantasy that involves Rihanna:
YBF: You're finally 21! Tell us what you did for your 21st birthday.
Kiersey: [Laughing continuously] "I slept! I was asleep at midnight and I was in New York. Actually, I was filming. So my cast and I, we had a wrap party actually the day after my birthday. So I kinda got drunk after that so..." [Laughs]
"I want to go to Vegas! I haven't been to Vegas since I turned 21. I'm kind of waiting because one of my best friend's still isn't 21. She's sitting right here, right now, being a whack ass b*tch because she's only 20. But her birthday is in 10 days. So when she turns 21, the whole clique will be 21, then we can go to Vegas or something.
Yeah, we're scared of that situation when you all finally go.
"No, no I know my limits. I'm not like, a crazy drinker like that. Plus, alcohol is gross. You know what I'm saying? It tastes like ass. It's alcohol. But wine though…Just give me a glass of red wine and I'll spill my heart out to you actually. I think red wine was made for like, therapy."
"Let me tell you, we went to Sundance [Film Festival, January 2015] and I had just turned 21. And I won a year supply of wine. So they sent me a year supply of wine, which was 144 bottles or something like that, and I have 1 box left. I don't think that makes me an alcoholic....because I'm 21."
"I think my publicist is tearing up right now because I just made myself sound like I have a drinking problem, but I'm 21. So if I do have a drinking problem, after a year it would be an issue. But right now, it's excusable.
You're just being 21.
"Exactly! [Laughs]
(Left to right) Quincy Brown as Jaleel, Kiersey Clemons as Diggy, Shameik Moore as Malcolm and Tony Revolori as Jib in DOPE.
It took us a while to figure out you were actually a girl in this movie. Tell us about transforming into a tomboyish lesbian role.
"The role was written to be very butch. And I was confused like, I'm never going to get this. My face is so babyish and round. I just don't see how this is going to happen. I don't have a deep voice but, okay, I do have this short hair. But how do I fit the criteria of what people consider butch?"
"So I just put on some boy clothes and went in. I think it was a little easier for me to get in to the character because I'm not a tomboy, per se, but I'm also not too girlie. I'm a little rough around the edges."
"For 'Diggy', I lived with a boy so I learned a lot from him. I was watching him a lot and tried to pick up his gestures, like how he walked. And I spent a lot of time with [co-stars] Shameik [Moore] and Tony [Revolori] too. I tried to pick from them, so Diggy is a mixture of Shameik and Tony and my family and friends."
You started out doing Disney shows. These new roles of yours are not necessarily Disney-like. What's that transition like, or are you even transitioning at all?
"My team and I never made that decision that we're going to cut Disney off now or we're going to switch up my image. It just all works out the way it's supposed to. God granted me with what I needed to grow. And at the end of the day, that's all I'm focused on is being the person I'm supposed to be at this time and at this moment. I'm definitely not going to hold myself back to accommodate my audience. I'm still a person. And I think people forget that when they're critiquing people like Selena Gomez and Zendaya and Miley Cyrus. They say, oh she grew up to be this or that. It's like, let this person grow at their own pace."
"I appreciate that Zendaya has stayed on Disney Channel because that's what she felt was her next move. That's where she felt comfortable in life. She doesn't feel like she's ready for that next thing. And that's OK. Miley Cyrus felt like, 'This is my time to move on and I need to get out of this.' And that's OK. We're all people. And our jobs are not gong to rule our lives. People don't understand how actors are every day real working [people]. There's not a day that's off. Just because Friday hits doesn't mean we're not going to get a phone call or interview. It goes on."
"We have to allow ourselves to let our worlds mesh. You can't separate everything. That really stresses you out. Those are the crazy people. Not Miley Cyrus because she likes to wear funny colors and go on stage and twerk. Let her be her! The ones that go crazy are the ones that end up turning to drugs and they die at a young age and it's because they're trying to accommodate their young audience and trying to keep up a facade, like Marilyn Monroe. I'm not going to do that. At the end of the day, I love who God intended for me to be more than I love the idea of who other people want me to be. Because that's not me, that would be my ego."
We want to know your dream celebrity bestie. We have ours, so we need to know yours to help us get a feel for who you are.
"I think....I think Rihanna is my big sister in my head. And I feel like we can go to an island together and get really tan and high."
Now THAT'S a celeb bestie fantasy.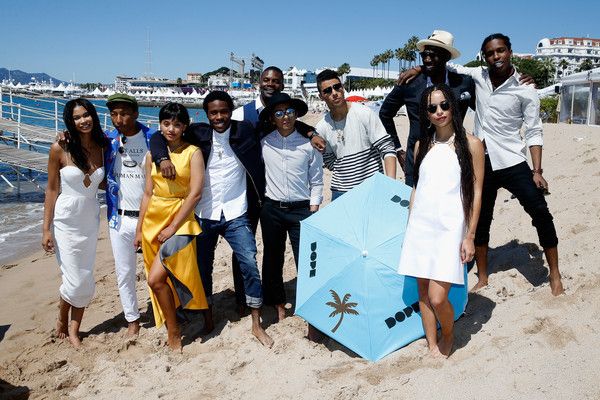 Check out the red band trailer for Dope below: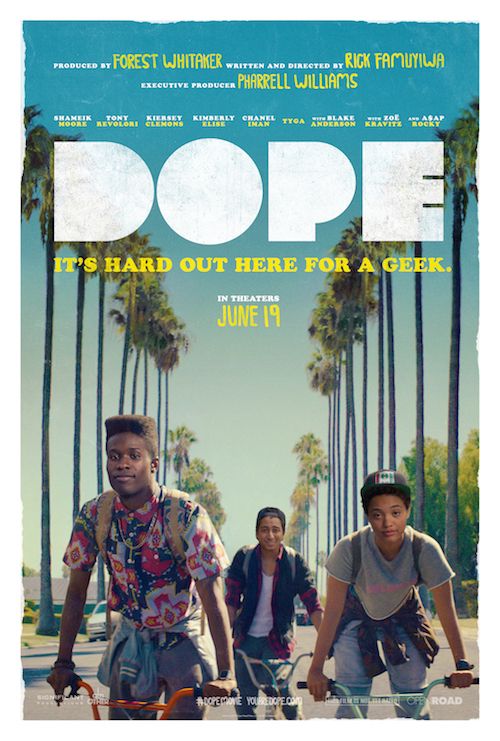 The movie is in theaters TODAY!
Check out the gallery of our fave Kiersey photos below.
Photos: Raymond Hagan/Getty