Meek Mill Says Being With Nicki Minaj Is 'A Dream Come True'...And They DO Fight In The Studio
​
Jul 01 | by _YBF
​ ​ ​ ​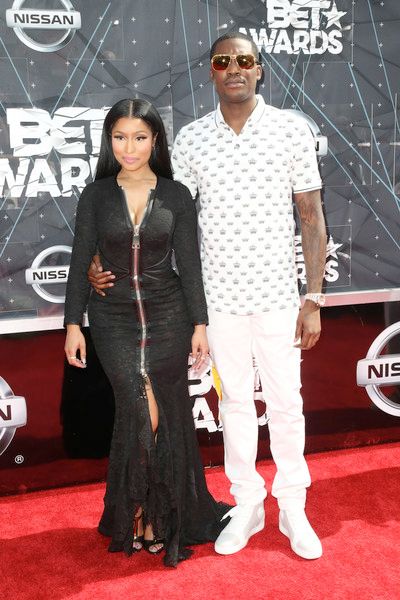 Meek Mill stopped by Power 105 to chop it up about all things Nicki Minaj. Find out what he said about their relationship being a dream come true, huge fights they have in the studio, his recent jail stint and inspiring the younger generation inside….
Meek Mill's sophomore studio alubm Dream Worth More Than Money is in stores now and his new game app Bike Life is available for download. So, he's heavy on the promo circuit to promote his two new projects.
The Philly native stopped by Power 105 to chop it up with radio personality Angie Martinez about all things Nicki Minaj. Since going public with their relationship, the twosome has been right by each other's side every chance they get. And now, he's gushing on their budding relationship.
The Puma brand ambassador says being with the "Feelin' Myself raptress is a dream come true. Five years ago, Meek tweeted that he would one day "get with" Nicki. And now, his dreams have been answered. He said, "I think Nicki Minaj would make anyone change up their whole situation."
Remember when Nicki did that interview with Angie Martinez in December where she broke down crying about her break up with her ex-fiancé Safaree Samuels? Well, we learned in this interview, she and Meek had already hooked up and but she didn't reveal they were in a relationship because she was worried about what people would say. He said they go back and watch that interview and get a good laugh out of it.
When the Young Money raptress was with Safaree she was VERY private about her personal life, but with Meek she's the total opposite.
While he prefers to be a tad more laid back when it comes things like posting up coupledom pics on social media, he said he caters to her needs by posting up lovey dovey pics because that's what she likes.
He also talked about how he and Nicki battle it out in the studio over tracks. He dubbed their heated discussions over their newest joint track "All Eyes On Me" as "World War III." But, most of the time, Nicki gets her way.
His new situationship with the "Anaconda" raptress has inspired him to write more tracks for the ladies, the complete opposite from the gangsta/hood tracks he normally records.
The MMG rapper also confirmed Nicki is NOT pregnant, he talked about the "Pills N Potions" raptress holding him down during his last jail stint, that massive heart shaped diamond ring he gifted her and being an inspiration to young kids in the hood to make it out.
Below are the highlights:
On working with Nicki Minaj in the studio:
"It's a war going on in the studio. Nicki wants to do one thing and I want to do another so you know. Most of the time she wins but it be like a World War III.

On recording their joint track "All Eyes On You":
"She fought for this song. I don't really be on the commercial type songs like that. She fought for me to do that and it came out terrific cause you know that's what she do. That's what comes with having a hustler as your lady."

On the interview Nicki did with Angie Martinez when she broke down crying:
"We sat back and laughed watching the interview a thousand times over. She was just worried about how people would take her. She was making new decisions in her life and new movies, but I never really cared about stuff like that. Who are they to tell you what to do? Do what you do how you do it."

On being in a relationship with Nicki is like a dream:
"It's like a dream to me to be in any of these positions. I be waking up in the bed and see Nicki and jus go back to sleep and be like 'O, this must be a dream. Let me wake back up again."

On Nicki's massive heart shaped diamond ring:
"Nah [it wasn't an engagement ring]. It was like a friendship love ring…for life. I just wanted to express my love on a different level. When you see the engagement ring, you're going to know."

On Nicki holding him down while he did his last jail stint:
"At the ending of my jail bid, she was the one that was really there for me."

On if Jay Z ever gave him any advice on being in a public relationship:
"No, we never talked about that. I'm going to ask him.

On listening to Nicki's music:
"I'll listen to some songs from Nicki. I like "I Lied," but I'm not going to listen to "Anaconda" or anything like that. I don't listen to all of it, I listen to certain ones. Don't get it wrong, I know all of Nicki raps, even before I knew her."

On if he thought this would happen:
"Yea."

On going to jail:
"Once you go to jail it's like people start showing you more respect. It's weird."

"God is the only one that saved me. I was being caught up in trying to earn respect from people that don't care nothing about me. I come from the streets so I don't like it when I can't come around my own neighborhood, like I'm not good around here. So I went back into the streets and ended up getting locked up a week later. I was sitting in the cell, I said to myself I kinda needed this. It was like a God call. When I came home, the situation became even better.

"I'm really touching the people, most celebrities don't want people to come near them...I can't be the same."

On being an inspiration to the younger generation:
"When I was coming up being gangsta was the cool thing to do. Me, I'm like a young leader. I want to flip it around and be like you move your mom out the hood, you cool. What's cool is when you making some money and take care of your family. I just try to bring something different to the young guys."

"I can deliver the message to them. I been in their position. We were tricked into doing dumb sh*t. Dumb sh*t don't make you cool. That ain't what life is about. I thought it was all about the hood. I come from a place where people die for $1,000 and now I'm in a place where people give out $1,000 tips."
Meek also talked about getting beat down by the cops when he was 18, he talks about Rick Ross not getting bail for his recent assault case (he's still currently behind bars), how he agrees with Dame Dash, rappers he listens to (Future, Dej Loaf and Young Thug), rappers he doesn't listen to (J. Cole & Kendrick Lamar) and more.
Check out the full interview below:

Photos: Getty
​ ​
​ ​ ​