FIRST PICS: "SNL" Star Leslie Jones Spotted Filming All-Women "Ghostbusters" With Kristen Wiig And Melissa McCarthy
​
Jul 10 | by _YBF
​ ​ ​ ​
"SNL" funnywoman Leslie Jones is set to star in the forthcoming comedy flick Ghostbusters and we spotted her on the set with her equally funny co-stars Kristen Wiig and Melissa McCarthy. Get the deets on their all-female remake inside....
One of our childhood faves is back. And this time, it's full of girl power.
Next summer, when fans head to theaters to watch the all-female reboot of the classic 80s film Ghostbusters, one of the "busters" who'll answer the call is "SNL" funny woman and comedy vet Leslie Jones (which we told you about earlier in the year). Yesterday, we spotted Leslie filming a scene with the famous Ecto 1 station wagon. It's our first time seeing the famed vehicle on the set of the new Ghostbusters movie in Boston, Massachusetts.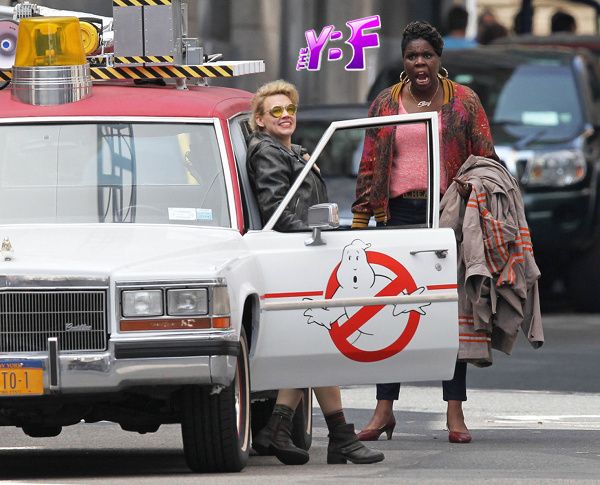 If you happen to watch the original in the next few weeks, you might notice that this new Ecto 1 has a red roof, while the 80's model had a white one.
Leslie won't be shooting the marshmallow ghosts on her own. She's teaming up with SNL veteran Kristen Wiig (Bridesmaids), comedic actress Melissa McCarthy (Spy) and fellow "SNL" star Kate McKinnon (who does a hilarious Hilary Clinton impression). We've also learned that Chris Hemsworth will play their trusty secretary, Andy Garcia as the Mayor of New York City, and YBF celeb Michael K. Williams as a character named "Hawkins."
Gotta love the role switch-up in regards to gender.
Director Paul Feig spoke about the movie to ComingSoon.Net saying,
I'm having a lot of fun playing with genres. love the original film, but I also just love the idea of busting ghosts and kind of paranormal warriors. I thought, 'You know, if I could do this with the funny women I know and kind of just do a new origin story…' I'm more interested in what would happen today. You know, you see things on TV about ghosts, but none of it's real. What if, suddenly, something started happening? What happens when that just begins to happen to people? Also, how do they develop their technology? It's not as fun if they're just handed their proton packs. It's why it's not as fun to do a sequel. The fun is getting there."
Now.....check out the ladies with their proton packs!
The "new" Ghostbusters will hit theaters on July 22, 2016.
"When there's something strange, in the neighborhood....who yo gonna call? Ghostbusters!" -Ray Parker Jr.
Photos via FameFlynet/Paul Feig Twitter
​ ​
​ ​ ​